Christmas in Austria involves a whole different wardrobe to Australia, and during the year, the conversations continued: "Does anyone have a spare snowsuit for a two-year-old?" "Don't bring a buggy. We have a spare one you can use while you're there". With much shuffling of wardrobes and many visits to the shops, five children under five and an eight-year-old were outfitted like little Michelin people for the cold weather.
Three families were to stay with Jasmin and her parents in the small village of Hofkirchen im Mühlkreis. Two more families, including us, were booked into a lovely bed and breakfast on a farm just outside the village. Christmas could not come soon enough!
The 50-minute journey from Passau in Germany to Hofkirchen in our hire car was a scenic wonderland as the road follows the Danube river to the bridge crossing at Nieiderranna. Then we climbed the switchback mountain road to the high-country of Mühlkreis. In no time, we arrived at our bed and breakfast, Ferienhof Mayrhofer, and what a delight! It was only three years old with three spacious well-appointed apartments adjoining the farmhouse of our hosts Johannus and Elfreida Mayrhofer. What wonderful hosts they proved to be, even treating us to traditional pastries and gluhwein on Christmas Eve.
Each day we drove the 3 kilometres into the village of Hofkirchen to join the wider family. The magnificence of the fairy-tale vista of Hofkirchen nestled in the snow-filled valley is indelibly printed in my memory.
One of the great delights of this village is the freedom to just be yourself. There are few fences and even fewer rules, so it's quite liberating. Without doubt one of the many highlights of the trip was enjoying the children master tobogganing on the gentle snow-covered slopes near their grandparent's house.
There is nothing quite so scary as watching your three-year-old granddaughters hurtling down a slope with very little control and nothing to reassure you other than their squeals of delight.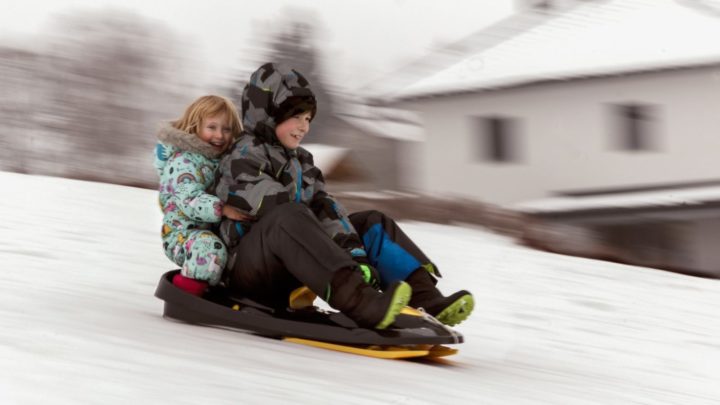 Not to be outdone we simply had to have a go too. After all, we are still kids at heart!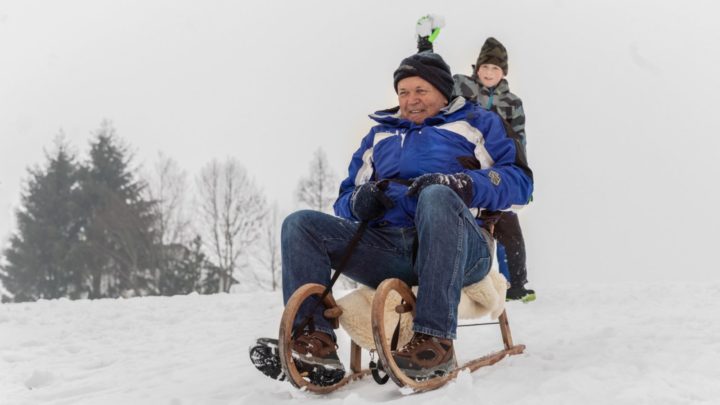 One of my obsessions is snow skiing. I started when I was 17 and it's remained a passion of mine ever since. You can imagine my delight when the family treated me to a day skiing at the nearby Hochficht Ski Resort for my 65th birthday!
Hochficht is in the panoramic Bohemian Forest triangle abutting the Czech border and is a mere 50 minutes' drive from Hofkirchen. Unlike Australian ski fields you can park right at the base of the ski slopes for free and after hiring your skis you are quickly on the slopes.
Hochficht is the largest ski resort in the Mühlviertel region and is very popular with families, offering special facilities including children's areas, a kids' park and a family restaurant. We made good use of everything. What a fabulous birthday present!
The nearest major city to Hofkirchen is Linz, which is the third-largest city in Austria and capital of the state of Upper Austria. It is approximately 30km south of the Czech border and straddles both sides of the river Danube. No Austrian Christmas would be complete without a visit to the Christmas markets and Linz is host to more than 14.
You can stroll around the stalls, sample products, buy beautiful Christmas gifts and be tempted by the delicious smell of sausages barbecuing over charcoal. In my opinion, the 'must-do' markets are Christkindlmarkt in the baroque main square and Christmas Market at the Linzer Volksgarten, which annually features the Disney inspired 'Ice Magic'. We opted to do both and warmed ourselves with mulled wine while we happily munched on cheese Kransky.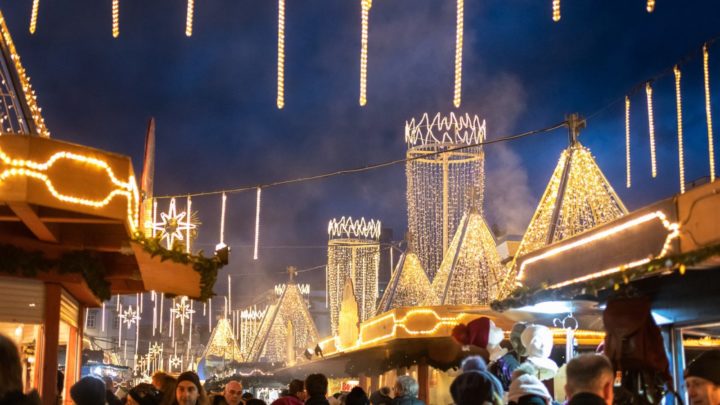 Then we took the kids to see Ice Magic and wow, it's awesome! Not only does it incorporate numerous, intricate, huge ice sculptures that simply must be seen to be believed, but there is also an ice slide that is heaps of fun for both children and those still young at heart. Inside the Ice Magic pavilion it was freezing (to keep the ice from melting) and even though we rugged up well we had to break out spare clothes for the children and keep moving. Despite the cold this is an attraction that we will not miss when we go again.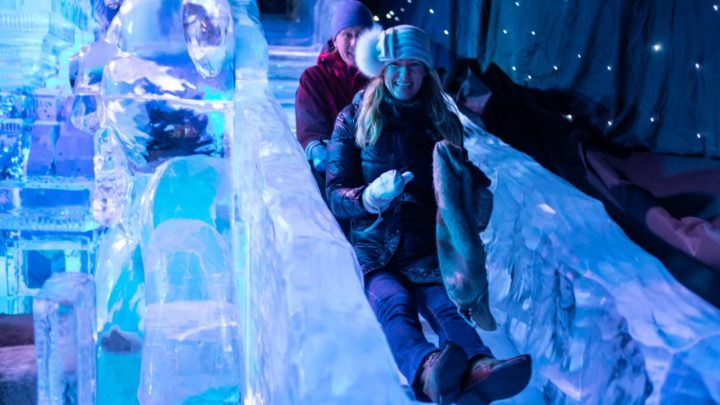 Christmas in Austria is steeped in tradition so it's far less commercial than here in Australia. The personal selection and dressing of the tree, carol singing and present giving all take place on Christmas Eve. This does not mean that the children miss out — far from it, but you will see very few decorative Christmas lights adorning houses so don't expect things to be the same, just enjoy the differences.
In keeping with tradition, the parents decorated the Christmas tree behind closed doors. This added to the theatre as once the doors opened the children entered a Christmas wonderland that had magically appeared. You should have seen the spellbound awe on our grandchildren's faces as their Austrian grandparents carefully lit each of the candles on the tree and then led us in a rendition of 'Silent Night', first in German, then in English.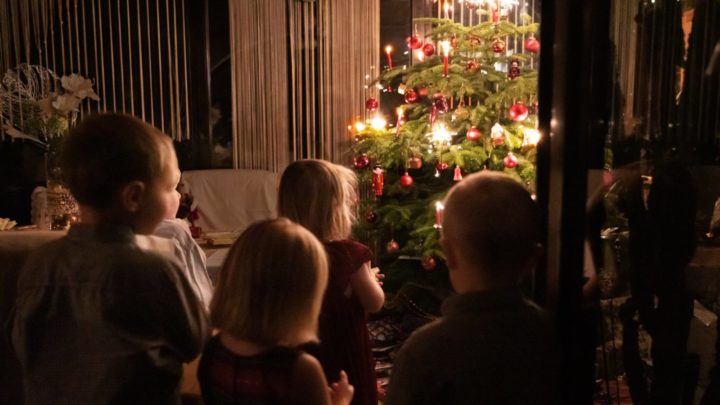 At last, it was present opening time, which was made even more special as the children got to share this wonderful cultural experience with their cousins who they don't see very often. What a wonderful evening!
On Christmas Day we feasted at the local Gasthof Froschauer, unquestionably the best pub right in the heart of Hofkirchen. We were treated like royalty at our two very large tables. Quality Austrian wine and beer flowed freely followed by traditional Austrian fare from the a la carte menu. The food and service were fabulous, no doubt as we soon learned because this is one of the father-in-law's favourite haunts. What a fabulous way to cap a truly memorable Christmas.
Upper Austria is centrally located being only a 2-hour drive to either Munich or Salzburg airports and 2.5 hours to Vienna, so it's easy to get to and a great place to base yourself if you want to explore further afield. Take my advice and make sure that if you do visit this beautiful part of the world you:
self-drive – it's easy to get around and English is widely understood, if not spoken
stay at Ferienhof Mairhofer B&B – it's brilliant
go to the pubs and immerse yourself – people are friendly, welcoming and love a good chat and a laugh even in broken 'Genglish' (a mix of German and English)
contemplate the many hiking trails, road and mountain bike trails, play golf or visit the many nearby Schloss's (castles) in spring and summer if winter is not your thing.
Is this simply a daydream or a wonderful memory? Neither! It's a plan, so let's go! Hopefully, the coronavirus crisis will abate and allow us to enjoy Christmas 2020 in Austria — let's follow the health directives and keep our fingers crossed.
Been travelling? Travel at 60 wants to publish your story. Simply sign up as a contributor and submit your stories. When your story is published, you'll go into the draw to win some great weekly prizes. You can also join the Travel at 60 Travel Lovers Club on Facebook to talk to other travellers in the Travel at 60 community.