Tangier, founded in the 5th century BC, has an old area as well as a new section of the city. It is a cosmopolitan city, due to its location on the Straits of Gibraltar, its status as an International Zone in the mid-20th century, and its role as a major trading and tourist port. Although Arabic is the most commonly spoken language, French is also widely spoken, since Morocco was formerly a French colony, as well as Spanish and some English. Further south I would need to rely on my French to communicate with the locals.
Stopping to check the map frequently really marked us out as easy targets. Mistake number one – soon we were trying to fend off another "guide" who would not take no for an answer. We kept telling him we would manage on our own, but he walked alongside us anyway telling us various snippets of information and recommending shops to stop at along the way. He obviously wanted us to buy something so he could earn a kick-back. Eventually we had had enough of this, so asked him to show us a restaurant where we could stop for dinner. Once we were settled at a table, he sat with the owner at another, waiting for us to finish. We told the owner we did not want him to wait, but the guide wouldn't leave us until we got out our wallets. That was mistake number two. Both hubby and I opened wallets at the same time to find a small note to get rid of him. This was our first transaction with Moroccan Dirham, so we were not sure what to choose. He reached over, grabbed both 100DH notes from our hands and took off! We later calculated we had paid him the equivalent of AU$25!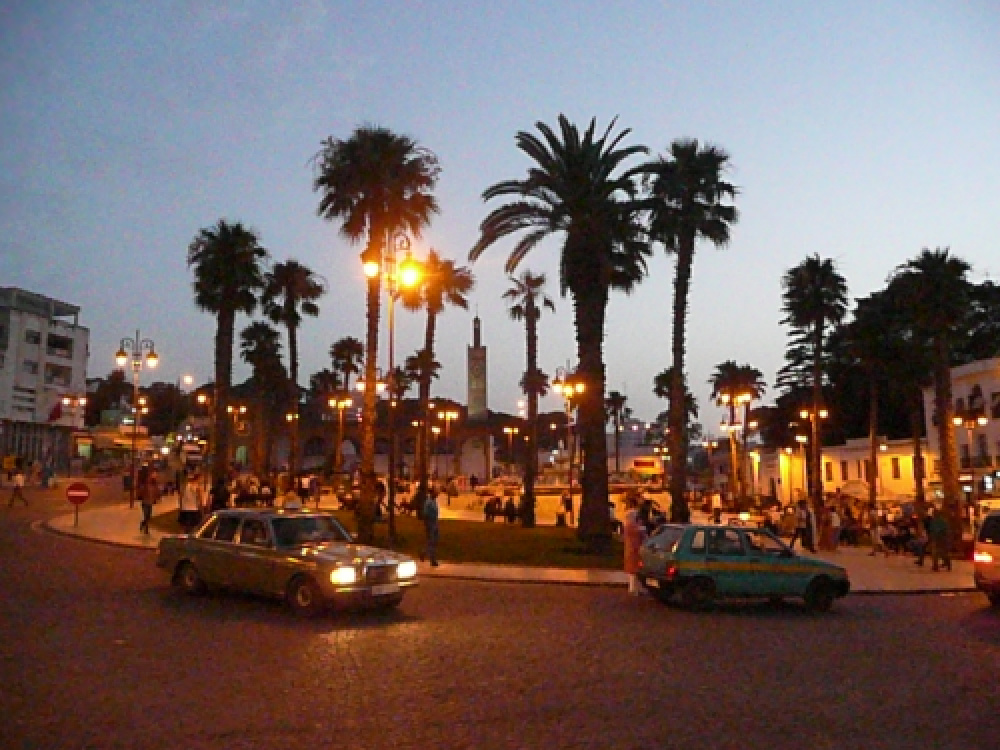 That was not a good introduction to Morocco, but it taught us first-hand how to be careful for the rest of the trip. As the sun set the crowds came out to wander around the shops and restaurants. At last we were left to ourselves to mingle among them.
Next morning we were met at the hotel by our driver who would follow the route we had chosen. The first stop two hours away was in the town of Chefchaouen, known as the 'blue town', about 110km southeast of Tangier. Set in the Rif Mountains, this pretty town is famous for its medina of striking blue houses with red tiled roofs, key-hole shaped doorways and tiled passages winding throughout.
Founded in 1471 as a consequence of the expulsion of Muslims and Jews from Spain, Chefchaouen is dominated by the 15th century Great Mosque with its unusual octagonal minaret, and the old Kasbah (fortress) facing Plaza Uta el-Hammam. The other side of the square has cafes and outdoor seating in the shade of spreading trees, where we took our lunch.
We wandered aimlessly through the winding streets of the medina admiring the blue buildings and stopping to check out shops along the way. It was not busy and shopkeepers were more laid-back than in Tangier. Winding up back in the main square, we decided to visit the Kasbah, now restored as a museum displaying regional artefacts and an art gallery. In the centre of the Kasbah the garden was like an oasis in the heat, with access to the towers which provided stunning views over the city.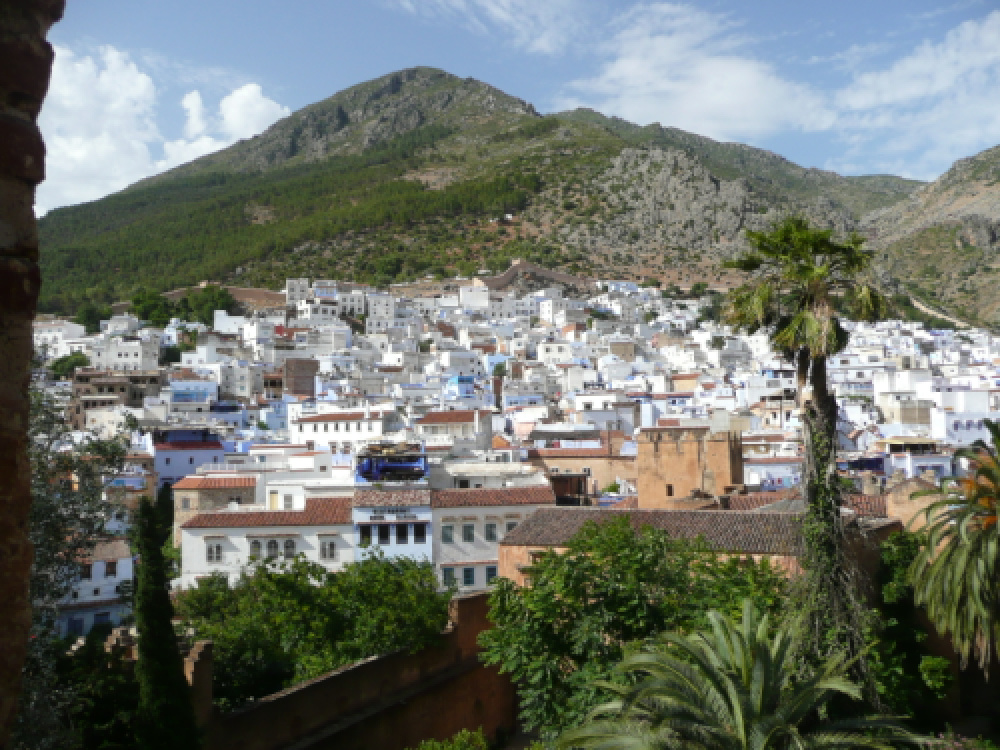 Our accommodation was in the Riad Casa Hassan, which was our first experience of this type of dwelling. Basically, riad means garden, so these houses enclose a central open-roofed courtyard complete with pools or fountains, trees and potted plants. This allows cooling breezes to waft in to the upstairs rooms through centre facing windows and balconies. Happily for us, these restored riads also have air conditioning! As well as this private outdoor living area, alcoves off the courtyard serve as lounge and dining areas, where we were welcomed with mint tea or had our breakfast.
The outsides of these houses are often unremarkable, plain, windowless walls barely distinct from the one next door, although in Chefchaouen, blue paint, at least halfway up the walls, is de riguer. The distinctive features are the shape of the doorways and the huge doors with their rivet patterns, decorative painting and ceramic tiles.
Inside the front door of a riad there is a small ante chamber where guests are received before being allowed into the courtyard. This was designed to allow the women of the household to quickly retire to a private room if they were not wearing the prescribed modest vestments (Djellabas) for meeting outsiders. Moroccan custom frowns upon the exposure of bare arms and legs in public, although tourists are allowed some leeway in the extreme heat in the cities. While many women also wear headscarves, these are not really required, but are more often seen in more conservative country regions. Although about two-thirds of the population are Sunni Muslims, almost one third belong to no particular Islamic group. The branch of Sunni Islam in Morocco is less restrictive than in other Islamic countries.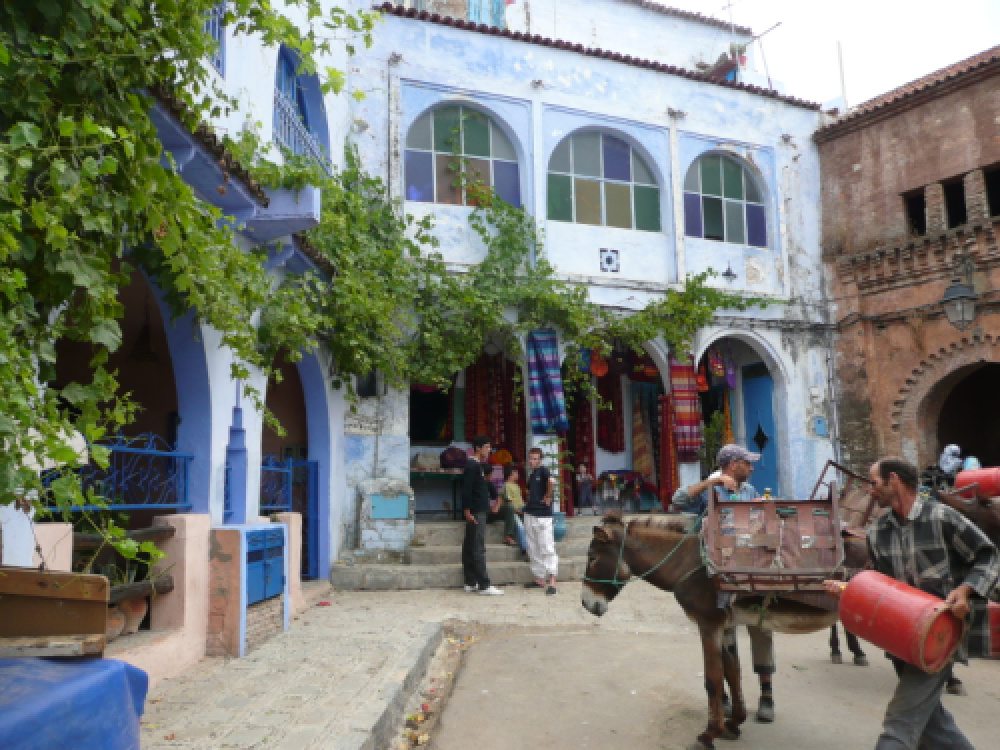 Our riad owners also operated a restaurant nearby, so we were eager to try the local food. There was the customary, welcoming mint tea, followed by a traditional pie called a chicken pastilla. The flaky pastry was light and flavoursome, with a roasted almond, cinnamon, egg and chicken filling. But the strangest thing for us was that the top was dusted with icing sugar! And it was fantastic! Next we were keen to try an authentic tagine, with chicken, olives, carrots and potatoes as the main ingredients. It was very spicy with Chermoula marinade (garlic, ginger, cumin, saffron, pepper and coriander in olive oil), and preserved lemon. This was all served with a bowl of steaming hot couscous. It was such a great introduction to Moroccan cooking.
Accustomed to drinking wine with our meals, we missed the addition – something we would have to get used to in this Muslim country. Fresh fruit rounded off the meal.
This had been a wonderful start to our road trip. Our driver would collect us next morning and we looked forward to spending a couple of nights in our next destination – Fes – another day, another blog! From there the next stops were Meknes, Rabat and Casablanca, and then on to Marrakech. Here we would have a free day without a guide while hubby played golf, and then a new driver would take us south-east towards the desert to Ouarzazate, the town made wealthy by the film studios based there. Near there, we were booked to stay in a converted Kasbah or fortress. Finally we would fly out of Marrakesh to make the return journey by plane to Madrid, Amsterdam, Kuala Lumpur and finally home to Melbourne.