The town of Amalfi sits in a ravine between two headlands and has some flat expanses for the beach and car parks. In the summer the beaches are packed with beach chairs and umbrellas, for a price. But the moment you head out of town there is an arch in the cliffs, which is no bigger than a bus — and the bus gets priority. In fact the winding roads are so dangerous that the bus will sound its horn as it approaches a bend so that oncoming vehicles can halt to allow it room to manoeuvre. Even the little motor bikes and scooters toot as they overtake to warn you not to veer from the straight and narrow. They do not consider they need any more than the width of the median line as they overtake in the face of oncoming cars. Although the views are superb, driving the coast road is not a feat we ever want to repeat.
We stayed in Sorrento (near Sant'Agnello village) for a few days in a bed and breakfast that was also a cooking school — Mami Camilla. In the evenings we were lucky to be able to join the students in eating the products of their labours.
It was lovely to be able to celebrate Hubby's birthday with them and taste their special dishes, so we brought out a bottle of French champagne we had picked up on our travels through France. Needless to say it didn't go very far amongst us all.
Unfortunately our room at Mami Camilla had no windows, except for a little ventilation in the en suite. We would come back after a day away to find it like an oven.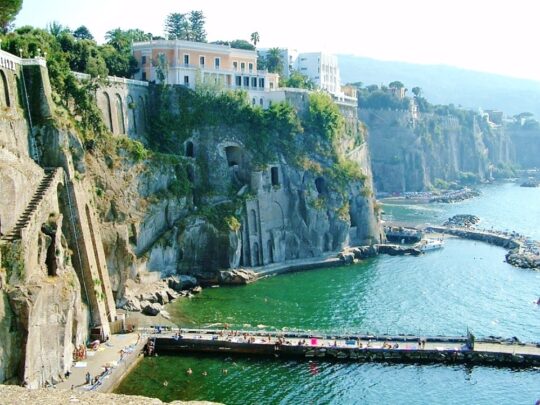 It was a very warm summer, so we made sure to cool off after sightseeing with some swimming. The beaches of Sorrento are grey volcanic sand and apart from the city beach/marina, only accessible down cliff-side stairs or tunnels hewn out of the rock. It was quite strange walking through the steeply inclined tunnels down to the water.
Pontoons or swimming platforms are provided for seating or sunbathing and a charge is levied for the use of many of them. We emerged into the sunlight and did not know whether to turn right or left. We saw a sign directing us through a café and out to a wide pontoon packed with sunbathers. We had to pay a couple of Euro for the privilege. When we were leaving we discovered that if we had turned left, that one was free!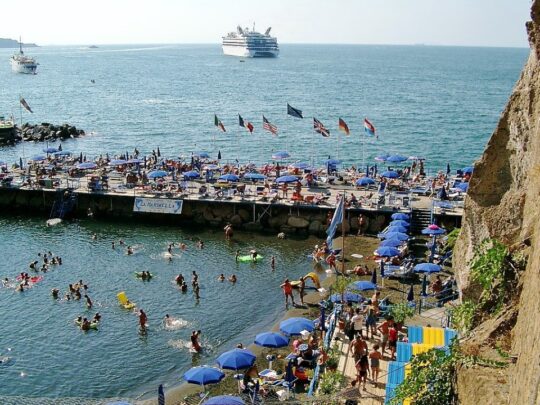 Sorrento is quite touristic but also a lovely town to walk around and with quick access by ferry across to Capri, which we made sure to visit. Capri's beaches, on the mainland side, are all stones and pebbles — quite uncomfortable for walking or lying on. We had to keep our sandals on to even go in the water as the stones were too painful for our feet. I admit, we Aussies are spoiled for beaches.
The elevated centre of the island of Capri can be reached by taxi, bus or via the funicular railway, as we did. In the town of Capri the designer fashion stores, luxury boutiques and fancy restaurants are certainly worth a look. From Anacapri, further up, a chair lift takes visitors up to Mount Solaro. We didn't bother with that as we had to keep an eye on the time for the return ferry, so we spent a while walking through the lanes passing the houses of the rich and famous.
The other popular tourist activity is to visit the Blue Grotto. Unfortunately this remarkable sight is only visible on a day with little cloud so there was no point us trying to see it.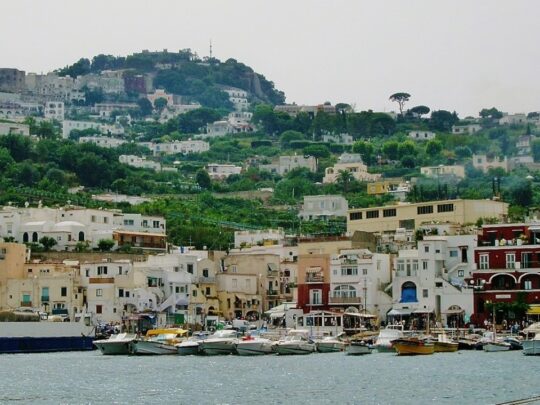 Our second trip to the Amalfi coast was during a cruise. This time we were wise enough to engage the services of a tour company whose little bus took six of us along the inland route from Naples to cute little Ravello, with its glorious views from high above the coast and then on to Praiano and the wonderfully picturesque Positano, before taking the coast road back to Naples. The old centre of Ravello is quite small, with a church and a garden worth visiting. From the latter we had spectacular views over the coast.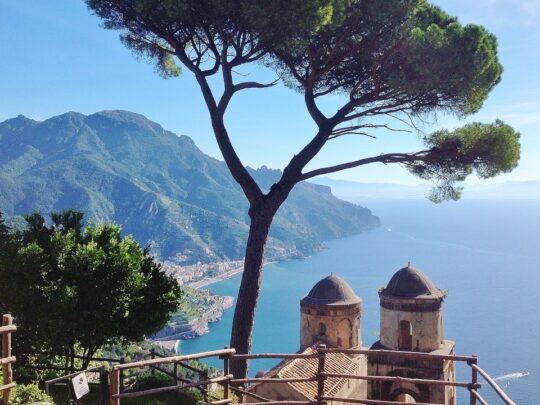 We had briefly stopped at Positano on our earlier trip, but finding somewhere to leave the car in order to go exploring was almost impossible. This time we were going to make the most of it. We had booked in to La Tagliata Restaurant high on the terraced roadways above the town — a place with authentic family style food and more spectacular views. We were not disappointed. The food was varied and delicious and more than we could eat.
Then our little bus took us down to browse the lanes and shops of the town and spend some time exploring the beach-side area. We found a beach bar where we caught up with our emails courtesy of the free Wi-Fi while we ordered a couple of iced coffees. This cannot be an Italian concept as we were presented with two macchiati which were simply cold!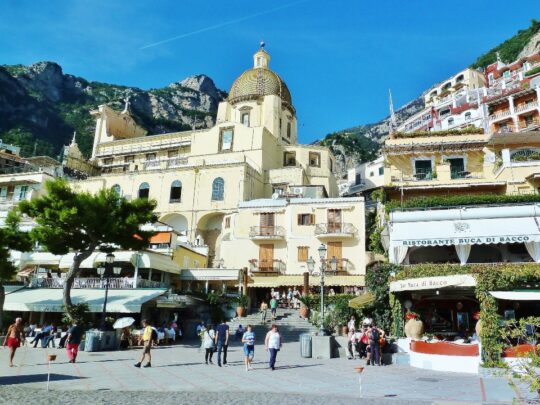 On both the way there and the way back we were forced to take long detours to avoid road blockages caused by car accidents as there are so few roads in the area. The coast road only has a couple of side roads in its entire length allowing access to the routes inland. It made our trip quite lengthy and caused us much anxiety on our return journey to Naples port in case we did not make it back to the ship in time.
Thank goodness another tour driver phoned our driver a warning so he could take a road up to the ridge and we got back in the nick of time. It was a risk to venture so far away from the cruise ship in case something like that happened. Nevertheless, I'm very glad we did it as Positano would rate as one of my most favourite Italian towns.