Next was a man unloading a mule, his only means of servicing the area. Then I came across a tour group from Peregrine Travel led by Francesco, a man born in New York who now lives here. Amazingly his group were Australian, all 15 of them. Unfortunately three were from Geelong and we all know what they wanted to talk about. Francesco lamented that his normal clientele of Americans and Brits had severely declined, but had been replaced by mainly Aussies.
I stayed with them till we came upon two other locals with four mules collecting wood. You can believe me when I tell that there's the same amount of room on the trail then as when two buses pass on the Amalfi coast road, i.e., none. It was frightening when I looked behind me as one of the logs brushed me and I glimpsed the chasm below.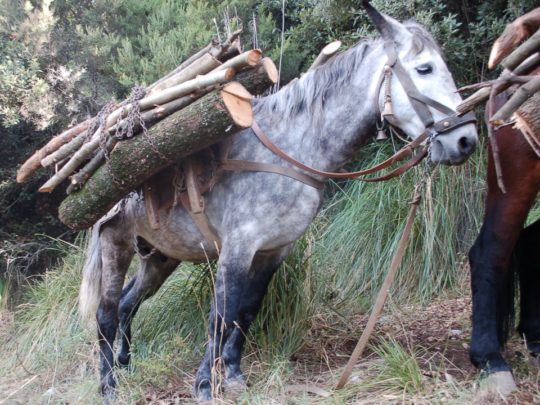 The white specks of Positano were looming larger after three hours when I walked into one of the high villages and on to an actual road. My feet were pleased.
I continued on past Monte Pertuso, which means 'a mountain with a hole in it', before descending to the motel past lonely outposts and cascading waterfalls. A shower and a rest were had but there was more in store.
Walking past the gaily lit restaurants that night we chose the Saracens because it was crowded. The atmosphere was lovely with a mandolin and guitar being picked for background noise. However, after an hour a silver-haired gent arose from a table and, with appropriate hand gestures, sang one song then 'O Sole Mio'.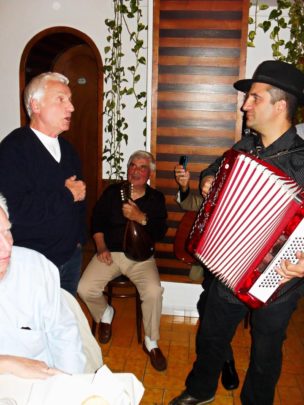 He arose another two times for 'Santa Lucia' and 'Funiculì, funiculà' among others. Turned out he was an opera singer and it was his birthday. Was it enjoyable? Let's just say we gave him a standing ovation. Do I really have to leave Italy?