We trudged off, splashing merrily along the way, the rush of water right beside us, the clear weather above. You couldn't help but feel this was going to be a good day. Mr C was excited, well, as much as he can get excited, because he enjoyed overhanging waterfalls, as in ones that you can get behind. Turns out this walk has three of them.
The first proper stop, other than my 30 minutes of various asides for cascades, plants, insects etc., was for Glow Worm Nook Falls. Here Mr C finally got his camera out of his backpack and started to set up. You could certainly get behind this one and the water was positively roaring into the splash pool. While Mr C set up for his streaky waterfall memories, I scavenged around and came upon some prolific fungi. It was all going swimmingly.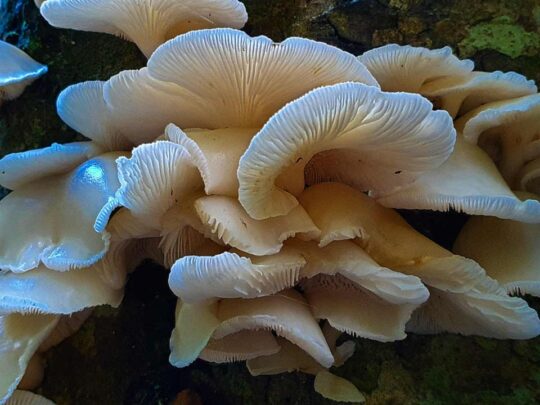 Next stop was one of his favourites, Horseshoe Falls, very similar in style to the previous, though with lots of tree debris at the base and the cave was surprisingly dry. You had to trample over tree roots to get down there, but it was all a bit special having it to yourself. I loved the massive wavy patterned rock just a fraction downstream, it balanced the shot perfectly.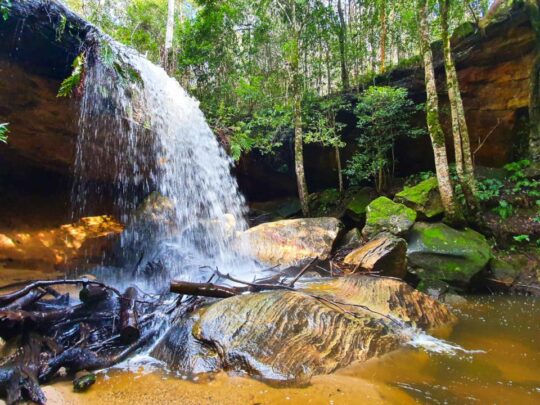 Further down was Oaklands, a more conventional style of cascade, with no undercut that you would fit into, just water rushing down the sandstone, first in a drop, then in a 45-degree slope. We tarried not long here, despite Mr C taking a shot and all that entails.
Then it was a scramble yet again up to the main track where we happily splashed along the sodden bush path, knowing we'd already taken more good shots than you usually get in one day.
The trail comes to an intersection where two streams unite. It doesn't continue, just turns right to follow the side stream, and this is where Burgess Falls are.
En route there was a magnificent ribbon gum, quite the tallest I'd ever seen, its canopy way on high and with more shed bark than I'd ever come across on the species before. It lay randomly across the trail like a discarded giant's carpet.
Somewhere else I'd espied an angophora, its exposed root system bared for all to see on the trail and the trunk tilted at an absurd angle, seemingly defying the laws of nature and gravity.
Now we were deep in fern country as we approached Burgess, arriving just in time before the sun ruined the lighting. Mr C said it was normally a trickle, but today was quite the best he'd seen it. The large semi-circle the water vaulted into was framed by coachwood trees at either end while the ferns filled whatever cracks they could find.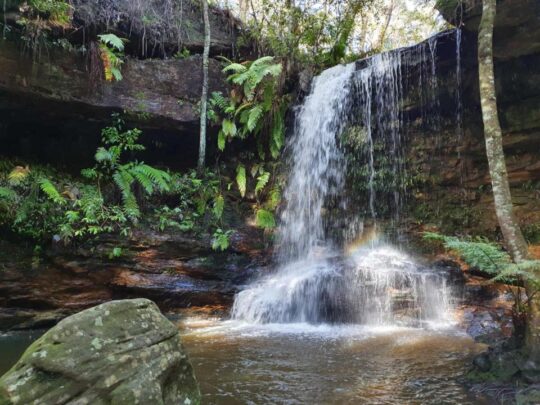 I crawled around wherever I could for a viewpoint, even wriggling into the narrow space behind the falls for an opportune shot. We spent around 20 minutes here until we could think of no more excuses to tarry and hauled ourselves with some difficulty over a tree and massive rocks to exit.
Walking back there was a residual feeling of having had a wonderful morning, spending around three hours in nature's playground. Well, until I fell over the stick that is.