They offer a unique and unforgettable experience while the amenities and activities available onboard allow you the opportunity to relax and recharge while you sail to your next destination – and the best part is, you only have to unpack once!
So, if you're looking for a holiday that will take you to new horizons, a round-the-world cruise may be just what you need.
Packing for a round-the-world cruise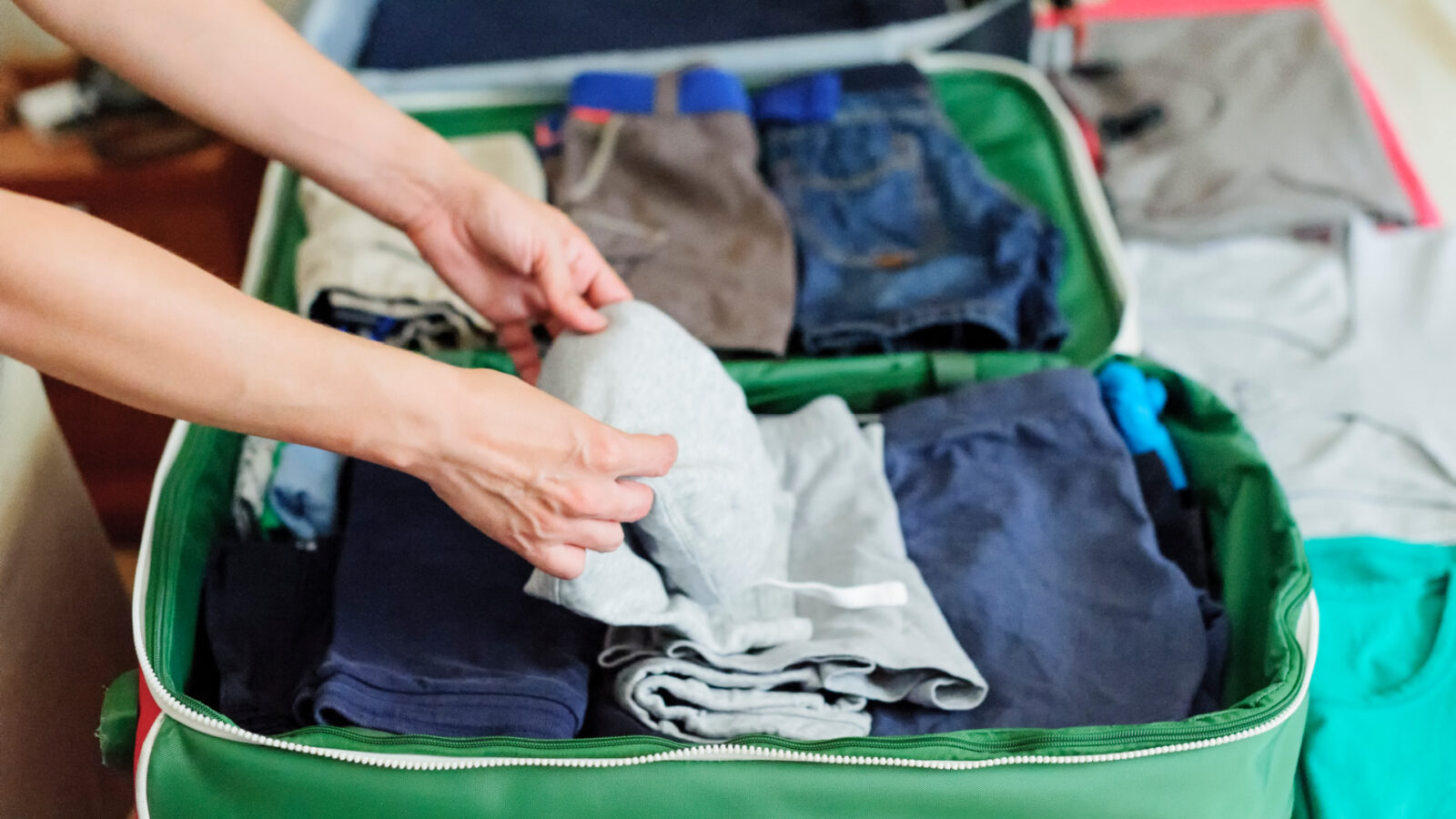 Packing for a round-the-world cruise isn't the same as packing for a single-destination holiday. You could be travelling from a tropical destination to one that experiences cooler, drier climates.
So even though you only need to unpack once, you'll want to make sure you've considered the following: 
The weather:

be sure to research what the weather is like at the destinations you'll be cruising to during that time of the year, and consider layering and bringing versatile clothing items that can be dressed up or down.

Dress code:

check your ship's guidelines before you pack, some cruise lines may have specific dress codes for certain events, such as their gala nights, or dining areas.

Comfortable shoes:

you'll likely be doing a lot of walking on your trip, so bring comfortable walking shoes that are suitable for different terrains.

Pack a day bag:

Bring a small backpack or tote bag to carry essentials with you during shore excursions.

Electronics

: Make sure to bring adapters for any electronics you're bringing and don't forget the chargers.

Entertainment

: Even though there's plenty of entertainment provided on your cruise, you'll still have some downtime on the ship – especially with round-the-world cruises lasting as long as 110 days, so bring a book, a tablet, or other forms of entertainment.

Leave some space

: You'll likely be doing some shopping along the way, so leave some space in your luggage for souvenirs or other items you might want to bring back.
Know before you go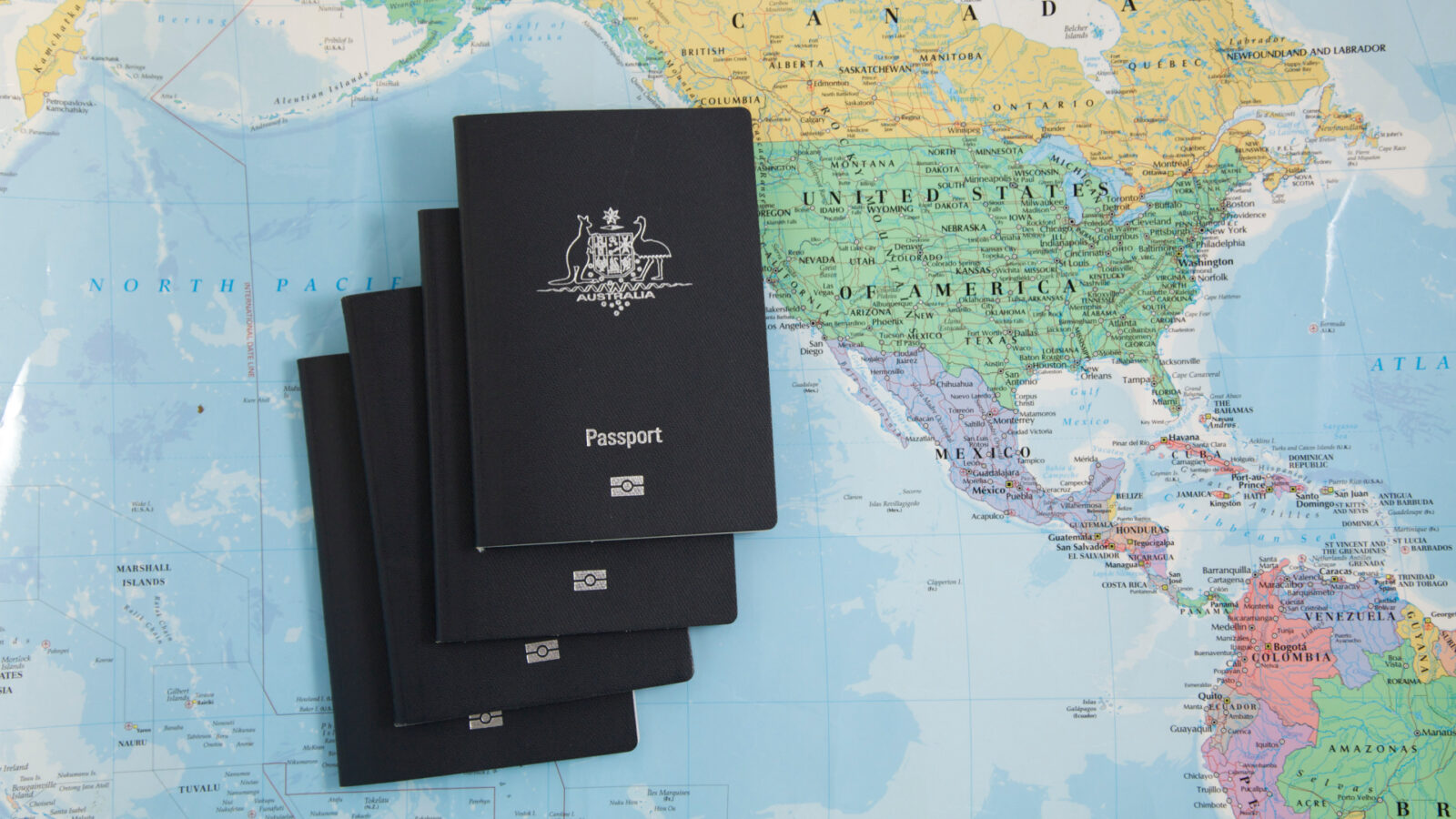 Before you cruise off into the sunset, make sure you're covered on the below so that your holiday is a seamless and enjoyable experience.
Visas and entry requirements
Be sure to look into all the necessary visas, vaccinations, and travel documents for each country you'll be visiting on your cruise.
This includes a valid passport with enough blank pages and at least six months of validity beyond your cruise return. This element of the holiday falls to the traveller's responsibility, and if not taken care of, can cause major inconvenience – including fines, or even the refusal of the ship to enter port.
Travel insurance
Listen, accidents happen! But for peace of mind, it's important to know that you're covered.
That's why travel insurance is definitely something worth considering for your round-the-world voyage – in fact, travel insurance is mandatory when visiting some places like Fiji or New Caledonia.
It's highly advised to organise your travel insurance at the time you pay your deposit to avoid any complications. 
Travellers without adequate coverage are personally liable for cancellation, medical, and associated costs incurred at any time, whether before the cruise, on board, or overseas – and it may be costly.
Hospitalisation costs and medical evacuation costs are very expensive, and daily hospital bills can reach up to AUD 5,000 per day. Unfortunately, Australian Medicare, New Zealand ACC, and private health insurance will not cover any medical costs incurred on board.
A bucket list holiday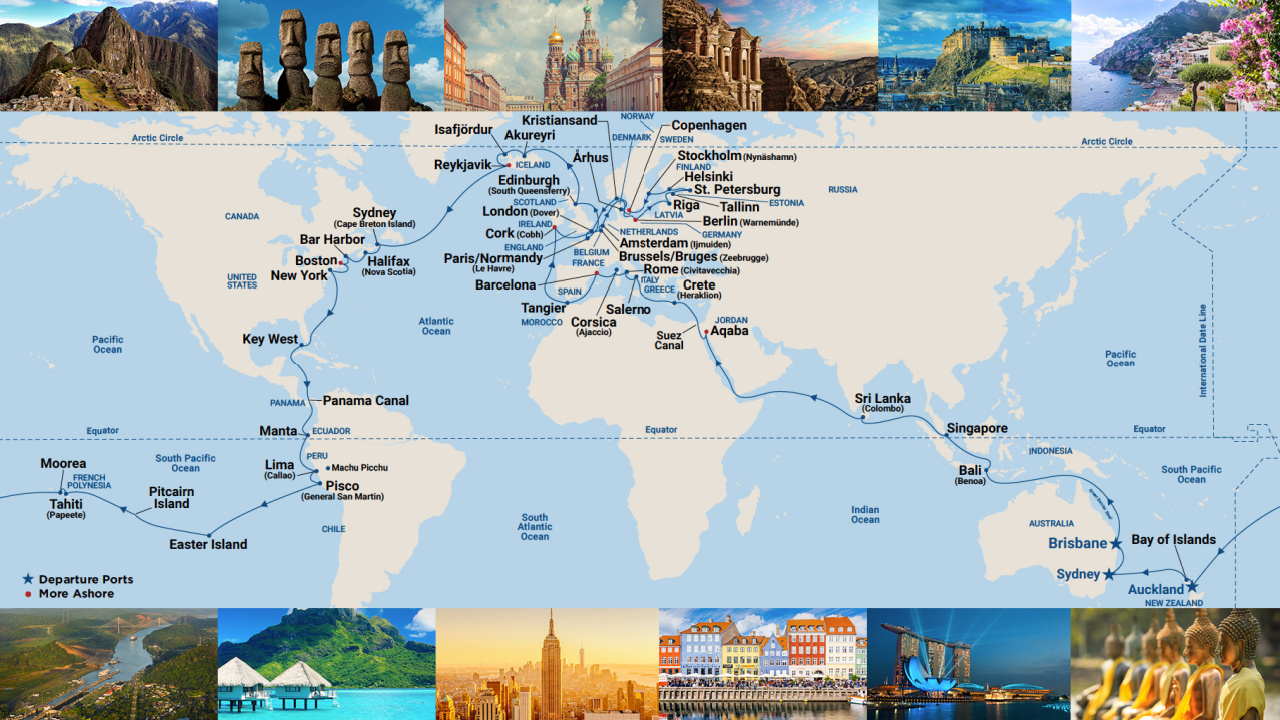 If you're ready to tick off this epic bucket list holiday, then why not embark on the ultimate round-the-world adventure aboard the Coral Princess from Sydney/Brisbane in 2024! Sit back and relax as the sights and wonder come to you as you cruise to incredible locations.
This 110-night round trip, all round-the-world voyage will take you through six continents, 32 countries and a total of 47 destinations, including some of the world's most fascinating destinations, spanning from the Mediterranean to Scandinavia to New York to Peru.
Not to mention you'll be treated to 27 UNESCO World Heritage sites, including Colombo's Sacred City of Kandy, Gaudi's masterpieces in Barcelona, the serene Botanical Gardens of Singapore, the Historic Centre of Lima (Callao), and London's iconic Westminster Abbey – just to name a few of the many awe-inspiring destinations included in your itinerary.
Here's a sneak peek at some of the highlights included on this trip: 
Step back in time and explore some of the world's most iconic historical sites, from the ancient ruins of Rome and the city of Petra to the enigmatic moai of Easter Island and the charming Blarney Castle in Cobh.

Explore the world's most renowned cities, celebrated for their art and architecture, fashion, music, culture, and culinary delights, on an unforgettable journey that includes late-night or overnight stops in Barcelona, Stockholm, New York, and Boston.

Immerse yourself in the natural splendour offered in destinations like the cultural panoramas of Bali, the Blue Lagoon in Reykjavik, and Gatun Lake in the Panama Canal.
Book through Travel at 60, the over 60s travel experts, and receive $500 per person off the equivalent cabin fare currently charged by the cruise line!