Port stops along the way allow you to explore the best these cities have to offer. Perhaps you'd enjoy seeing Melbourne's famous cultural wonders and bustling restaurant scene. Or maybe you'd like to take a closer look at Adelaide, a city fringed with fine sand beaches, hillside villages and dozens of renowned wineries. You could visit Sydney's world-famous Opera House, Tasmania's historic Georgian and Victorian architecture, or get up close to sea lions, koalas and diverse bird species on Kangaroo Island. If you're more of a daredevil, a bungy jump in Auckland may be up your alley. With so much on offer, it's hard not to get excited about visiting these special parts of the world.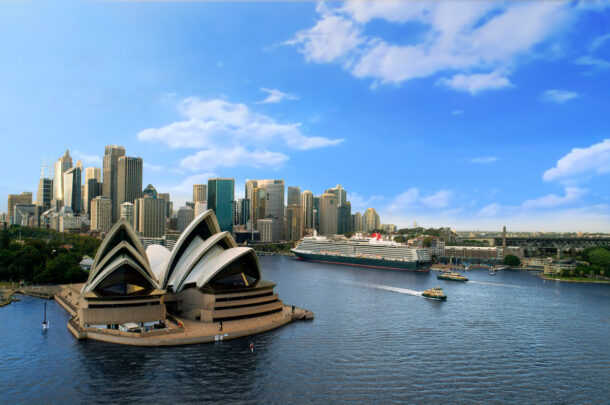 Something a little longer
For those looking to enjoy a more leisurely break at sea, Cunard has a host of fabulous voyages that'll allow you the time you need to unwind and take in the splendour at your own pace.
Book ahead and enjoy Christmas at sea on a 21-night New Zealand and Tasmania cruise departing Melbourne, December 15, 2021. You'll be mesmerised as you sail through parts of New Zealand's Fiordland National Park, and experience the graceful and mostly untouched beauty of the area up close. Amongst and beyond the glacier-carved fjords of Doubtful and Milford Sound, stand impressive snow-capped peaks, luscious green slopes and forests that are home to unusual and unique species, all there to see from your unique vantage point on the Queen Elizabeth.
This memorable journey also includes stops in Burnie, Hobart and Port Arthur, where you can revel in Tasmania's heritage, scenery and unique culture. You'll taste the freshest seafood, sail the tiny island's diverse coastlines and experience why it's truly one of Australia's untouched beauties.
For those looking for something further afield, a 44-night Sydney to Cape Town cruise departing March 1, 2022, could be just what you need. This incredible voyage has port stops in Papua New Guinea, Hong Kong, Singapore, Port Elizabeth and more, before arriving in the breathtaking South African city of Cape Town. Here you can explore Table Mountain, which has its own dedicated Aerial Cableway that delivers you from ground to summit in just five minutes, as well as the city's famed food markets, wineries and beaches.
If you're looking for something a little warmer, Cunard's 13-day Sydney to the South Pacific departing January 12, 2022, will see you soaking up the South Pacific sun and whitewashed shores of Fiji, Vanuatu, New Caledonia. So much more than an idyllic island escape, you'll be enthralled by the diversity of cultural experience, blending of European and island cultures, unique food and ever-smiling locals. Set your watch to 'island time' as you port in Fiji, world renowned for its laid-back lifestyle, pristine beaches and smiling hospitality. Indulge in the French-influenced food and wine of Noumea, New Caledonia, which enjoys more sunshine every year than any other Pacific island. Finally, explore the iridescent blue waters and verdant jungles of Vanuatu. With colourful reefs to explore, historical sites to experience and sun-soaked beaches to laze on – this South Pacific adventure will win over any type of traveller.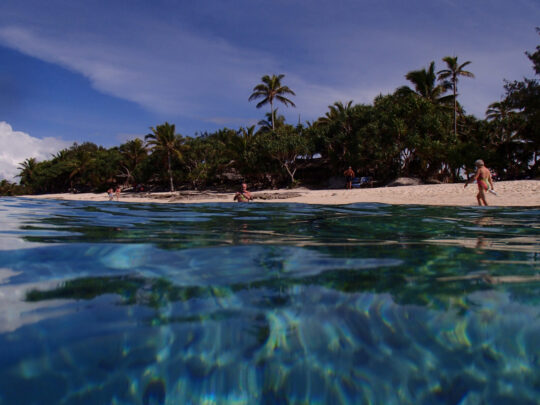 The Cunard experience

Cunard prides itself on providing unique experiences and modern luxuries for a truly unforgettable time on-board. Guests are treated to white-star service with friendly stewards and first-name greetings, luxurious accomodation and exceptional culinary options, all experienced amongst the elegant art-deco features, ornate architecture and chandelier-clad ballrooms on-board. Embracing the glamour of yesteryear, Cunard cruises host extravagant gala balls with live orchestras, a full theatre offering West End-calibre performances and a daily afternoon tea served by white-gloved waiters. And all that can be experienced before you even step onto land at one of the exotic ports you're visiting along the way.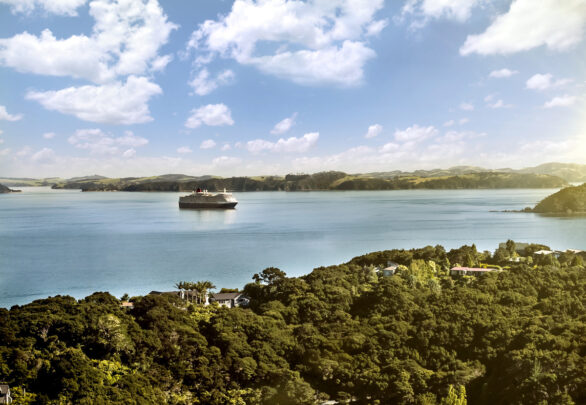 Your free gift from Cunard
After 2020's tough travel restrictions and spending far too much time at home, it's time for cruise-lovers to celebrate with the gift of US$2,800 onboard credit, per stateroom until May 31, 2021. As cruise-lovers know, and first-time cruises will find out, your time at sea is yours to enjoy as you will, and after the year we've all had, you deserve to spend it in luxury. Your days at sea are exactly as exciting, relaxing or diverse as you want them to be and with Cunard's endless on-board activities you'll have no shortage of ways to spend your free credit.
Treat yourself to a private box in the Royal Court Theatre and be entertained by live acts every night. Or eat and drink your way through Cunard's elegant fine dining, gastro pubs, indulgent buffets, bars and lounges. Peruse the onboard shopping options, learn to salsa or tango, or indulge yourself with a full day of pamper at the spa. Each experience will create lasting memories and remind you just how fabulous life can be at sea.