She was the family fashion plate; she won the Miss Henley contest with a beautiful dress and picture hat. Her sister, a talented seamstress, saw that Mum always looked her best.
When she married she had a wonderful society style wedding at a proper wedding venue, she saved for ages to be able to afford it. Most weddings in the 1930s were either at home or in the church hall. Food was provided by family, so her wedding being as it was would have been a lovely experience for everyone.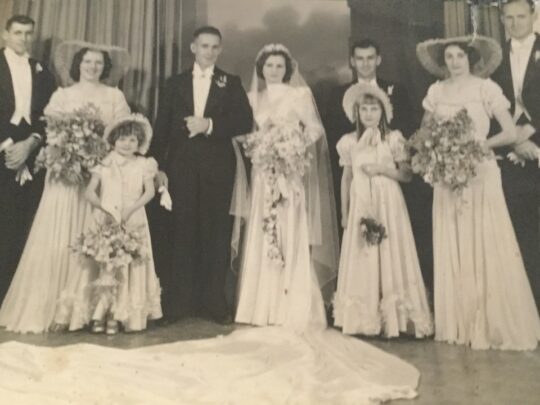 When I was growing up in the 1940s, I longed to wear overalls, but it wasn't to be. I was being brought up to be a lady. I was to be perfectly dressed at all times. It was a challenge for both my mother and me — she wanted me looking like a doll and I was a mad tomboy. I remember one afternoon I went swimming in the creek in a singlet and my bloomers while my dress stayed dry hanging on a bush.
Curls were the fashion of the day. No matter how hard I tried to avoid them, pin curls went in every night of my life for years.
While living in many country places Mum and I caught the train to shop and see Nan. Does anyone remember Myer's bargain basement? My gentle mother turned into a lion in that place. I remember I was perched under a rack of clothes hoping she would remember where I was, looking in amazement as Mum and another lady wrestled for a dress. Mum had one end and the lady had the other. Mum got it.
We moved to the city. I loved pedal pushers, skivvy and a silk 'Nicky Scarf'. It was all the rage in the '50s and '60s.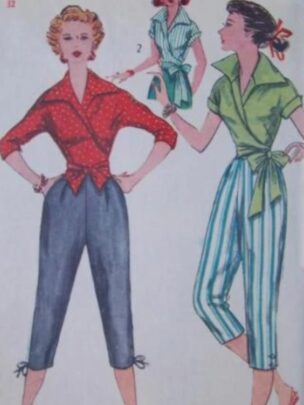 On special occasions, or for a bit of glam, we had to wear starched petticoats. If they didn't stand up on their own, you were something of a failure as a teenager.
I married and had four children. We didn't have much money so I'd haunt the local op shops for clothes that I could pull apart and remake. Our only son never saw anything second-hand. Many boys and men of the '60s and '70s did well when it came to attire.
I do recall when we'd crochet anything from tea cosies to bikinis. My greatest effort was the kids' ponchos. My son had a hand-knitted Starsky and Hutch jacket, and he was as proud as a rat with a gold tooth.
I had a crocheted catsuit that revealed glimpses of my knickers through. It was strictly for party wear.
The short skirts that I'd worn got shorter in my daughter's teen years. She and her friends went to Mardi Gras Melbourne wearing clothing they'd purchased at the op shop. It rained that particular night and her short skirt started to shrink. Her friends did the honourable thing and gave her a jumper that was tied around her waist to preserver her modesty.
Before Kylie Minogue donned a gold pair, hot pants were fashionable in the 1970s. My mother had been widowed in her 50s, but she looked about 40 years old. My husband and our children piled into the yellow Volkswagen we owned at the time and went to pick her up for a drive one weekend. I'll never forget that day. Out she stepped in a pair of purple hot pants and bright pink blouse. She looked incredible!
When she asked my husband, "Do you like my hot pants, Johnny?" he just smiled and said, "Thanks for showing up the outfit Al. Take your time, we don't mind waiting while you change."
They were decades of trailblazing styles. No wonder some of them are coming back into fashion again.