New Zealand's National Emergency Management Agency (NEMA) has since issued a tsunami warning for people living in the North Island's coastal areas from the Bay of Islands to Whangarei, from Matata to Tolaga Bay including Whakatane and Opotiki, and the Great Barrier Island.
"We have issued a TSUNAMI WARNING for New Zealand coastal areas following the magnitude 8.1 earthquake near KERMADEC ISLANDS REGION," NEMA said on Twitter. "There is a LAND and MARINE TSUNAMI THREAT. An EMA has been issued to areas under land and marine tsunami threat."
NEMA told people to evacuate immediately and move as far as inland as possible. "TSUNAMI WARNING issued following Kermadecs earthquake. People near coast from the BAY OF ISLANDS to WHANGAREI, from MATATA to TOLAGA BAY, and GREAT BARRIER ISLAND must MOVE IMMEDIATELY to nearest high ground, out of all tsunami evacuation zones, or as far inland as possible."
There is no tsunami threat to other parts of New Zealand.
The country's National Emergency Management Agency has issued a tsunami forecast map showing the areas expected to experience the brunt of the tidal surge.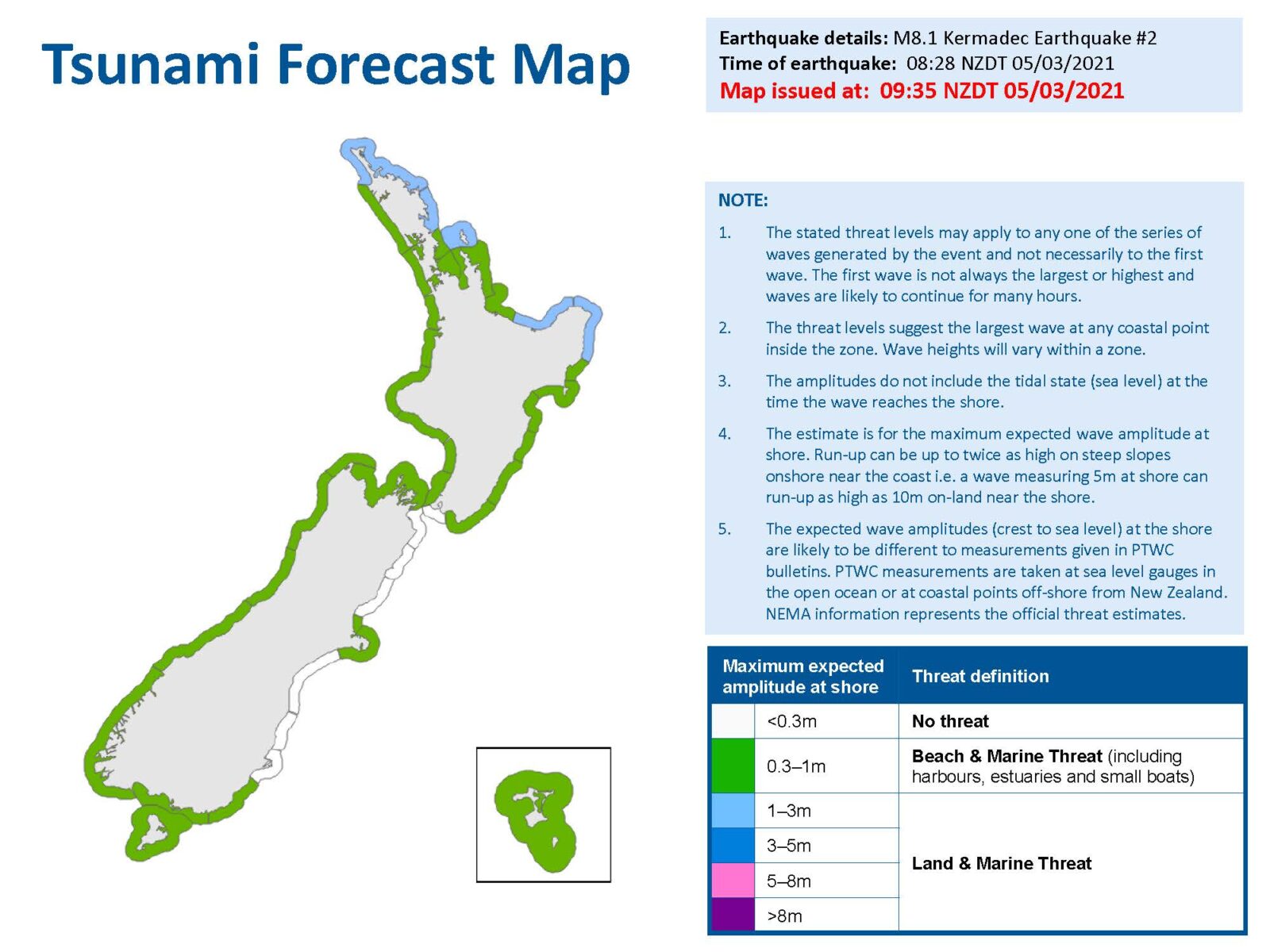 Prime Minister Jacinda Arden has since taken to Instagram to share a message, writing: "Hope everyone is ok out there — especially on the East Coast who would have felt the full force of that earthquake (the map here shows just how many people were reporting it across the country)."
 

View this post on Instagram

 
Residents have also taken to social media to share their earthquake experiences. Twitter user @LauraLexaNixon wrote: "Ok like literally the entire country felt that. That is terrifying." While @MareeB11 commented: "I'm on the North Shore in Auckland & felt it for a long time!."
One Twitter user shared an image of the water going out in Whangarei, a city in the North Island, which is often one of the first signs a tsunami is forming.
Another Twitter user shared a video of people evacuating, commenting: "Evacuating to higher ground in American Samoa (Utulei) due to Tsunami warning & 7.3 magnitude earthquake."