"As everyone's care needs differ, there are four levels of home care packages and cover off basic support needs through to those with high-care needs."
The levels of care and their funding packages are as follows: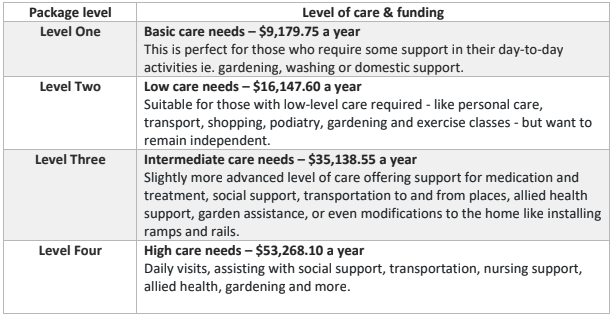 The level of care needed for each individual is decided by an Australian Government My Aged Care assessment.
Lockyer said seniors considering the home care packages should get their applications in sooner rather than later, as wait times for assessment results may vary.
"Depending on which service you're suited to and where you live it can take up to 12 weeks to have your aged care needs assessed. In urgent situations, an assessment can be organised within 48 hours," Lockyer said.
"However, it currently can take up to six months to establish eligibility and which home care package funding is available to you, and we expect these wait times to lengthen as demand grows.
Among the many alarming statistics, the report found that for a couple on the age pension, only 1.4 per cent of rental properties were affordable. Of those surveyed, 87 per cent hope to stay in their home as they get older, however, 72 per cent claimed cost was a barrier to being able to age at home.
Only 46 per cent of renters said their home is suitable for an older person.
Anglicare Australia Executive Director Kasy Chambers stressed that "everyone should be able to live life to the fullest as they get older. For most people, that means ageing in their own home".
"But the housing crisis is locking more and more Australians out of that dream. Almost 70 per cent of renters in our survey said that cost is the biggest barrier to ageing at home," Chambers said.
"Others are worried about security. We interviewed people who were forced to move, accept changes to their lease, and were afraid of being evicted. This is at a time of life when stability is more important than ever."