Retired Metropolitan Chief Superintendent, Matthew Gardner, took to social media to share a photo his brother-in-law had sent to him of the Prince, revealing William had caught his brother-in-law in the act of taking the photo and approached him.
"My bother in law was in London today and saw a celebrity, so he took a photo at a distance," Gardner wrote.
"The celebrity saw the 'covert surveillance' effort and crossed the road to investigate further."
Gardner went on to acknowledge the Prince's "silent" generosity and efforts to assist the community in an effort to bring light to William's selfless "gesture".
"What an honour to have a private moment with our future King who was humble and working quietly in the background, helping the most needy. These 'silent gestures' often go unrecognised," said Gardner.
"The finale to this unique occasion was when Prince William asked my brother in law If he wanted to buy the 'Big Issue', to which he replied "I have no change". At this point William produced a mobile card machine… you cannot teach that ! Priceless, or should I say 'Princely'."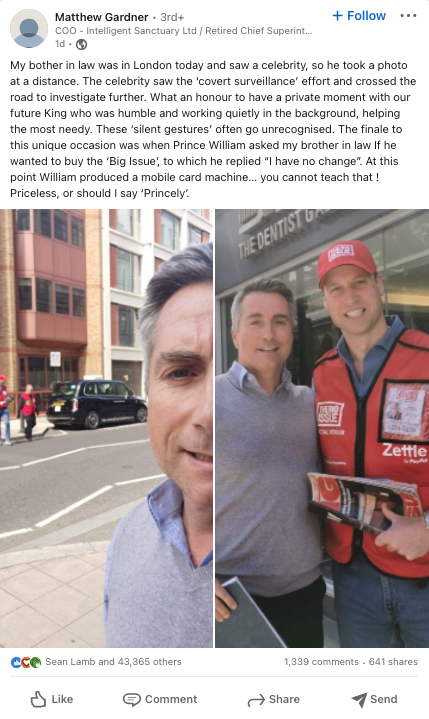 Fans rallied to the post to praise the Prince for his "humble" personality and "dedication" to those in need.
"Unbelievable. Both the chance meeting and the humble attitude of HRH," one fan wrote.
"The standard bearer he is, without doubt. Our land, heritage and future is in good hands. It will be an undoubted privilege to see him come to the throne one day. God bless him and his queen," another commented.
One fan likened the Prince to his beloved late mother, Princess Diana, who was known for her important charitable endeavours.