Dorante-Day's latest attempt to gain confirmation of his allegations comes two months after his sisters accused him of lying about his connection to the Royal Family.
Tracie, 52, who says that she is Dorante-Day's potential birth sister, and Amanda, 56, his adoptive sister, have created a Facebook page to debunk Dorante-Day's allegations.
The women previously told the Daily Star they believe Dorante-Day's fantastical claims about his royal parentage are based on the desire to feel important.
"In my opinion, his main motivation is money but it's also coupled with a desire to be recognised as someone of importance," Amanda said.
"As an adoptee, I think he has an image of whom and where he would like to come from – or his bio family to be – and we never fitted this.
"My six million dollar question is why Charles and Camilla?"
Since the publication of Amanda and Tracie's interview, Dorante-Day has taken to social media to counter their statements, recently publishing a letter sent to him by Hon Claire Coutinho, an MP who deals with matters in the department of Adoption, Family Justice and Alternatives to Care.
"Since Christmas I've been extremely busy on addressing not just the Paternity issue but also the illegal activities perpetrated against my family and myself," Dorante-Day wrote, referring to Amanda and Tracie "illegally" obtaining information about his adoption.
"These are NOT threats; I do actually undertake these actions as demonstrated by the letter from the Hon Claire Coutinho UK Minister for Adoptions below.
"Thanks to all those who send me messages asking if the family and I are Ok. Just busy, and we are all well, thanks again."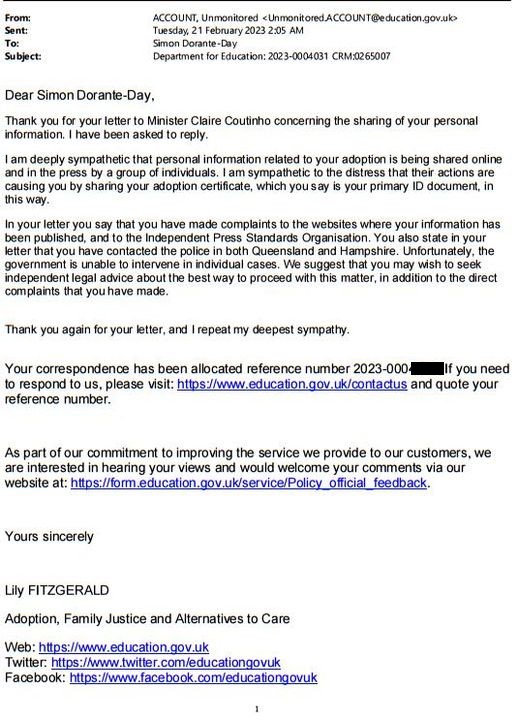 Since 2005, Dorante-Day has alleged that he is the son of King Charles and Camilla, claiming that the royal couple had him when they were teenagers and gave him up for adaption when he was eight months old.
Dorante-Day had previously told 7News had he had spent years in the courts battling to have Charles and Camilla submit to a DNA test.
"This is a lengthy legal process and one I'm not giving up," he told the news outlet.
He has also previously stated that he is going through the "proper legal channels" in an attempt to get a DNA test from both his alleged royal parents, sharing that he intends to go back to the UK to "really ramp up" his "quest for answers".