Arkie Douglas is sitting on the railway station waiting for the train under which she will commit suicide. It is 31 December, but Arkie has no intention of seeing in the New Year.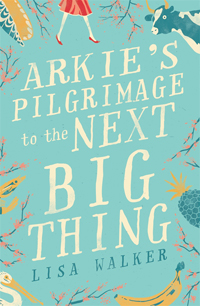 Obviously, life is not good for Arkie. Her husband's lawyer, Fabian, is chasing her to serve divorce papers; okay, so what if Arkie had an affair? Her wonderful and amazing mojo walked out with her lover Ben, taking with it her career as a trendspotter, a predictor of the "Next Big Thing". Why was she the only one who saw the benefit of an office constructed and furnished totally in cardboard?
Adding insult to injury, a Japanese tourist, who introduces herself as Miss Haruko, insists on talking and calling her Mizarki. Haruko is carrying a brief case and a surfboard, but Arkie doesn't have time to wonder why this unusual combination of accessories; the 9.40pm train under which she will end her troubles is due.
Where is that train? Sorry Arkie, no suicide tonight; your timetable and Haruko's are obsolete, that train was cancelled long ago. Just not your day is it Arkie? You can't even get this right!
So begins an unlikely and highly entertaining friendship. At midnight Haruko, as is the custom in Japan, gives Arkie a gift, miniature statues of the Seven Shinto Gods of Good Luck, Hotei, Jurōjin, Fukurokuju, Bishamonten, Benzaiten (Benten-sama), Daikokuten (Daikoku) and Ebisu. This gift brings a little bit of magic to Arkie.
Haruko suggests to Arkie that she cure what ails her by taking a pilgrimage to Japan's shrines, but money being in short supply this is not an option. There are however a number of "shrines" in Australia, shrines such as the Big Prawn and the Big Redback.
When I started to read this book, I was apprehensive; I'm not a fan of mid-life crises or self-indulgence sending people off in the direction of spiritual enlightenment. That the crises could be solved by visiting a big Banana, Pelican, Shell et al, seemed just too ridiculous.
Nonetheless, something about this story caught my imagination and the more I read, the more I enjoyed Arkie's pilgrimage. It gently pokes fun at the material and metaphorical "Big Thing" in an entertaining and light hearted way. But don't let the "fluff" fool you.
Among the laughs, there are some interesting insights. Noting the number of Buddha, or Buddha like, statues to be found in many different places, Arkie asks "Do you think that sales of Buddhas are indicative of a new desire for spirituality in our everyday lives?"– do you?
Among the ghosts of Arkie's past is the loss of a child she call the "water child". "In Japan, we have shrines for children who die. Or babies who aren't born. They are called mizuko," says Haruko. "Memorials to unborn and dead children are a common sight in Japan". Reading how Arkie creates her own mizuko, made me a bit misty-eyed.
From the view of a 60-something, I could be harsh and tell Arkie to "toughen up Buttercup. You won't solve your problems through self-indulgent, introspective navel-gazing". But as the woman I was before I gained this wisdom, I travelled with her to both the material and the metaphorical "Next Big Thing" and thoroughly enjoyed the journey.
Lisa Walker has written a quirky, amusing, entertaining story, which I encourage you to try – it is a very different experience but worth your time.
About the Author

Lisa was born in Holland, grew up in Fiji and spent her teenage years in Brisbane. She has worked as a bartender, wilderness guide, igloo builder and tertiary lecturer. She now works part-time in community relations. Unable to decide whether she likes writing or science more, she has Masters Degrees in both natural resource management and creative writing.
Her half-hour radio play Baddest Backpackers aired on ABC Radio National in 2008. She was a finalist in the ABC Regional Short Story Award and winner of the Byron Bay Writers Festival short story award. Her writing has been published in The Age, The Sydney Morning Herald online and the Review of Australian Fiction.
In her spare time she reads widely and does a lot of energetic outdoor things with her husband and sons. She lives on the far north coast of New South Wales.
In addition to Arkie's Pilgrimage to the Next Big Thing, Lisa is the author of two other novels, Liar Bird and Sex, Lies and Bonsai.