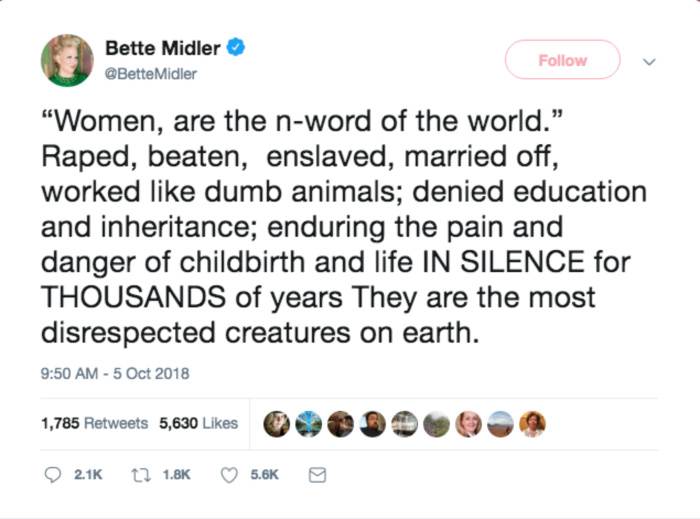 Another added: "This isn't a good tweet, ma'am," and one even wrote: "Bette honestly how dare you say this. As white women we need to stand up for every single black woman and every woman of color and recognize (sic) their struggle – and the fact that it is LIGHT-YEARS more difficult then ours. But you have instead just erased them. Shame on you."
More followers pleaded for her to delete the tweet with one writing: "Delete this and apologize," while another added: "Delete this my love! You have been doing so well!"
One more wrote: "Oh @bettemidler no, that's not an analogy white women can use. That word does not belong to us," while another went on: "This was a HORRIBLE take. Seriously reconsider this language. I do not care if this was a quote, that does not absolve it if it's ridiculous and harmful conflation of the lives experience of black people and black women."
Midler has since taken deleted the tweet and posted an agitated apology, which she also deleted hours later and replaced with a second apology in an attempt to explain what she meant with the original post.
She wrote: "I gather I have offended many by my last tweet. 'Women are the…etc' is a quote from Yoko Ono from 1972, which I never forgot. It rang true then, and it rings true today, whether you like it or not. This is not about race, this is about the status of women; THEIR HISTORY," she wrote in her now-deleted first apology. 
Lennon's original song sparked controversy when it was first released in the '70s due to the title and subject matter. The phrase itself was actually first used by Yoko Ono in an interview with Nova magazine in 1969, before going on to inspire their song.
Many radio stations refused to play the song at the time, however the National Organisation for Women reportedly awarded the musicians a 'Positive Image of Women' citation for the song's "strong pro-feminist statement" in August 1972.
Responding to the criticism at the time, it's been widely reported that Lennon defended the use of the n-word – claiming it represented any oppressed person.
It's not the first time Midler has used Twitter to voice her criticisms against the Trump administration. In February she took direct aim at President Donald Trump's calls to arm school teachers with fire arms after a horrific Florida school shooting.
Read more: Bette Midler edits guns into 'Sound of Music' scene in powerful protest
Using the iconic opening scene from The Sound of Music, Midler edited on two guns into actress Julie Andrews' hands, which appeared to fire as she spun in circles on the hill singing 'The Hills Are Alive'. Letting the powerful video do the talking, she simply captioned the post: "Enter the choir teacher…"
The tweet received mixed reactions from other users, with many sharing photos of a Photoshopped Trump being held down by FBI, while another photo showed an army man with "art teacher" written across his bullet-proof vest.
One user commented: "You are hysterical, lady!!! And yet, it's sad," while another added: "The hills are alive with gunfire".
Do you think Bette Midler should delete the post and apologise?