myGov tax refund 
There are two myGov scams making the rounds this month – one on email and one through text message. The email scam asks taxpayers to click on a link to receive a tax refund. However, the email is not from myGov nor does it have any connection to the ATO.
myGov said in a statement it will never send people emails or texts containing links to external websites. If you receive an email claiming to be from myGov that asks you to click on a link you should assume it is a scam and delete it immediately. 
If you're unsure, call the tax department using the number on its website, not the number provided in the email, to verify.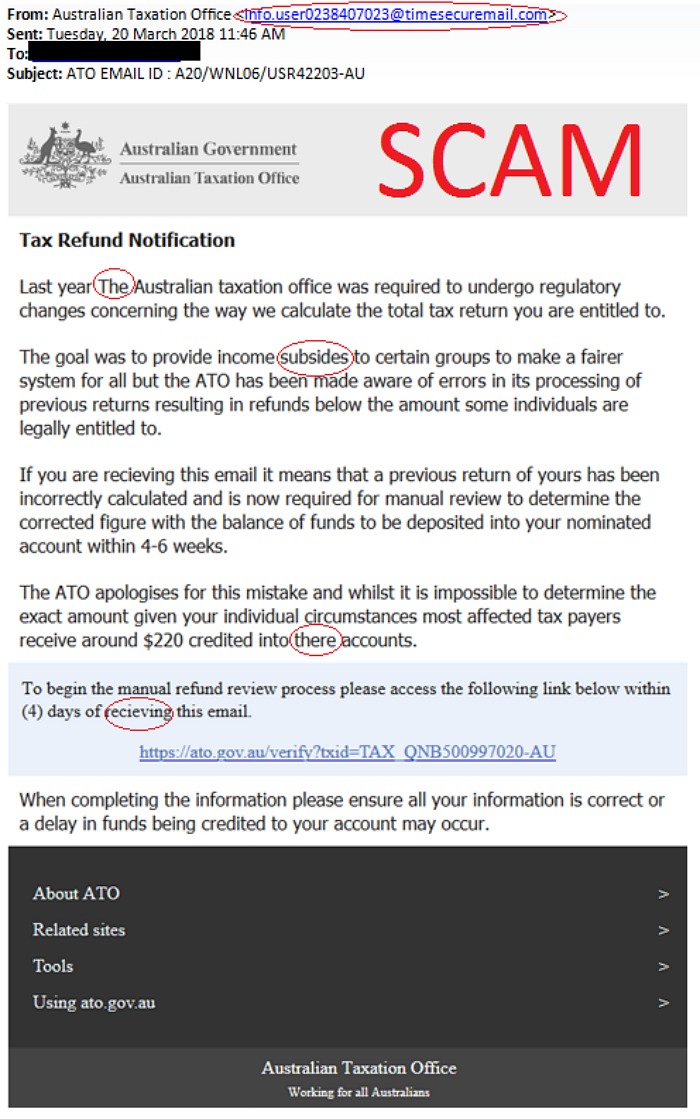 The ATO has also warned about aggressive phone scammers who are impersonating ATO officers and harassing people on mobiles and landlines. 
"Lately, we have been receiving reports of a variation of this aggressive tax debt scam, where callers impersonating ATO officers demand payment via iTunes gift cards and pre-paid Visa gift cards purchased from supermarkets and department stores," Whyte said.
"We will never request the payment of a tax debt via gift or pre-paid cards such as iTunes and Visa cards. Nor will we ask for direct credit to be paid to a personal bank account."
Read more: ACCC says over-60s repeatedly falling for fake energy bill scams
Earlier this year, the ATO released a list of the top phone numbers used scammers asked people to phone them back on. If someone asks you to call them on one of these numbers, report them to ScamWatch.
02 8005 6533
08 7200 7074
02 6100 3019
07 5641 0370
07 5641 0350
ASIC email targeting business owners
The Australian Securities and Investments Commission scam is expected to peak again this June and July, with the ASIC's own website currently carrying a major warning about the scam, which involves an email, claiming to be from ASIC, about a renewal letter business owners need to submit or a fine they must pay.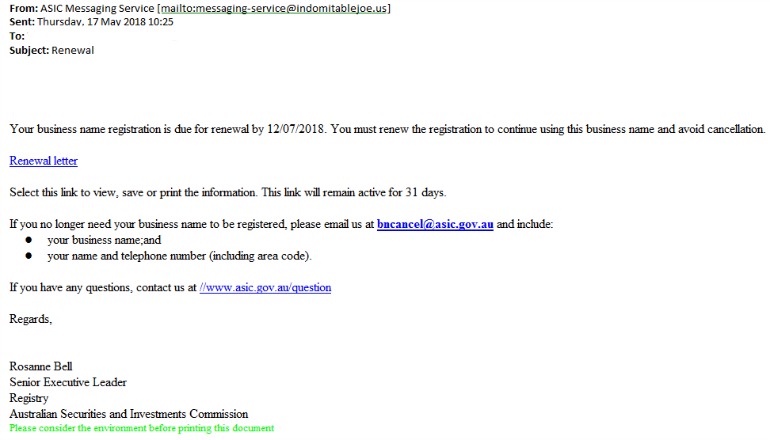 "If the email you received contains the above information, it is not from ASIC," ASIC said in a statement on their website.
Identity theft
One of the most devastating scams involves identity theft, where someone uses your name to make purchases, rack up credit card bills, or take out loans and purchase assets in your name. The problem with these scams is it often takes months or even years for the victim to realise something is wrong, and it's only when they go to lodge a tax return, or get a loan that they realise they've been scammed.
Some of the warning signs your identity could have been stolen include, mail disappearing from your letterbox, transactions appearing in your bank account that you don't recall purchasing, receiving mail from brands you didn't sign up for, or being denied a credit card, loan, or Centrelink benefit because you've maxed out your entitlement. 
If you're concerned your identity may have been stolen, call the police on the non-emergency phone line (131 444). 
The best way to protect yourself from a scam is to never reply to suspicious emails, open any attachments or click on any links in emails. Aways consider the possibility that an email or text message may be a scam and to be cautious when sharing personal information.
Have you fallen victim to a scam in the past?