"Love you so much, Grandma Rose."
After receiving the heartwarming birthday message, Elliot shared his grandmother's words to the online forum Reddit.
"My 98 year old grandma has been making me birthday cards for years. This one is the most plain of them all, but meant the most," he said.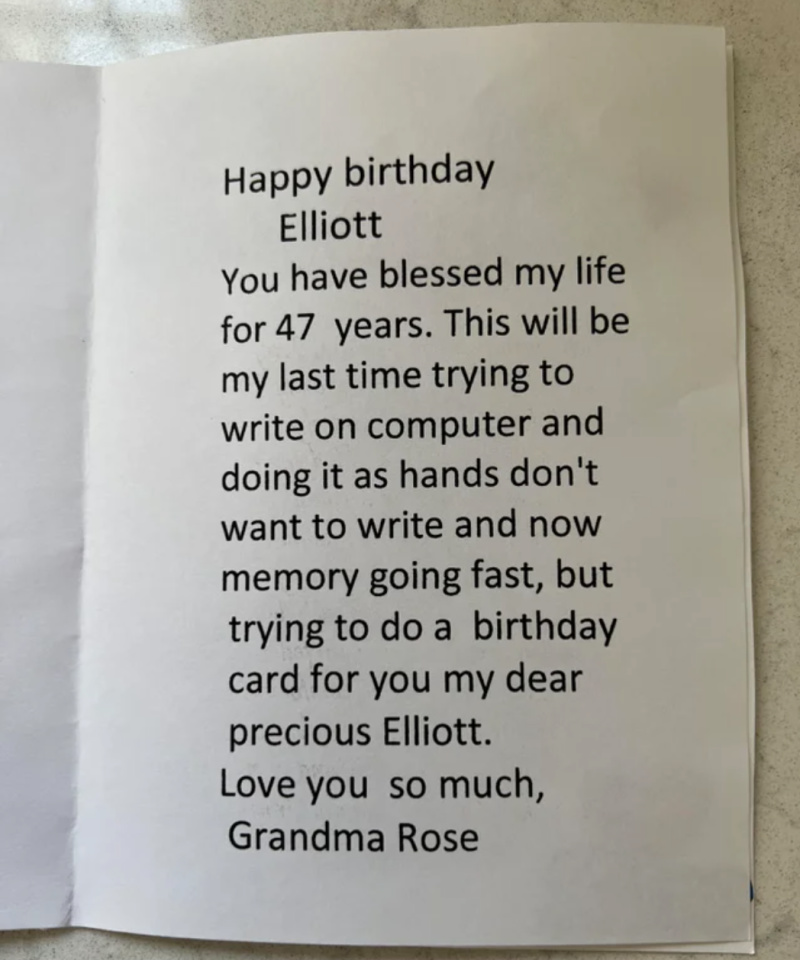 The post pulled at the heartstrings of many across the globe with countess commenters praising the grandmother for her sweet message .
"You get yourself an acid-free archival folder and keep that card in there and store it somewhere safe. That is priceless and beautiful. Thank you for sharing it with us," one user wrote.
"This is so sweet, bless you and your grandma."
"Treasure this, forever."
"Hug her so tight my friend, she's a gem!"
"Happy Birthday! Hug her & Love her. Tomorrow is not a promise. Time gallops away as we get older. Having a long view is not easy. Cherish her & all those wonderful memories together."
One Reddit user shared her own experience with a touching letter that they received from their late grandmother.
"I found a letter from my grandmother recently when cleaning out some things in our garage. It was from when I was struggling in school and she sent me some money to hire a tutor. She shared some of her struggles in school and said she would always find more if I needed it," they wrote.
"I've kept the letter all these years, it's been over 25, I think, since she sent it. She's been gone for so long but that letter brought her back and filled me with a deep sense of being loved again.
"My wife and I are expecting our first child in September and I just hope that I can be as giving and supportive as my parents and grandparents were. I worry I won't be able to give as much as my family gave to me, but it won't be for a lack of trying.
"Thanks for sharing this and bringing back the feeling on a difficult day. I needed this little moment."
'Grandma Rose' isn't the only matriarch being praised for her incredible dedication to her grandkids. A grandma dubbed "Super Granny" became an internet sensation recently after she was filmed going the extra mile for her grandkids.
In the video shared to the Instagram page, Good News Movement, the grandma is seen taking notes while a movie from the popular Marvel film series plays in the background.
 

View this post on Instagram

 
"Gran is watching through all the marvel movies and she takes notes on them so she can remember things from the movies to talk to the grandkids about," the caption read.
The heartwarming video has already amassed over 1.9 million views since being uploaded to the social media platform.