According to the company website, each coffin is actually made to order and includes chunky crackle glitter that reflects off the sun. In the UK, the coffins have passed the Funeral Furnishing Manufacturer's Association (FFMA) requirements, meaning they can be used for both burials and cremations. Because each glitter shard is made of non-chlorinated plastic, it doesn't release emissions and therefore makes it safe for cremation.
Similarly, 100 per cent cotton fabric cloth that is bio-degradable is also used for the coffins, which also makes them safe for burials as well.
Costs of the coffins can vary because they are specifically made for order.
An equally eye-catching range of ashes boxes are also available, selling for £169.99 (AU$295, US$215). Like the coffins, customers have 19 glitter colours to choose from and each box is made to order.
Pet lovers can also say goodbye to their animals with a range of ashes boxes for animals also available. They cost the same price as the regular ashes boxes.
It's not the first time a eye-catching coffin has made headlines in recent times. Singer Aretha Franklin, who died in August, was laid to rest in a 24-carat gold plated casket, surrounded by lavish arrangements of her favourite flowers.
Read more: Aretha Franklin's wardrobe change as she lies in state for second day
The singer even had several costume changes as her body laid in state for several days.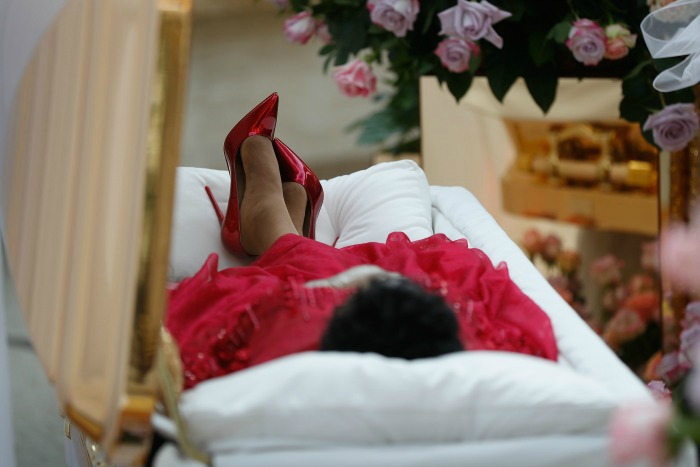 Meanwhile, a British mother made headlines in the UK last year after she started making Christmas decorations out of the ashes of dead people. Speaking to The Sun, Shirley Holdsworth explained that she puts the ashes inside a heart-shaped Christmas decorations so her families can remember those who are no longer around for the festive season.
She admitted to making decorations for families who lost sons, daughters, mothers, fathers and even dogs and said that business was booming. 
What are your thoughts on the glittery coffins? Is this taking things too far, or is it a good idea?