"I've also done a fantastic swing album with Jools Holland which is more Louis Prima than Frank Sinatra. I just want to make a change."
Stewart has for some time hinted that he would be taking a break from "rock 'n' roll touring", revealing in 2022 that he wanted "to do something new".
The 78-year-old made the bombshell revelation during a recent interview with the Daily Record where he announced that although he wants to move away from touring he is not planning on retiring altogether anytime soon.
"Next year will be the end of my rock 'n' roll touring. I want to do something different. It feels like an end of an era," he said.
"All things must come to an end.
"I'm not retiring and I still love singing, I just want to do something new. I might do a few folk clubs playing guitar. Just be different."
Stewart opened up about how performing in the "big tours" had lost its appeal as it keeps him away from his children.
"I don't want to do the big tours any more, especially in America. It takes me away from my kids for so long," he said.
As Stewart prepares to step away from the hustle and bustle of his rock 'n' roll performances, he will no doubt have much more time to spend with his new grandkids.
Stewart recently had the pleasure of meeting his two grandchildren for the first time, sharing the heartwarming moment to Instagram with a series of touching photos of his first meeting with little Louie and Otis.
In one photo, a beaming Stewart cradled little Louie in his arms, who is wearing a blue onesie. In a second photo, a still-smiling Stewart holds a sleeping Otis in his arms.
"Happy Grandad," Stewart captioned the image.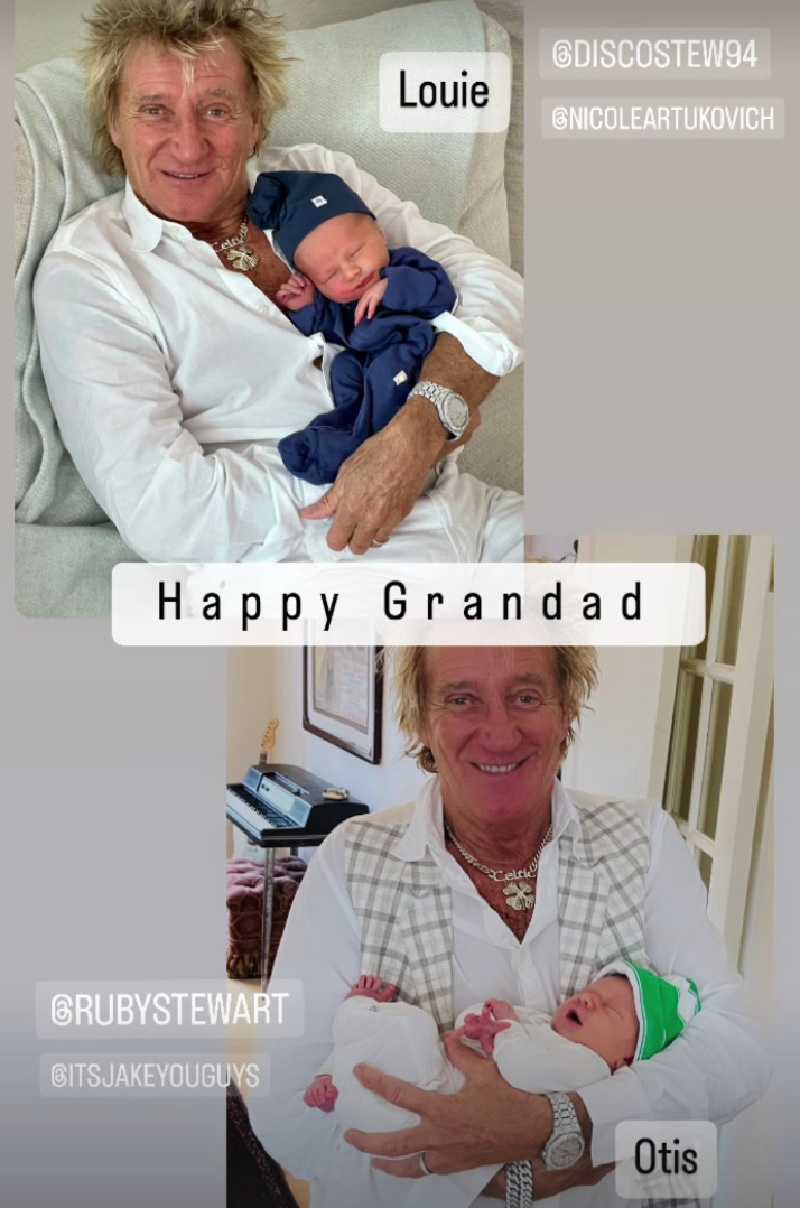 The Stewart clan was no doubt overjoyed when daughter Ruby welcomed her son Otis on Tuesday, May 9 but the good news didn't end there with Stewart's son Liam also welcoming his son Loiue only days later on Friday, May 12.
Louis' full name is Louie Mark Roderick Stewart, with his middle name serving as a heartfelt tribute to his grandad.