"So I thought 'I'll ring Olivia. She knows exactly what to say.' And of course she did. In typical Olivia style, she said, 'Yeah darling, I'll give him a call. He needs a kick up the backside!'"
Following Newton-John's intervention, the You're The Voice hitmaker found inspiration and began to candidly reflect on his remarkable career, family, and friends, ultimately reviving the film's progress.
"I got out the microphone, full of bravado, to interview him," Gaynor said.
"Then we started talking about Glenn and we were both inconsolable. It was painful for us both but it means so much now. The film wouldn't be complete without John's voice in it."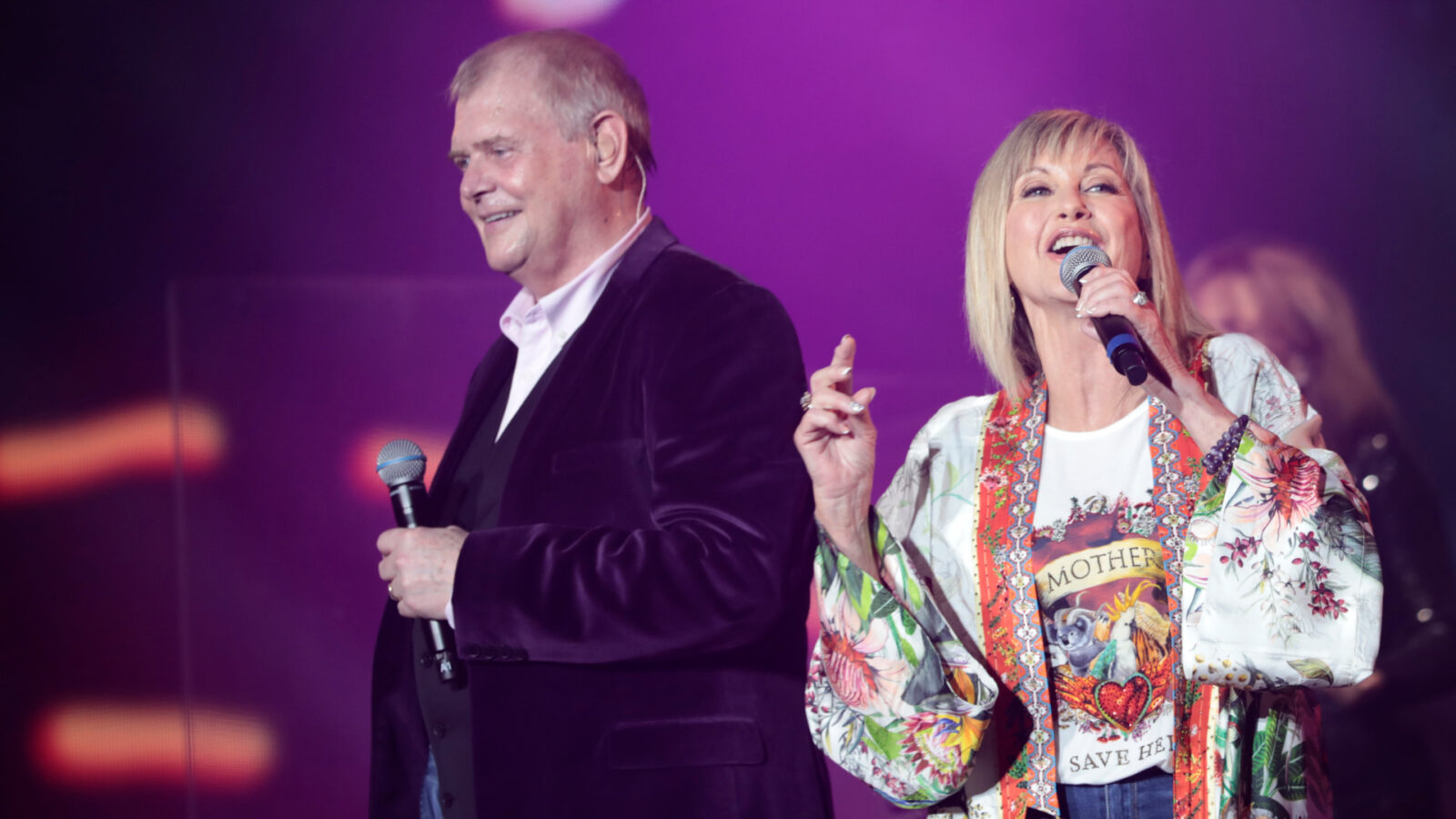 Unfortunately, following the death of Wheatley, Farnham was dealt another blow after the passing of Newton-John. Farnham reportedly learned of Newton-John's passing as he was heading to hospital as part of early preparations for his upcoming surgery and treatment for mouth cancer.
"Olivia's death was another huge blow for John, for everyone," Gaynor says.
"Two people he really loved and respected gone in a short period of time. It totally changed the context of the film. It's even more precious to us now because it was Olivia and Glenn's last interviews and then John.
"It's quite profound when you watch it, and takes it beyond whatever Glenn imagined it would be. It's something I'm really proud of."
In addition to learning of Newton-John's valuable contribution to Farnham's biopic, readers were also treated to an update on the Australian music icon's recovery from his two sons, Robert and James, who shared how their father's unwavering determination has been a source of daily inspiration for them.
In the same interview, Farnham's sons opened up about how their father has "inspired" them every day as he continues his road to recovery.
"You have to keep positive and not get bogged down," Robert told the publication.
"It's cruel and brutal but they're the cards you're dealt in life and cancer doesn't care who you are. We are really proud of him. He's inspiring us every day, but then again, he always has."
While Farnham is currently focused on his recovery, when asked whether the singing sensation would ever return to the stage, James simply stated that "he's got nothing left to prove".
"I don't know what else he'd want to do. He's done it all, he climbed the mountain and his flag is still on top," James said.
Robert and James made their remarks shortly after Farnham was unfortunately readmitted to the hospital due to a respiratory infection.
In late March, Farnham's family released a statement announcing that "John has been receiving ongoing treatment, care and rehabilitation support over recent months from his medical team."
"He is currently being treated for a respiratory infection in hospital, but he is comfortable and receiving the very best care," the statement read.
"John continues his recovery following last year's successful surgery. He's always been a strong and determined person with everything he's ever done, and we are all so very proud of him. He is responding well to the specialist care he's receiving.
"The family would like re-iterate their appreciation for all the medical staff that have attended to John over the past six months and for all the kind messages that been received from across Australia and the world.
"No further comment is available at this time, and the family appreciates the media's continued respect for their privacy."
Farnham was originally admitted to hospital in Victoria on August 23, 2022, for "surgery and ongoing treatment" after doctors discovered "a cancerous growth".
At the time, Farnham issued a statement where he expressed his gratitude for having "the best specialist healthcare professionals in Victoria".
"Cancer diagnosis is something that so many people face every single day, and countless others have walked this path before me," he said.
Following a "successful" surgery that took a marathon 12 hours, it was announced that Farnham was in a stable condition and on the road to recovery.
Farnham's wife, Jill, provided an update at the time where she revealed her husband was in "a stable condition in ICU".
"The cancer tumour was located in his mouth and it has been successfully removed. There is still a long road of recovery and healing ahead of us, but we know John is up for that task," she said.