"It's strenuous (being onstage) – it's two hours.
"I don't exactly stand at the microphone and sing. I like to jump around, dance – if you could call it that – get involved, make people happy."
Although Stewart never shied away from wild parties in his younger days, he admits that nowadays things are a lot more subdued.
"I've grown up now. I have a wonderful wife, seven lovely kids, I really couldn't be happier," he explained.
"It had its moments – when one is young, one enjoys life's rich tapestry.
"I did it, I did it, and I enjoyed it, and I've lived a good life."
In addition to his much happier life, Stewart explained that the best thing about getting older is imparting his words of wisdom to the younger generation.
"I've done it all. I try to give advice and some people listen, some people don't. Especially in the music business, because they already think they know it all," he said.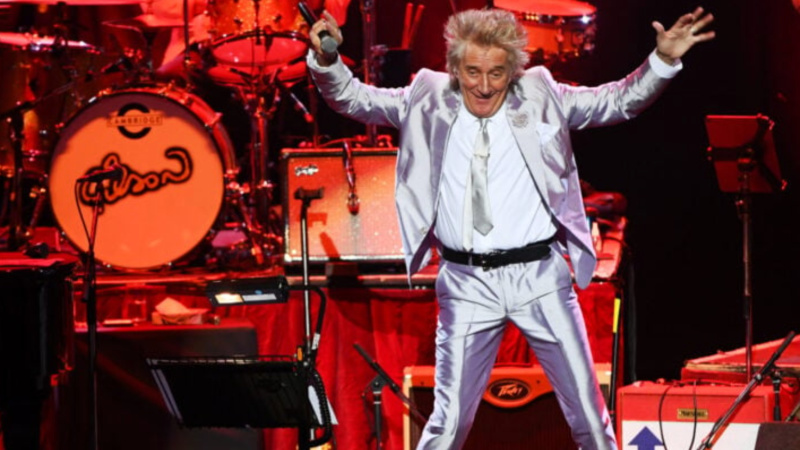 Stewart's admissions about getting older come shortly after the Maggie May hitmaker announced that he wants to retire from "rock 'n' roll touring", revealing that he wants "to do something new".
The 77-year-old made the bombshell revelation during a recent interview with the Daily Record where he announced that although he wants to move away from touring he is not planning on retiring altogether anytime soon.
"Next year will be the end of my rock 'n' roll touring. I want to do something different. It feels like an end of an era," he said.
"All things must come to an end.
"I'm not retiring and I still love singing, I just want to do something new. I might do a few folk clubs playing guitar. Just be different."
Stewart opened up about how performing in the "big tours" had lost its appeal and that it also keeps him away from his children.
"I don't want to do the big tours any more, especially in America. It takes me away from my kids for so long," he said.
"It used to be OK because it was fun and games. It is still fun and games but I miss my kids so much.
"I've got one more year doing big gigs in South America, Australia, a Las Vegas residency, some more in England and a couple in Edinburgh.
"But I'm not retiring – I just want to move on."