Seymour proceeded to divulge other cosmetic procedures she had undergone, acknowledging that she had a sense of remorse about a few of them, feeling that she had made an error in judgment.
"My eyes were done when I was 40 and at the same time I had my boobs done. The guy who did it said to me they didn't make the implants that small. I had to get a special order," she explained.
"I thought I had made a big mistake but I think that was probably, you know, after breastfeeding a bunch of children."
Despite her past procedures, Seymour seems to have embraced her natural beauty after recently surprising fans with a photo of herself with stunning silver locks.
To celebrate National Pet Day on April 11th, Seymour shared a photo of herself posing alongside her two majestic horses.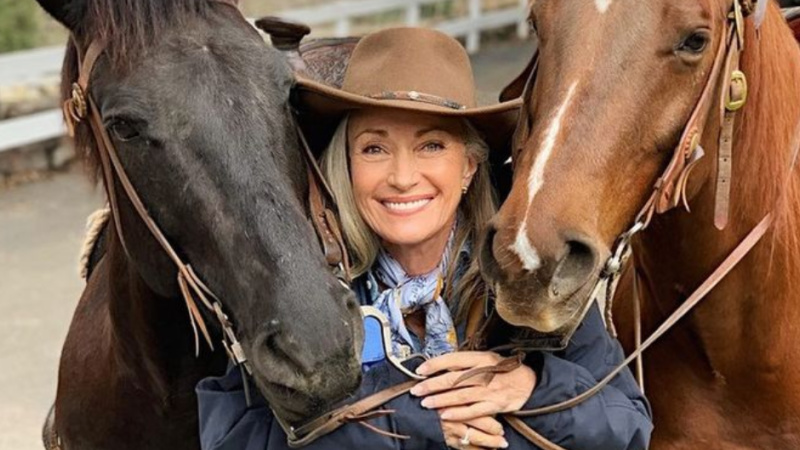 The actress appeared to embrace her natural hair colour in the snapshot, where she smiled for the camera dressed in a countryside-chic outfit consisting of a navy parka, skinny jeans, a floral-printed neck scarf, a tan felt fedora and gleaming silver earrings.
While her fans were undoubtedly delighted to see her in the company of her cherished pets, many were left speechless by the stunning appearance of her hair color.
"I had no idea your hair had gone so gray. It looks nice," one fan gushed.
"Jane! I love your hair in these!!!" another commented.
"Wow your hair colour looks amazing in this photo. You look gorgeous with silver hair," wrote a third.
Seymour has previously emphasised the privilege of ageing during an interview with the UK TV show This Morning where she also discussed her photoshoot for Playboy magazine at the age of 67.
"I felt it was important to show you could be comfortable in your own skin, to be authentically you and to still feel viable as a sensual woman at any age. I mean just because I have a number 67 doesn't mean that inside of me. For me, I feel freer now than I did when I was 30 or 40," she said.
"If you are enjoying life and you have a positive spirit, you will probably look better, live longer and the best facelift is a smile."