In a case that sent shockwaves around the world, Jane, Arnna and Grant disappeared, with no known location of them or even their bodies, still to this day 53 years later.
On the day of their disappearance at around 7.20pm, the deeply concerned parents reported their children missing. Just over an hour later at 8.40pm, local police began a search of the area, from the Brighton foreshore to the nearby West Beach and Henley Beach. Sea Rescue Squadron volunteers also joined in on the search, scouring the coastline for the young kids.
As news of their disappearance spread, packs of volunteers put their hands up to help out, leading to the largest search in South Australia's history. Hundreds of witnesses began to come forward, with many claiming they had seen the children with a tall, tanned, thin-faced man with short blonde hair.
There was also suspicions Jane, Arnna and Grant had been given money from someone, as they had purchased cakes and a meat pie with a one-pound note from a local bakery, when their parents had only given them six shillings and sixpence.
A month into the police investigation things had started to stall, but public interest in the case was still high. Local businessman Barry Blackwell was so eager to help that he flew in Dutch clairvoyant Gerard Croiset who was renowned for helping police with hard-to-solve crimes.
At the time Croiset believed the children's bodies were buried underneath a newly constructed warehouse in the city. Despite police not believing Croiset's claims, a publicly funded campaign raised money to have the factory torn down; the area searched but alas, nothing was found and the children were no closer to being brought home.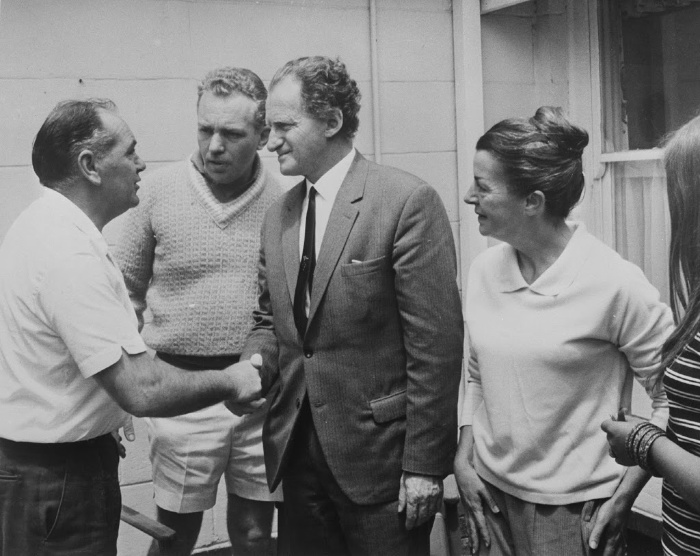 In 1968 there was a slight glimmer of hope when Jim and Nancy received two letters claiming to be from their eldest child Jane. The first explained that the children had been taken by a man and were living in Victoria. Jim and Nancy were given instructions to meet the man at a set location, with no police assistance and the children would be handed over.
Of course, the parents did as they were told but sadly no one came to meet. Not long after, a second letter was received claiming the man had spotted a detective and decided to leave.
Years later it was revealed the letters had been composed by a man as a cruel joke, despite handwriting experts previously claiming one of the letters was most definitely written by Jane.
Although the world had not forgotten the children, there were no clues of their whereabouts for years or any inkling of what may have happened to them that ill-fated day. That was until Channel 7 decided to undertake an investigation of its own into the disappearance.
In 2013, the program named local businessman Harry Phipps as a potential suspect due to reports his son Haydn made to detectives. Haydn, who was 15 years old at the time of the Beaumont children's disappearance, told police he had seen the three kids at his family home in Glenelg on Australia Day. He also claimed his father had been abusive towards him in the past. Phipps had died in 2004.
The new revelations led to a search of a factory and an excavation of one area of the site that was formally owned by Phipps. Following reports of Haydyn's statement, two brothers came forward claiming they were paid by Phipps in the days following the disappearance of the Beaumont children to dig a large hole at the factory site. They had suspicions following news reports from Haydn, that it could have been a grave.
However, the factory dig offered no answers as no remains or clues were found. The case went cold again with a further five years passing before further news of the crime broke. Channel 7 had conducted another investigation and found an anomaly at the factory site through geophysical testing by Flinders University.
Although no bones were discovered there was proof soil had been moved sparking a second excavation by SA Police on February 2, 2018. Sadly, to the disappointment of not only Jim and Nancy, but the whole of Australia, no evidence was found.
Still after 53 years, the whereabouts of the Beaumont children remains unknown and whether or not they are still alive is a mystery Aussies will continue to ponder until the day the case is finally solved.
Do you remember the disappearance of the Beaumont children hitting the headlines in 1966? Have you been following the case over the years?