On accepting the Kennedy Center Honor medallion in Washington on Sunday, December 5, Mitchell told an audience that included President Joe Biden and the First Lady, "I think the polio was a rehearsal for the rest of my life."
"I've had to come back several times, for one thing, and this last one was a real whopper," continued Mitchell, referring to the aneurysm that temporarily robbed her of speech and the ability to walk.
"But you know, I'm hobbling along there. I'm doing all right."
Mitchell's comments earned her one of the night's heartiest rounds of applause, reported The Guardian.
The spotlight-shy star, who last released an album, Shine, in 2007, described the award as "a fantastic honour"; before telling the crowd, "enjoy yourselves, I'm gonna go back and sit down!"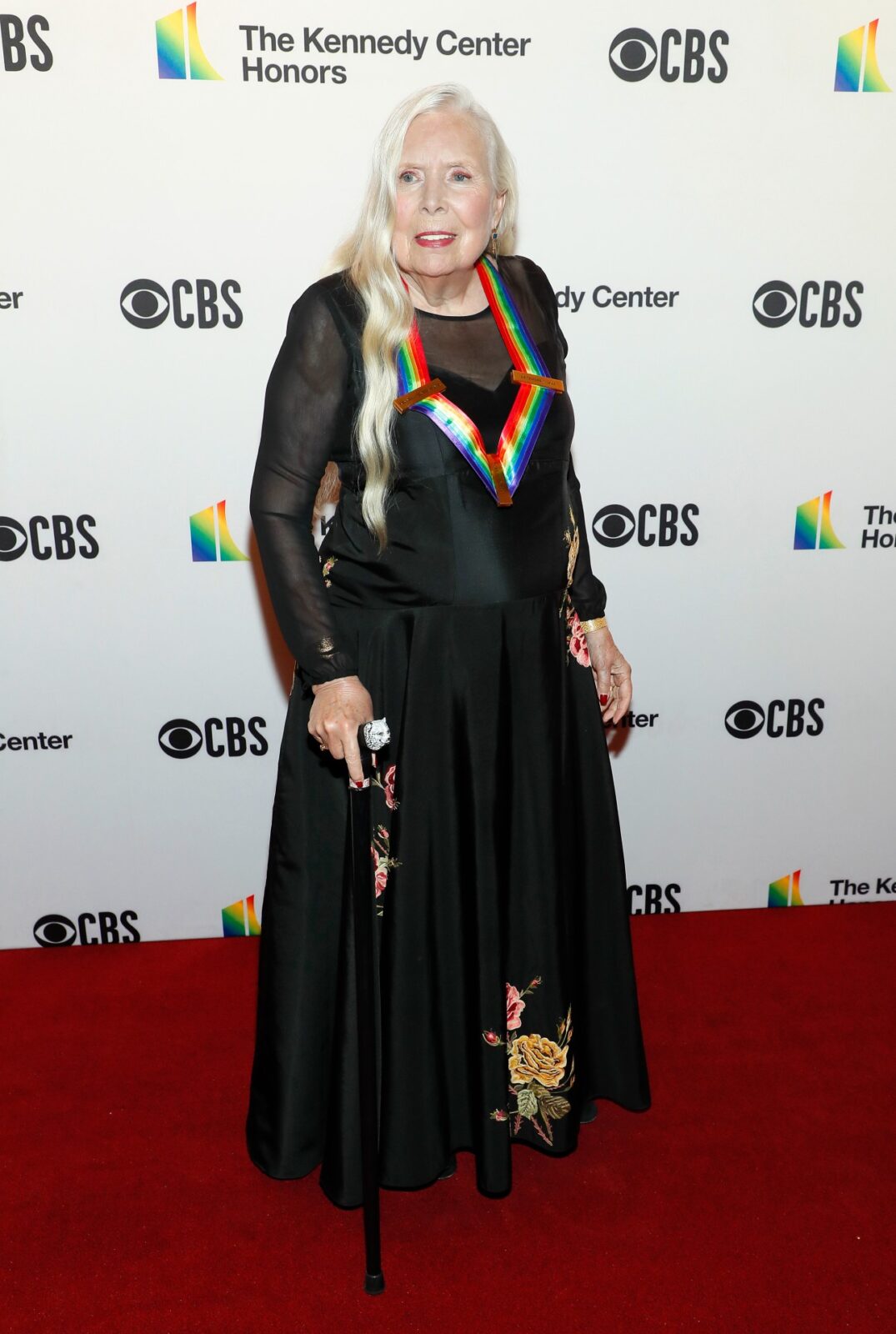 Mitchell's trademark bohemian style was still very much in evidence on the star-studded night. For the black-tie ceremony, she was dressed in a long flowing black satin skirt with floral embroidery applique and a black long-sleeved top with sheer sleeves. She wore her platinum-dyed, waist-length wavy locks loose and flowing in true Seventies mode.
The singer held onto a quirky black walking cane decorated with a carving of Pan, God of the Wild, to help support her as she made her way to and from the stage at The Library of Congress.
The Guardian also recalled Mitchell's previous candid comments about her health battles in the wake of her aneurysm, when she spoke to the paper in 2020 and revealed she was "just inching my way along".
"I'm showing slow improvement but moving forward … the aneurysm took away a lot more [than polio], really. Took away my speech and my ability to walk. And, you know, I got my speech back quickly, but the walking I'm still struggling with. But I mean, I'm a fighter. I've got Irish blood!"
Also awarded at the prestigious cultural ceremony, revived this year by President Biden after being binned by former President Trump, were Bette Midler, Berry Gordy, Lorne Michaels and Justino Díaz.
The tributes and performances will air in a special broadcast on CBS on December 22.