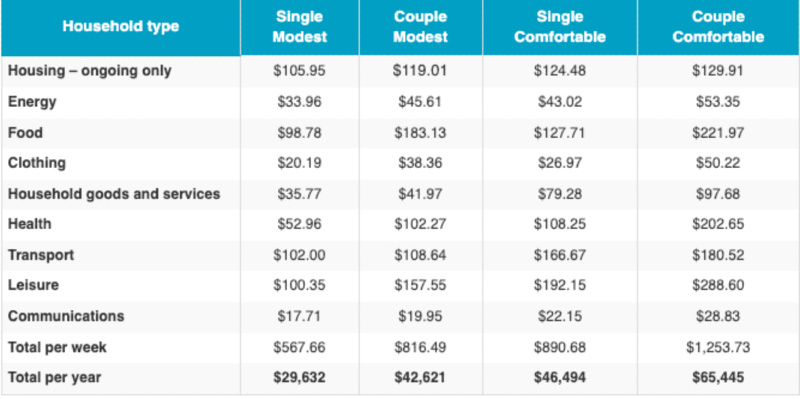 McCrea told Today that "the inflation genie is really out of the bottle now" and retirees will need to look at where they can make spending cuts in order to get by.
"For a couple to have a comfortable retirement, that means you can have a meal at the club, you can fix your car, you are not having regular holidays all the time – but that's the base level we are looking at," he said.
Those receiving the Age Pension, Disability Support Pension and Carer Payment received an extra $20.10 a fortnight for singles to $987.60 and by $30.20 a fortnight for couples combined to $1,488.80 from March 20. Asset test limits were also increased which will allow more senior Australians to access a part pension. Pensioners also received an extra $250, with the government's one-off cash payment hitting bank accounts to help ease the rising cost of living.
However, McCrea highlighted that retirees will continue to face ever-increasing costs, such as increases in gas, electricity and medical care.
"Retirees have faced significant price increases for non-discretionary items such as food, automotive fuel, and health costs," he said.
Recent data from the Australian Bureau of Statistics (ABS) backed up McCrea and ASFA's claims, revealing older Australians are suffering the most from the rising cost of living.
Head of Prices Statistics at the ABS Michelle Marquardt said the main culprit affecting older Australians is the increase in grocery prices, but household costs also played a large role.
"These households were also more affected by increases in housing costs, as they have relatively higher expenditure levels on utilities, maintenance and repair, and property rates," Marquardt said.
Following Labor's election win on May 21, Albanese pledged to provide more certainty for older Australians who will be able to keep more of their earnings, as the cost of living rises.
Albanese said the "Labor Government will freeze deeming rates at their current levels for two years, helping protect pensioners from interest rate rises".
"Around 900,000 aged pensioners and other pension recipients will be better off under Labor's plan, which will mean pensioners can keep more income in their own pockets as interest rates rise," Albanese said.
"The pension deeming rate will be frozen at 0.25 per cent and the upper rate will stay at 2.25 per cent for two years under Labor."
Labor also directly addressed the challenges seniors face regarding the rising cost of living by committing to providing cheaper power bills and affordable housing "so older Australians who don't own their own home won't find all their pension eaten up by rising rents".
IMPORTANT LEGAL INFO This article is of a general nature and FYI only, because it doesn't take into account your financial or legal situation, objectives or needs. That means it's not financial product or legal advice and shouldn't be relied upon as if it is. Before making a financial or legal decision, you should work out if the info is appropriate for your situation and get independent, licensed financial services or legal advice.