Me housesitting in France with some beloved four legged friends. 
Even before we met I had itchy travel feet and immigrated to Canada at the tender age of 26 years to taking up a Senior Management position in Marketing and Event Planning with an International Corporation. On top of this I was a single Mum with a two year old but I made it work!
Fast forward all the years spent living the expat life in many countries and surprise, retirement loomed large on the horizon!
Had we thought about it? Err not really. What to do? Where to live? How to cope with the normality of retirement?
See the truth was that as much as our travels gave us, they also took away. It took away our roots, the connection with a community and any true sense of belonging. We had become life long nomads. Staying "put" wasn't something remotely appealing and with much of our married life been spent apart as two very independent individuals this was not going to be an easy fix.
On a side note, I wonder how many readers are saying "oh my goodness that's us!" Please read on this does have a happy ending!
We bought a home in France and stayed a year. Then bought a beautiful ocean front home on Vancouver Island, Canada that was a B&B. A long held ambition of mine. Then there were two life-changing occurrences. John retired and we lost our beloved Springer Spaniel Holly, our beloved dog. She had shared our lives for 14 years. We took her to Africa as a puppy then to India, France, Germany, England and Canada. Our world had sadly changed and we were heartbroken.
The Christmas before we lost Holly I had met and used a pet/house sitter. We had become friends and when she heard of our loss and knowing my love for animals, asked if I would help with her numerous clients. I hesitated at first but have spent the last five years being eternally grateful because that chance moment started our amazing pet and house sitting adventure.
It has taken us across five continents and made many new friends, both two and four legged. 80% of home owners require pet care and it's the part we love the most. This travel lifestyle has enriched our retirement beyond measure without putting us in the poor house.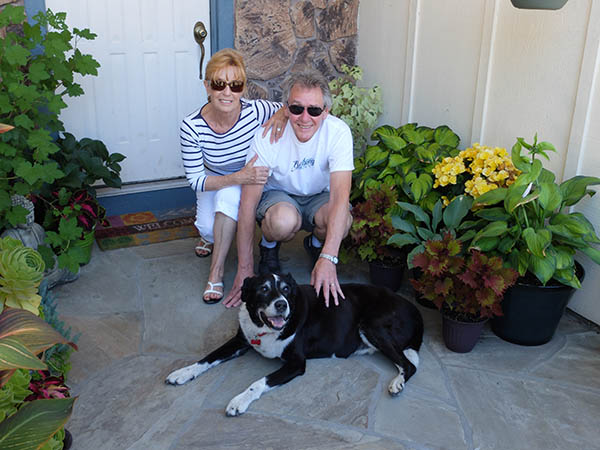 John and I, pet/housesitting in the San Francisco bay area. 
Trust me if we had to pay for everything our children would have shut us down long ago, after all we'd be spending their inheritance! I really wish that I had kept a true account of the $'s we've saved, it has to be in the thousands.
Five years of travelling, at least seven months of the year, most times with a vehicle included with the assignment. We even manage on occasion to turn left when boarding the aircraft for long haul flights with the money we save on accommodation and over priced restaurant food. Having laundry facilities reduces baggage costs, and this is the very best… self catering accommodation (the homes we housesit) are the best price FREE!
Another bonus is that we can have family and friends visit, with the homeowners permission of course. All of our grown children live in the UK and none have homes large enough to accommodate us comfortably, so perhaps by design, I always manage to arrange assignments close to where they all live. So we get to visit our children but never out stay our welcome or have to make that telephone or Skype call. "Please may we come and stay?"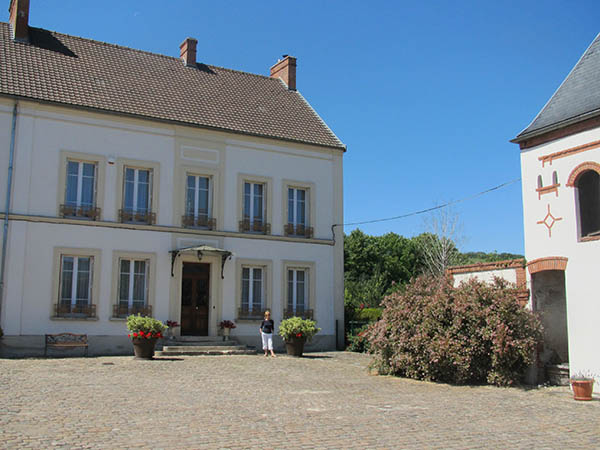 France, in one of the lovely house-sit homes. 
Our 2013 itinerary thus far has been: January, a lovely home in Las Vegas; February, an Apartment on Fifth Ave in Manhattan; March, Vancouver Island; April, a small ranch in Washington State; June, back to back sits in the San Francisco Bay area; July/Aug, LA California; October, LA; October, six months in Southern Spain, a villa overlooking the Mediterranean.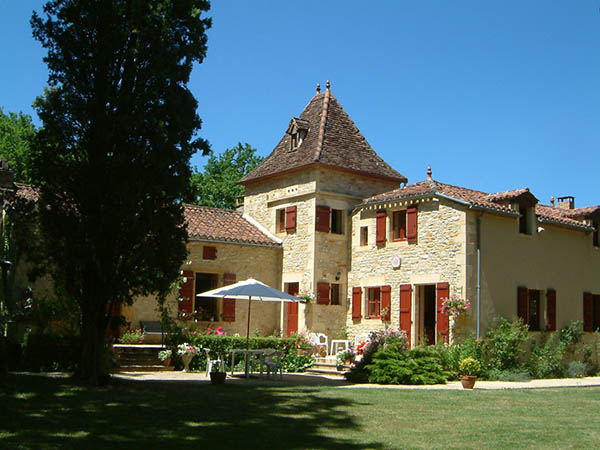 Another lovely house-sit home in France. 
So how does this work? There are a number of house sitting websites but our preferred site is http://www.trustedhousesitters.com/ the main plus is how user friendly the site is. Concise information on home listings and registered sitters takes away the guesswork for both sitters and pet/home owners. Registration is as simple as creating a profile, all the help and advice you'll need is clear and easy to follow.
With a lovely home in BC Canada we engage sitters frequently. The Aussie sitters we have this summer will be returning in April 2014 for the third time. Their son was transferred to Vancouver from Melbourne, sitting our home allows them to be close to him for six months without costing a fortune. They just pay the utilities and have the use of a vehicle at minimum cost. We enjoy peace of mind to continue on our global house sitting adventure and pay it forward.
So I guess we have a new career after all when we thought life might become just a little too ordinary. An absolute win win all round!