Think pattern, texture and shape with decorative cushions- mixing up patterns in the same colour palette, varying texture and layering with different shapes ( square, rectangular or circular) will keep it interesting. Three cushions on a bed should be the maximum number along with standard pillows and Europeans. Best not to take up half the bed with decorative pillows and cushions as, apart from storage issues when they are not resting on the bed while you sleep, it can drive a husband / partners mad.
In living spaces, cushions should complement the style of sofa, picking up colours in the fabric and the room. Pulling the look together is no easy task, but that's what cushions do best, apart from making decorators very happy. In terms of numbers, keep it simple and don't overcrowd seating areas. If you have to remove cushions to sit down on a sofa then clearly you need to rethink the numbers.  I recommend three or four cushions for a three seater sofa, two or three for a two seater sofa and one for an armchair.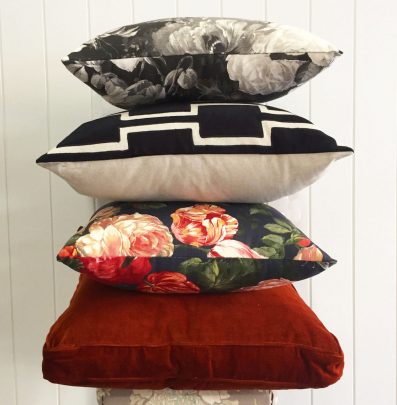 Softly does it
While polyfill is an economical choice it can make cushions look stiff, like little soldiers – for natural softness and the right degree of squishiness, feather & down fill is always best AND it makes your cushions look more expensive!
What to avoid
It has been decreed that the karate chop effect (in which square cushions dip in the middle) is officially a decorating crime, considered artificial and high maintenance! Avoid the chop and also refrain from diamond styling cushions- balancing the little fabric, feather filled jewels on their points looks staged.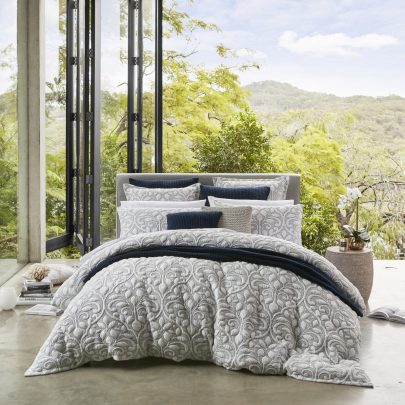 Terminology
Pillowsham a standard size pillowcase coordinated with a bedspread or coverlet, generally used for decoration only.
European a large square pillow 65 x 65cm, can sit behind standard pillows or can be placed in front to hide pillows used for sleeping.
How many cushions do you like on your bed?