What do pancakes have to do with Shrove Tuesday?
Now you're probably wondering "what all this has to do with pancakes?" Celebrating Shrove Tuesday with pancakes came about because Irish bakers would make pancakes to use up their stores of eggs, milk, and flour before the start of Lent.
The tradition has spread throughout the British Commonwealth, so much so that many know the day just as "Pancake Tuesday." While you can celebrate with whatever type of pancake you want, traditional Shrove Tuesday Pancakes are very thin and almost crepe-like.
Top-rated pancake recipes for Shrove Tuesday
While these pancakes might not be the traditional Shrove Tuesday pancakes, you can never go wrong with these tasty recipes!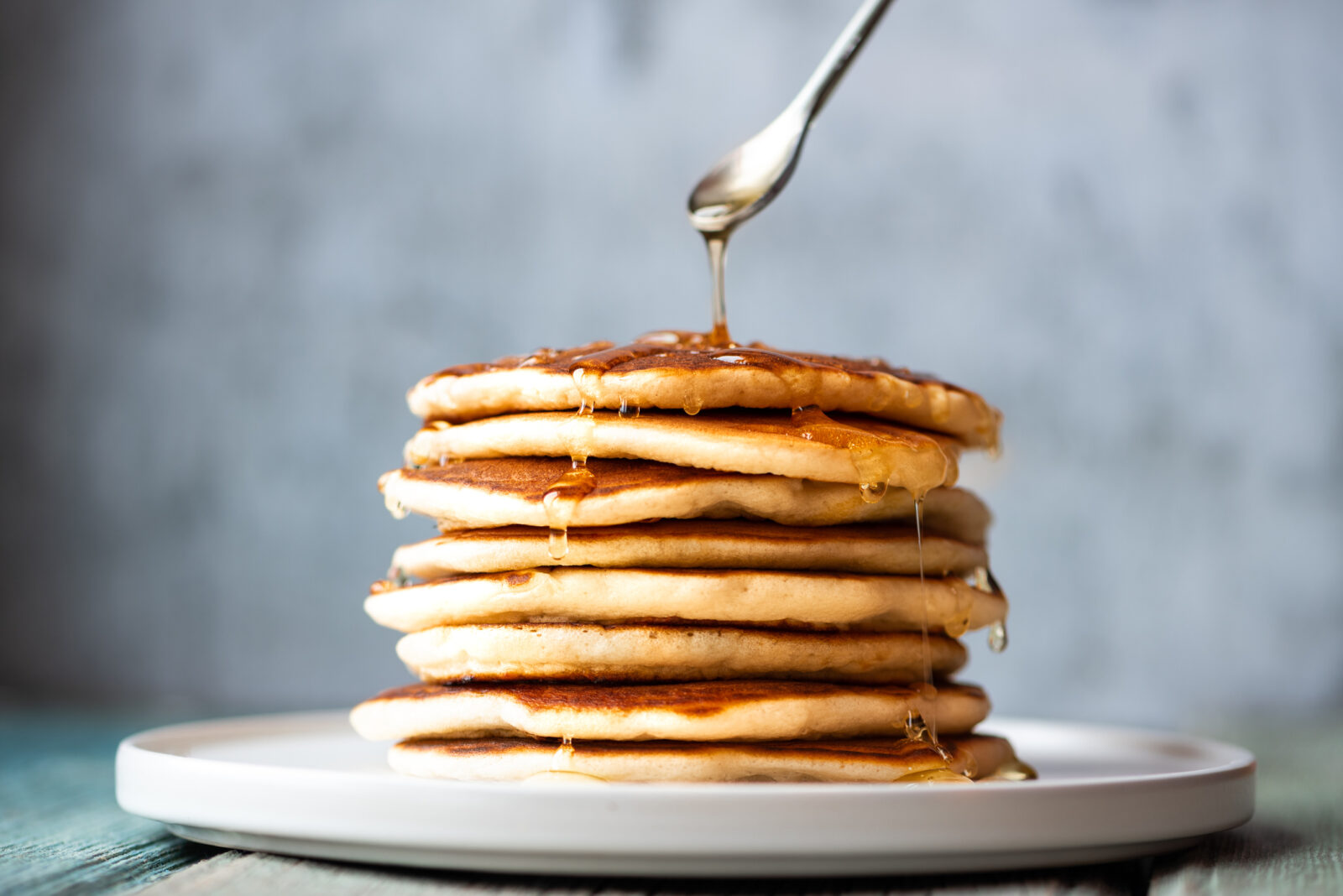 Good old fashioned pancakes
What breakfast spread is complete without a stack of the best, soft and fluffy, old fashioned pancakes? None. None at all.
Serves – 10
Ingredients
FOR THE PANCAKE BATTER
1 cup all-purpose flour
2  ¼ tsp baking powder
1  ½ tbsp granulated sugar
¼ tsp salt
1  ¼ cup milk
¼ cup unsalted butter, melted
½ tsp vanilla extract
1 large egg
vegetable oil
butter and maple syrup (for topping)
Method
In a large bowl, sift together the flour, baking powder, sugar and salt.
In a medium bowl, whisk together the milk, butter, vanilla and egg.
Add the wet ingredients to the dry ingredients and whisk until just combined (will be lumpy). Do not over mix.
Let the mixture sit for about 10 minutes.
Dampen a paper towel with vegetable oil and rub on a large frying pan.
Heat pan over medium heat and add pancake batter using a ¼ measuring cup. Pour as many as fit in your pan.
Cook for 1-2 minutes until small bubbles have begun to form on the surface and edges and the pancake is golden brown. Flip the pancake over and cook for another 1-2 minutes until the other side is also golden brown.
Repeat until batter is used up.
Serve with extra butter, maple syrup and fruit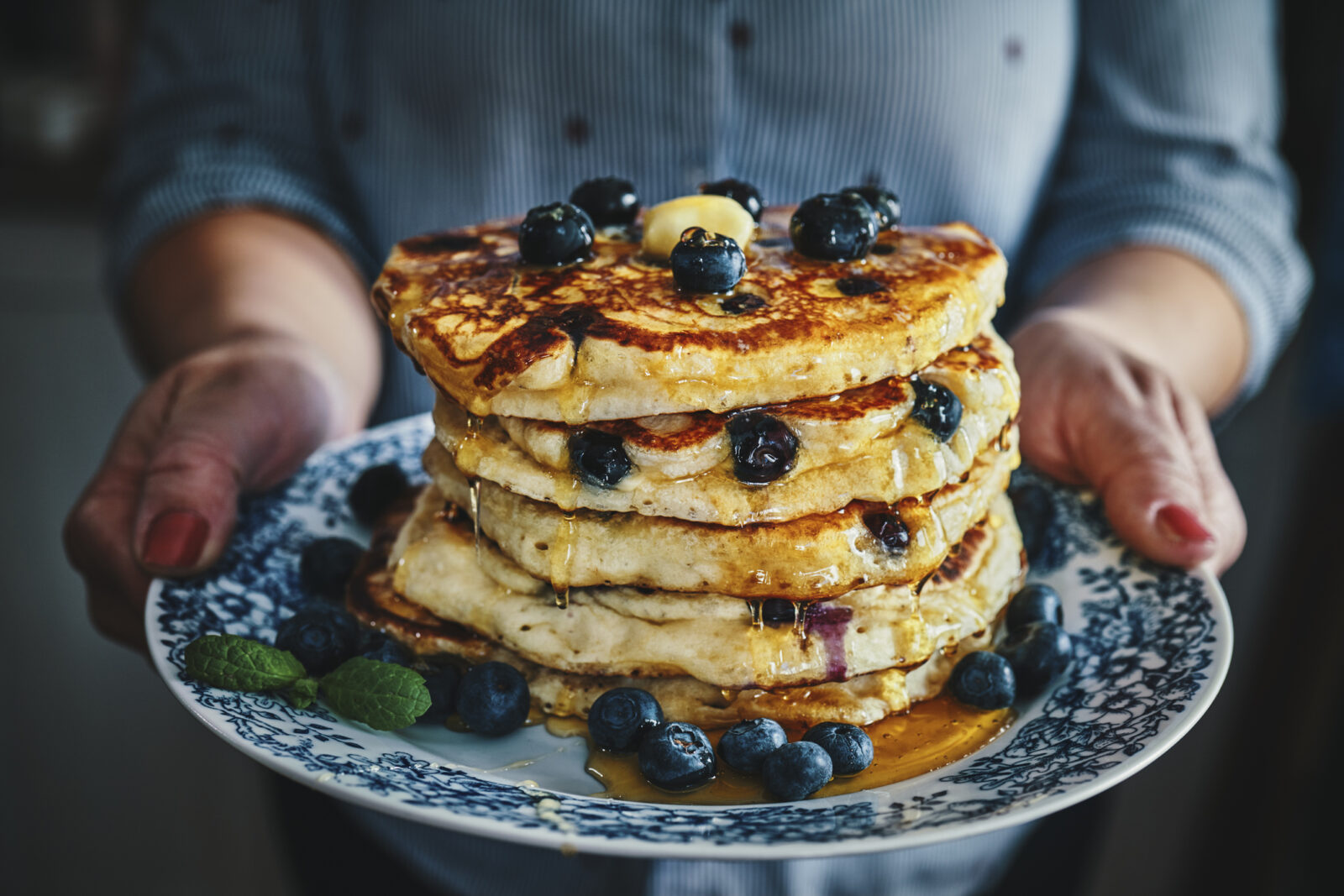 Blueberry pancakes with honeycomb and bacon butter
You can fancify pancakes all you want, but can you really ever deny a butter-soaked blueberry pancake laced with maple syrup and dripping with hot, bursty blue juices?
If you can, you are probably not human.
Serves -4-6
Ingredients
FOR THE PANCAKE BATTER
11/3 cups self-raising flour
1/2 tsp baking powder
2 tsp caster sugar
150g sour cream
150ml milk
25g unsalted butter, melted
2 large eggs
200g blueberries
Maple syrup, to serve
FOR THE HONEYCOMB AND BACON BUTTER
200g caster sugar
1 tbsp glucose syrup
1 tsp honey
11/2 tsp bicarb soda
1 tbsp sunflower oil, plus extra to brush
3 rashers smoked streaky bacon
150g unsalted butter, softened
Method
For the honeycomb, line a baking tray with baking paper and set it aside. Melt the sugar, syrup, honey, 1 tbs water and a pinch of salt in a deep saucepan over medium-high heat. Bring to the boil, then reduce heat to medium and cook for 7 minutes or until golden. Remove from heat and quickly stir in the bicarbonate of soda, then carefully pour into prepared tray. Set aside to cool completely.

Meanwhile, heat oil in a large frypan and cook bacon for 5 minutes or until golden and crisp. Drain on a paper towel, then roughly chop.

Once cooled and set, break off a 10cm (35g) piece of honeycomb and whiz in a food processor with the bacon until finely chopped. Add the butter and pulse to combine. Place flavoured butter on a large sheet of baking paper and roll into a log, twisting ends to secure. Refrigerate until set. Reserve remaining honeycomb.

Place flour, baking powder and sugar in a large bowl. In a separate bowl, combine sour cream, milk, butter and eggs, then add to the dry ingredients and whisk until smooth. Fold in the blueberries.

Place a large frypan over medium heat. Once hot, brush with extra oil. Add small ladlefuls of batter to pan – the pancakes should be about 8cm in diameter. Cook for 3 minutes or until little air bubbles appear on the surface, then flip and cook for another 1-2 minutes until golden.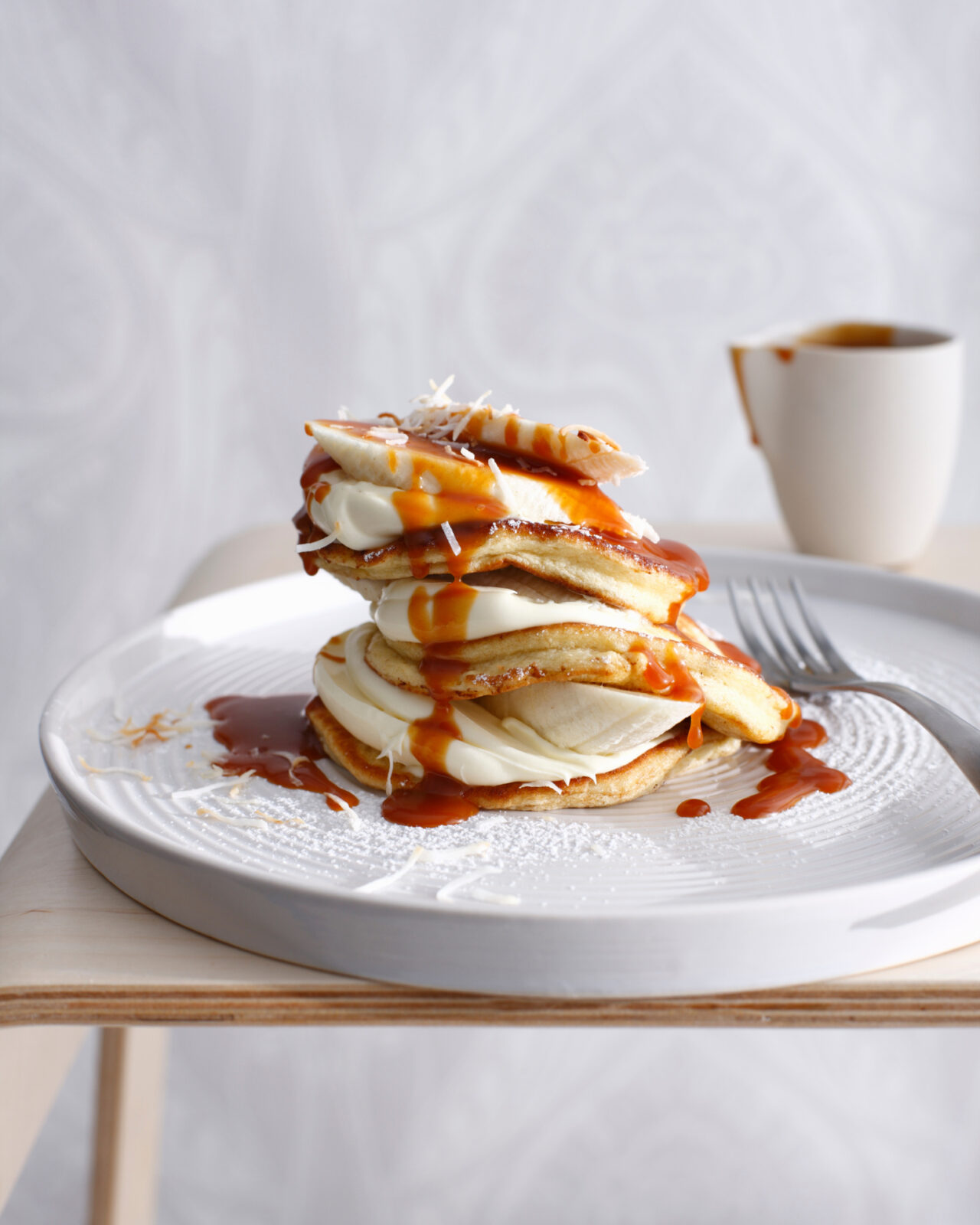 Coconut pancakes with banana and creme fraîche
Bring tropical flavours to your breakfast! These pancakes are light and fluffy with a subtle coconut flavour.
Serves- 9
Ingredients
FOR THE PANCAKE BATTER
4 eggs, separated
1 cup coconut milk
1 cup plain flour, sifted
1 teaspoon baking powder, sifted
3 ripe bananas
Melted unsalted butter, to grease
Creme fraiche, to serve
Icing sugar, to serve
Shredded coconut, to serve
FOR THE CARAMEL SAUCE
50g unsalted butter

1/2 firmly packed cup  brown sugar
Method
Stir all sauce ingredients in a pan over low heat to dissolve sugar, then simmer for 5 minutes until thickened. Set aside.

Place yolks, coconut milk and a pinch of salt in a bowl and whisk until combined. Gently fold in the sifted flour and baking powder. Mash 1 banana and fold in to combine. In another bowl, whisk egg whites to stiff peaks, then fold into the batter.

Heat a non-stick frypan over medium-low heat and brush with butter. Using a heaped tablespoon of batter for each pancake, add 3-4 spoonfuls to pan and cook for 2-3 minutes each side until golden and cooked. Keep warm while you continue with the remaining batter to make a total of 9 pancakes.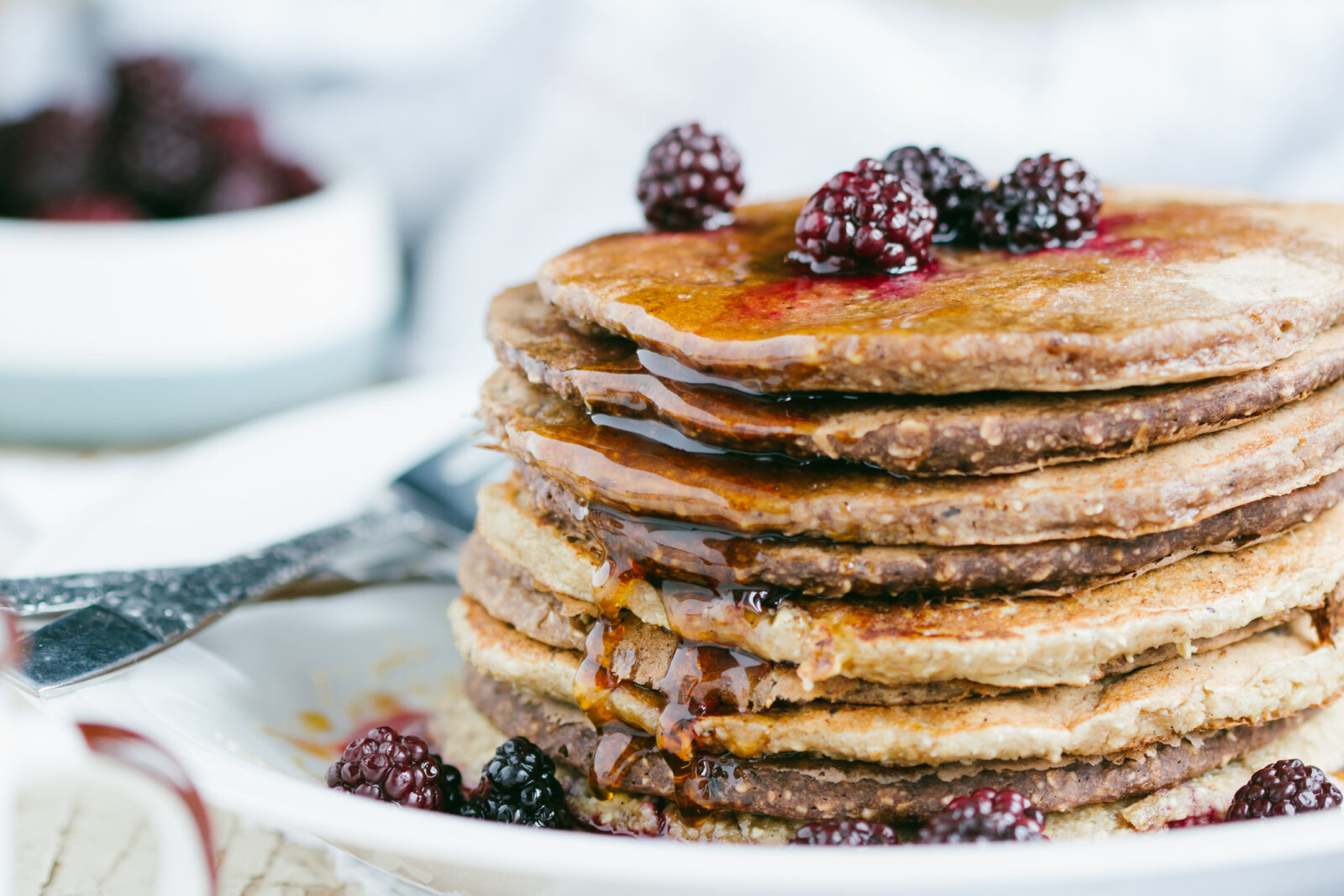 Protein pancakes
Quick, super-easy gluten-free pancakes full of protein and served with fresh fruit.
Serves- 4
Ingredients
FOR THE PANCAKE BATTER
1/2

 

cup

 

old-fashioned rolled oats, gluten-free if desired

1/2

 

medium banana

1/2

 

tsp

vanilla extract

1

 

tsp

 

baking powder

1/2

tsp cinnamon

1

 

egg

1/4

 

cup

 

low fat cottage cheese

Optional add-ins/toppings: Fresh berries, chocolate chips, peanut butter
Method
Place all ingredients in a blender and blend until completely smooth, about 30 seconds.

Cook until bubbles appear on top. Flip cakes and cook until golden brown on the underside.

Wipe skillet clean and repeat with more cooking spray and remaining batter. Makes 3-4 pancakes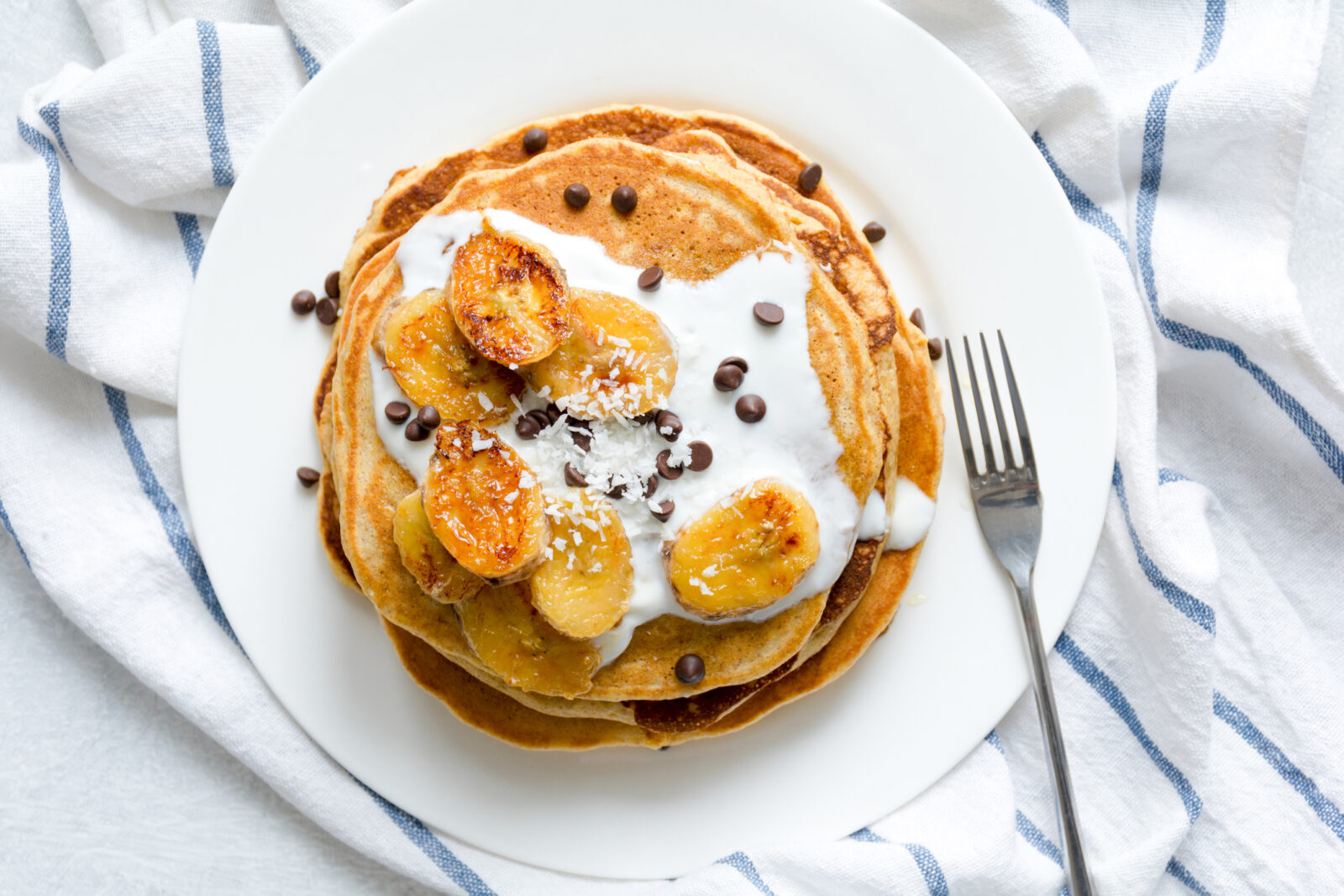 Warm choc-chip pancakes with caramelised pears
These pancakes are a chocoholic's dream come true. Caramelised pears add an unexpected fruity twist.
Ingredients
FOR THE PANCAKE BATTER
4 eggs
2 tbsp caster sugar
1 1/2 cups buttermilk
100g unsalted butter, melted and cooled
1 1/2 cups self-raising flour
3/4 cup  dark chocolate chips
FOR THE CARAMELISED PEARS
3 beurre bosc or Williams pears
2 teaspoons lemon juice
30g unsalted butter
3/4 cup  caster sugar
Method
For the pears, peel and core fruit. Cut into 1cm-thick slices, then toss in juice. Melt the butter in a frypan over medium-low heat. Add sugar, stir to dissolve, then add pears and stir gently for 6-8 minutes until beginning to caramelise. Increase heat to medium and stir for 3-4 minutes, until almost translucent. Remove and set aside.
Beat eggs and sugar with an electric mixer until pale and thick. Stir in the buttermilk and half the butter. Sift flour into a separate bowl, then use a hand whisk to incorporate egg mix and chips.
Place a non-stick pan over medium-high heat and brush with some of the remaining butter. Using a tablespoonful of batter for each pikelet, add 3-4 spoonfuls to the pan and cook for 1-2 minutes until bubbles appear on surface. Turn carefully and cook for a further 1 minute or until golden. Keep warm in a low oven while cooking remaining pikelets, brushing pan with more butter in between batches.
For the chocolate sauce, place chocolate in a bowl. Place cream in a pan over medium heat and bring to just below boiling point. Pour over chocolate, then stir until smooth. Serve warm. (If necessary, reheat in a heatproof bowl set over a pan of simmering water). Store in the fridge for up to 1 week.