The iconic history of miniskirts is far from 'short and sweet' (see what we did there…). Rebellion and sex are at its core, born out of a youth movement that was desperate to shake off the repressed post-war 1950s fashion. Quant's fashion appeal to young women of the day. Her minis were playful with simple shapes and strong colours.
Mini mod dresses with sheer black tights were worn most famously by wealthy socialite (and Andy Warhol's muse) Edie Sedgwick, while Twiggy (real name Lesley Hornby) was the miniskirt movement's figurehead. Her pixie cut, thick lashes, doe eyes and tomboy-ish frame were something unique when compared to the types of models favoured in previous decades.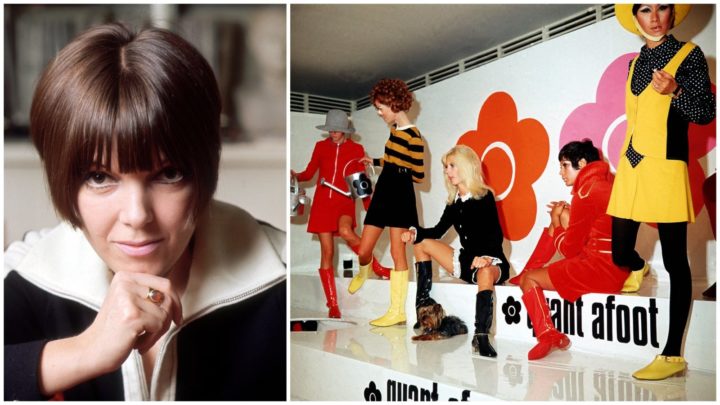 Little black dresses and capri pants
Audrey Hepburn has long been considered one of the world's greatest style icons, but what was it about the actress that had you longing for more? And how did she get the look? It was the 1961 film Breakfast at Tiffany's that had you rushing to the shops to get a little black dress (LDB) all of your very own. LBDs became Hepburn's signature item (the dress she wore in the film was made specifically for her by Givenchy). Today, a little black dress in your wardrobe is a must for any woman.
The other fashion item that stands out when you think about Audrey Hepburn is her ability to pull off capri pants. She loved a cropped pair of trousers and you often saw her wearing them in either black, gingham or some other fun summer print. She'd team the item with a black roll-neck sweater (a la Funny Face) or an oversized white shirt.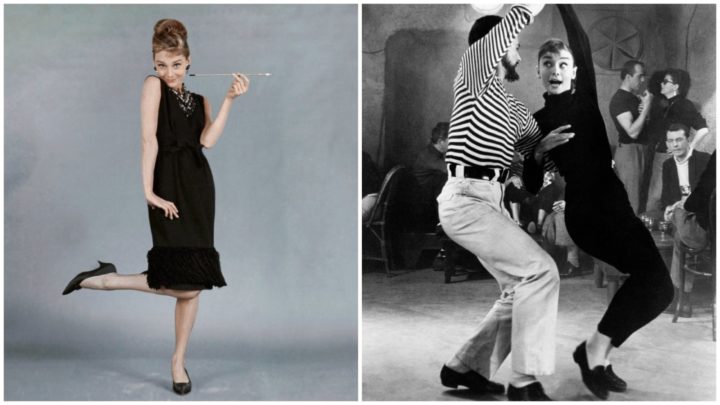 Off-the-shoulder tops
Not every woman can pull off an 'off-the-shoulder' top, but in the 1960s this item of clothing was a fashion staple in your wardrobe thanks to Brigitte Bardot and her fellow fashionista Jane Birkin. The off-the-shoulder look made its comeback in a big way during the summer of 2018, with exposed shoulders appearing on streets everywhere (and we have to admit it's a much safer way of showing a little skin when you take a look at that other skin-baring fashion trend, the midriff top). Yet in the '60s, Bardot was putting her sexy spin on the look, wearing off-the-shoulder tops with just about every ensemble.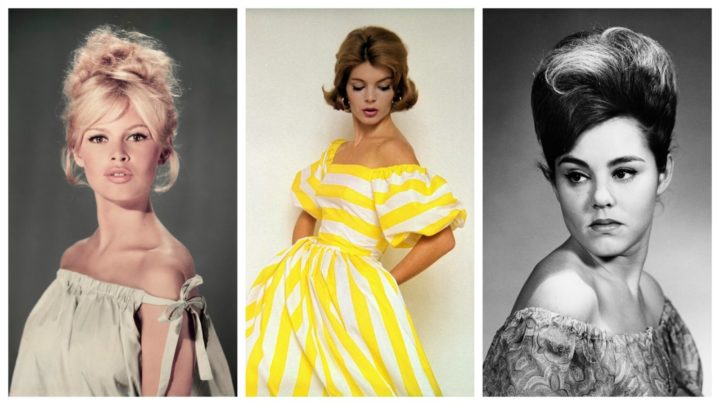 Oversized sunglasses and pillbox hats
An odd combination without context, but pillbox hats and oversized sunglasses were the fashion trends put in motion by former First Lady (and the original political fashion icon) Jacqueline Kennedy Onassis. 'Jackie O' had flawless elegance, even when she was in the midst of personal tragedy. She became a fashion icon instantly thanks to her prim skirt suits, pillbox hats and supersized sunnies.
The retro-vintage style of oversized sunglasses has been a trend for some years now. Big square frames are great for those who have round and oval faces. The oversized cat-eye frames should only be worn by women who want to elongate their faces and accentuate their cheekbones. You probably thought sunglasses were just for the sun. In addition to oversized sunglasses, square-shaped sunnies were also very popular (regularly worn thick-framed and white).
As for the hats, their trendiness has maintained since Onassis' day. You'll find many of the designs today have a bit of flair and sparkle to them, but not so much that they are overpowering or 'in your face'. A perfectly placed pillbox hat can really go a long way to giving your look that extra something.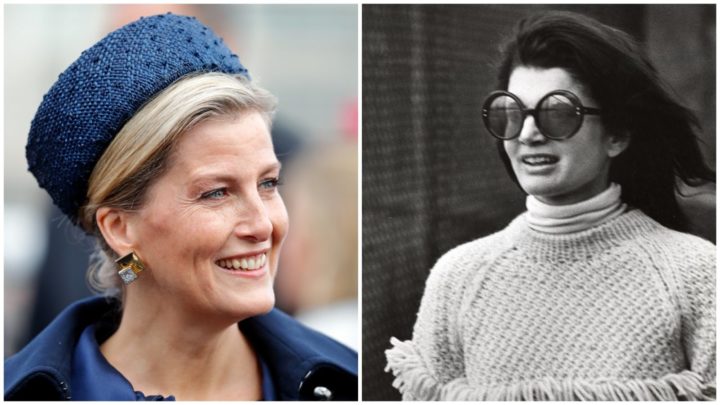 Sequins
Motown's most successful act, The Supremes, became well known for their iconic stage attire. In her memoir, band member Mary Wilson, writes that in the early days (before fame really set in) the group would wear simple pleated skirts with Oxford shoes before adding cheap pearls "bought from Woolworths". They made their own dresses using DIY patterns. When Where Did Our Love Go hit number one in 1964, they needed more exciting outfits and moved into the realm of beaded and sequined gowns. These dazzling dresses became as famous as their songs.
Sequins today are synonymous with festivities, but in recent years they have broken free of this mold into a fashion item you can wear year-round. The approach these days is less glamour and more styled. You'll see sequinned slip dresses layered over knitwear, or an embellished top worn with simple shorts. It's more a case of 'anything goes' when it comes to sequins now.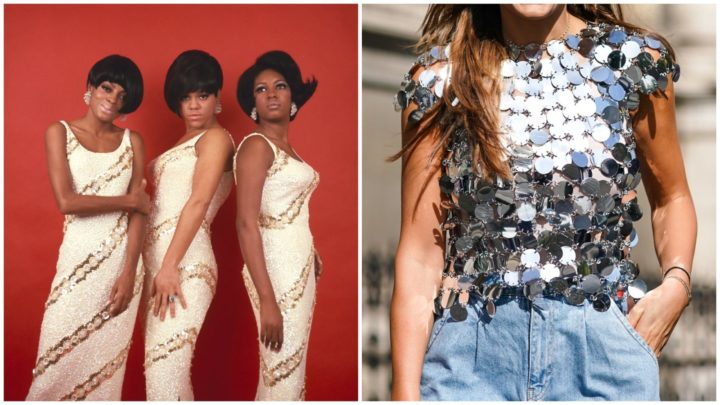 Mixed-up prints and satin
If you can't recall, the 1960s were a time of great experimentation and almost nothing was off limits. That extended so far as mix-matching different prints, such as wearing stripes and spots together. Cher did this really well, wearing outlandish prints with her 'can they get any wider' flared trousers. It was bold. It was daring. It was ever-so-'60s. The other fashion item the singer could pull off effortlessly was satin. Probably not the most ideal material to be wearing (especially in an Australian summer), but Cher was so cool and she had a range of satin blouses.
Today, mixing prints can create a powerful look. You just need to play around with proportions (bolder and more graphic prints go great together); stay within the same tonal range if you don't want to look like you've pulled clothes from the bin (so a dark spotty top can go really well with a similarly coloured plaid skirt or pair of pants); or try prints that are similar but have opposing styles (think wide checks with small checks in any colour).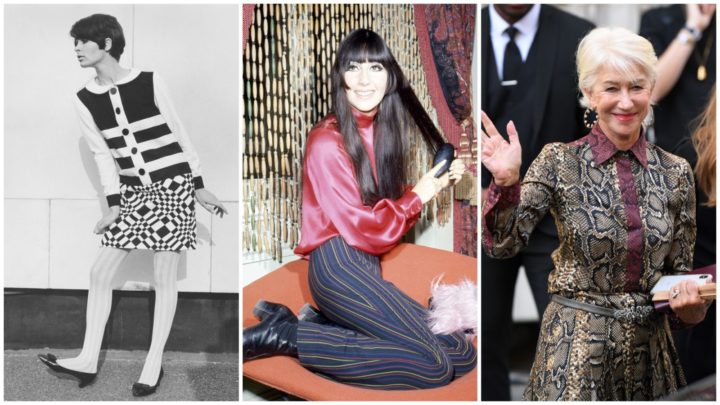 There are so many iconic fashion trends from the 1960s making their way into today's wardrobes. What will you be wearing?