The eyes are often described as the windows to our souls and along with brows are arguably the most dominant facial feature. Eyebrows frame the face, and give definition, balance and symmetry–not that they each have to be exactly the same shape; after all, they are sisters, not twins.
As we age, our faces do change over time, most notably we experience volume loss and looser skin, changes in our orbital bone structures as well and some of us will find that our eyebrows may start to grow erratically or become thin and sparse.
Thankfully with advancements in technology in the beauty industry, sparse and thin brows are now a thing of the past! One particularly popular method to say "hello" to beautiful brows is through microblading.
To help you fully understand what microblading can do for women over 60, Starts at 60 spoke to cosmetic and medical tattooist Katherine McCann from Facebox to get her professional insights into the cosmetic procedure.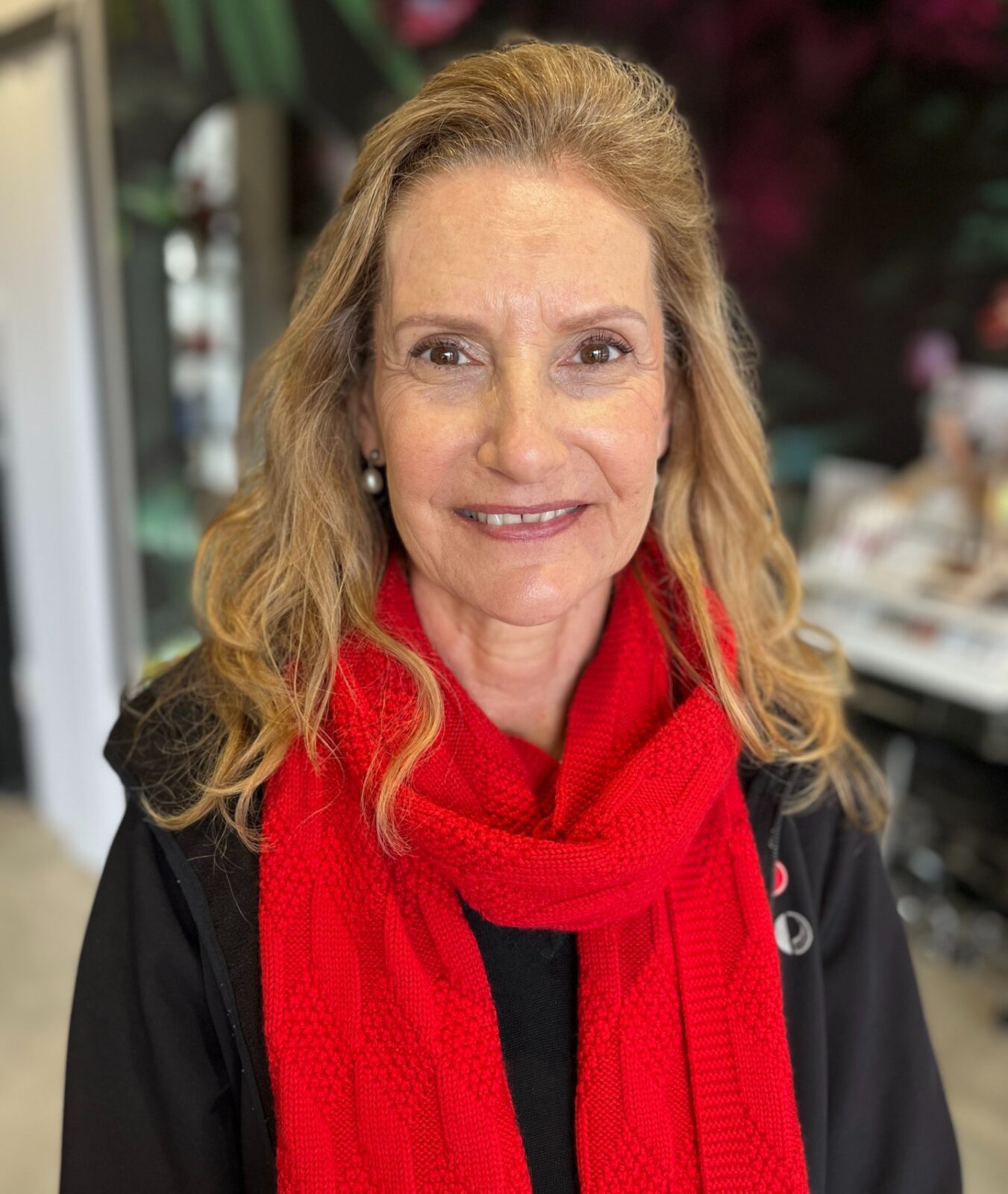 What exactly is microblading?
Microblading is a form of eyebrow tattooing where the artist uses a pen-like hand tool to manually create a hair stroke pattern throughout the eyebrow area. Unlike a digital machine that implants pigment at higher speeds–think up and down like a sewing machine action–microblading works by slicing or cutting the skin in order to implant pigment.
Things to consider.
When considering any type of cosmetic tattoo Katherine strongly suggests taking a "less is more" approach, meaning going for a soft style that is age-appropriate, natural looking and there to enhance – not overly defined.
It's also incredibly important to understand that tattooing into the skin is very different from applying makeup on top of the skin.
"You not only get a completely different look and colour, but if you go too dark with colour choice in the skin it tends to age cooler and darker over time… which in turn can often result in looking hard or harsh," Katherine says.
"The aim is to make it soft so as your face changes there is flexibility to change and adapt as you age."
Microblading is suitable for any state that your eyebrow is in–be it sparse or scattered.
You definitely don't need to wax, pluck or shave your eyebrow hair off prior to your appointment, in fact, Katherine asks all clients to leave them so she can see how they look naturally.
It's also good to note that once you've got your tattooed shape, even with the finest amount of hair this helps add an extra dimension to the brows and creates texture. The hair will continue to grow and it's just a matter of maintaining the hair growth or colour with a simple tint or tidy every 6-8 weeks post-tattoo.  For those who have minimal hair growth that's no problem as a good cosmetic tattoo should provide you with a soft natural shape.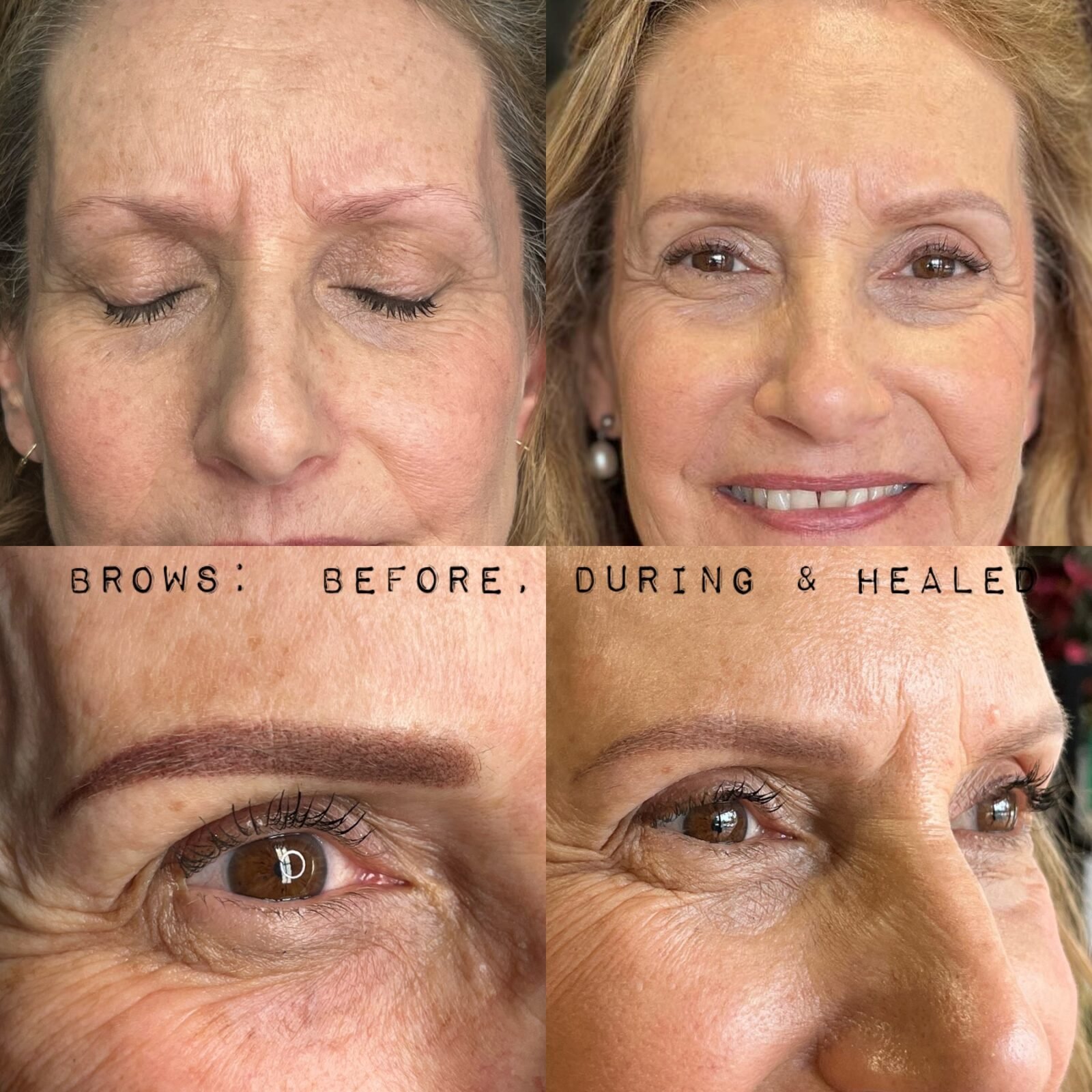 How painful is eyebrow microblading?
Pain levels and sensitivity vary from person to person, however in order to maintain client comfort throughout an eyebrow tattooing procedure, Katherine uses a topical anaesthetic that is specifically compounded for use on open skin.
"In our clinic, we provide a link to our local compounding pharmacy where the client completes their medical consultation form and submits this to the compounder who then makes their specific numbing cream, put it in their name and the client pays, picks it up and brings it to their initial appointment," she said.
When microblading is performed, you will hear a cutting or slicing crackle noise a bit like tearing velvet material, you can expect some prickle bleeding and some pressure discomfort as the skin needs to be held in a firm three-way stretch in order to get the strokes precise. With machine brows, the only noise you will hear is a gentle buzz of the machine and there is no bleeding or discomfort.
What to do before and after getting microblading.
Getting your eyebrows cosmetically tattooed is a significant investment, so it's important to ensure you follow your cosmetic tattooist's pre and aftercare instructions properly.
Katherine stresses that while cosmetic tattooing is a very safe and popular treatment, there are also certain contraindications that may impact candidate suitability. So it's important that you disclose any health and medication you're using to your artist beforehand as there is a possibility they could impact your suitability to be tattooed or how the tattoo could heal or look.
"While some instructions may vary slightly with a wet or dry heal, the overall aim is to make sure you treat your cosmetically tattooed eyebrows like a superficial wound, keep them clean, apply the supplied antiseptic cream or healing balm and allow the brows to flake and fall off naturally," she says.
According to Katherine, all aftercare instructions will advise you not to undertake any significant activities which limit swimming, sweating or over-exercising for at least seven-14 days post-initial procedure and will also highlight that you are not to pick, pull or apply makeup or any other product to the eyebrows during the healing stages.
Once the flakes have come off, the brows may look light and at times patchy – this is a normal part of the new skin and healing stage, so you can safely apply some powder or pencil to fill in any areas and over the next 4-6 weeks until the colour will return to the eyebrows.
"Some minor tenderness or redness can be normal post-initial procedure but this generally subsides very quickly," Katherine assures.
"Another thing to note is that your brows will look bigger, darker and bolder straight after the tattooing, but this will soften, shrink and fade at least 30% once they are fully healed."
It's also important to note that you should not have injectables at least 14-21 days pre or post-tattoo and if you've had any surgeries or recent procedures you seek a doctor's clearance before booking an appointment just to be safe.
No alcohol at least 48 hours prior as this can thin the blood and make you prone to bruising and depending on the type of pigment or ink and tattoo placement, bruising can cause migration under the skin.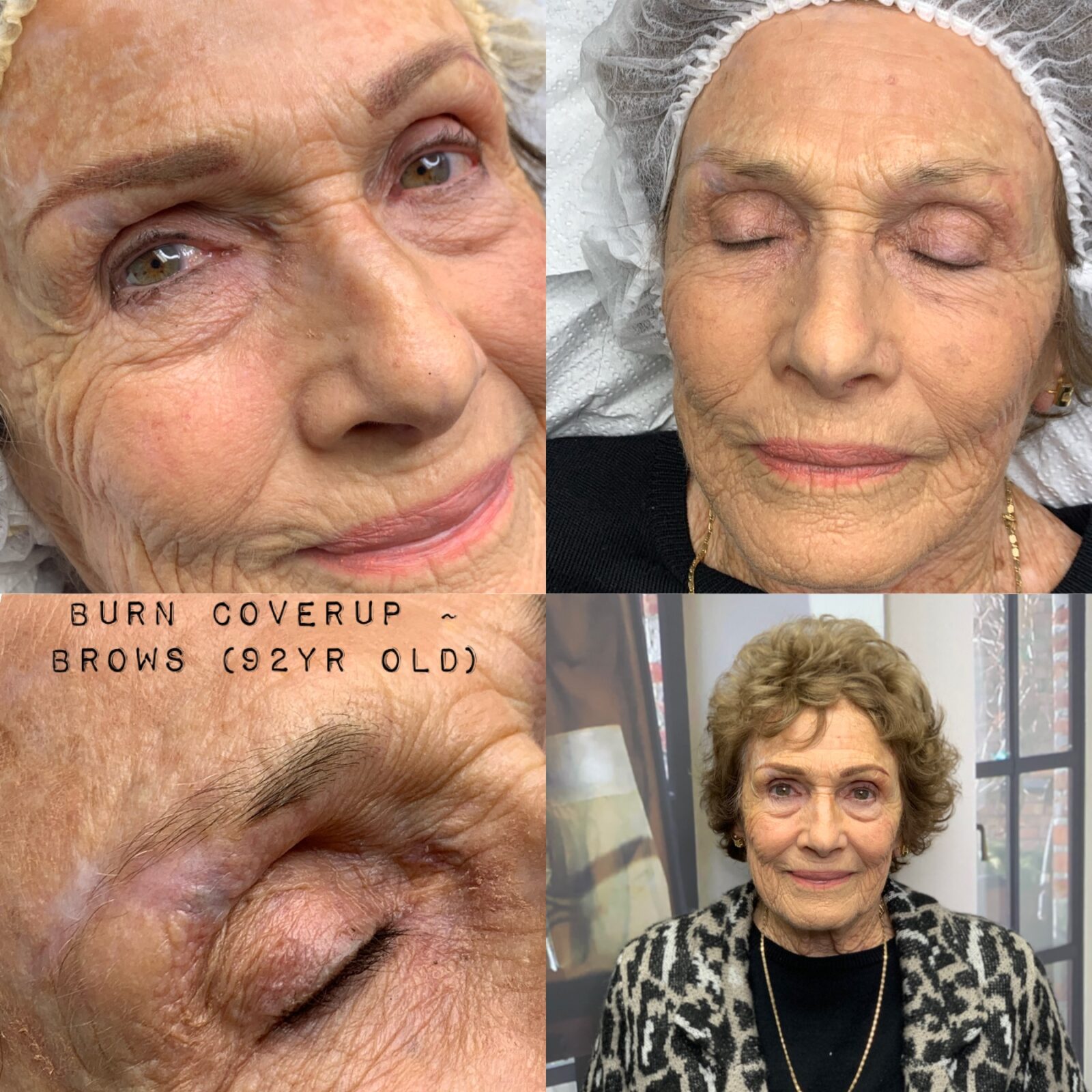 What to expect during your microblading appointment.
You begin with a thorough consultation, where you and your aesthetician discuss the procedure and what your desired outcome would be.
This is the opportunity to discuss style, colours, the process as a whole as well as any factors which may impact your aesthetician's ability to meet expectations moving forward.
Katherine generally allows 2 hours for the initial appointment, which gives her more than enough time to slow things down or spend some extra time doing the design, answering questions or choosing colours.
Once your consultation is complete, you move on to mapping out the new eyebrow shape and then with the client sitting up, we make any adjustments, changes and tweaks before the final signoff.
Once everything is confirmed the actual tattooing begins. Depending on the style, tattooing generally takes approximately one hour and once completed, then your aesthetician takes you through the aftercare instructions and you should expect healing-wise over the next few weeks.
"I always allow a minimum of 8 weeks of healing time for all of our clients as this ensures complete healing has taken place both inside and out.  Keep in mind healing and cellular turnover slow down as we age," she said.
A second refinement appointment is then booked to be completed to finish the tattooing within 12 weeks of the initial eyebrow tattooing procedure. It is during the second appointment that extra dimension, tone colours or adjustments are made for any areas that may have healed a bit weaker than others.
"It's important to understand facial tattooing is a two-part process – as the skin on the face is not the same as on the body and we need to ensure we complete both appointments in order to ensure the tattoo ages and fades evenly over time," Katherine notes.
"Particularly when it comes to tattooing mature skin, factors such as sun damage, wrinkles, scarring and even medication, and previous illness can all impact pigment implantation or healing and may require touching up or refinement at the second appointment."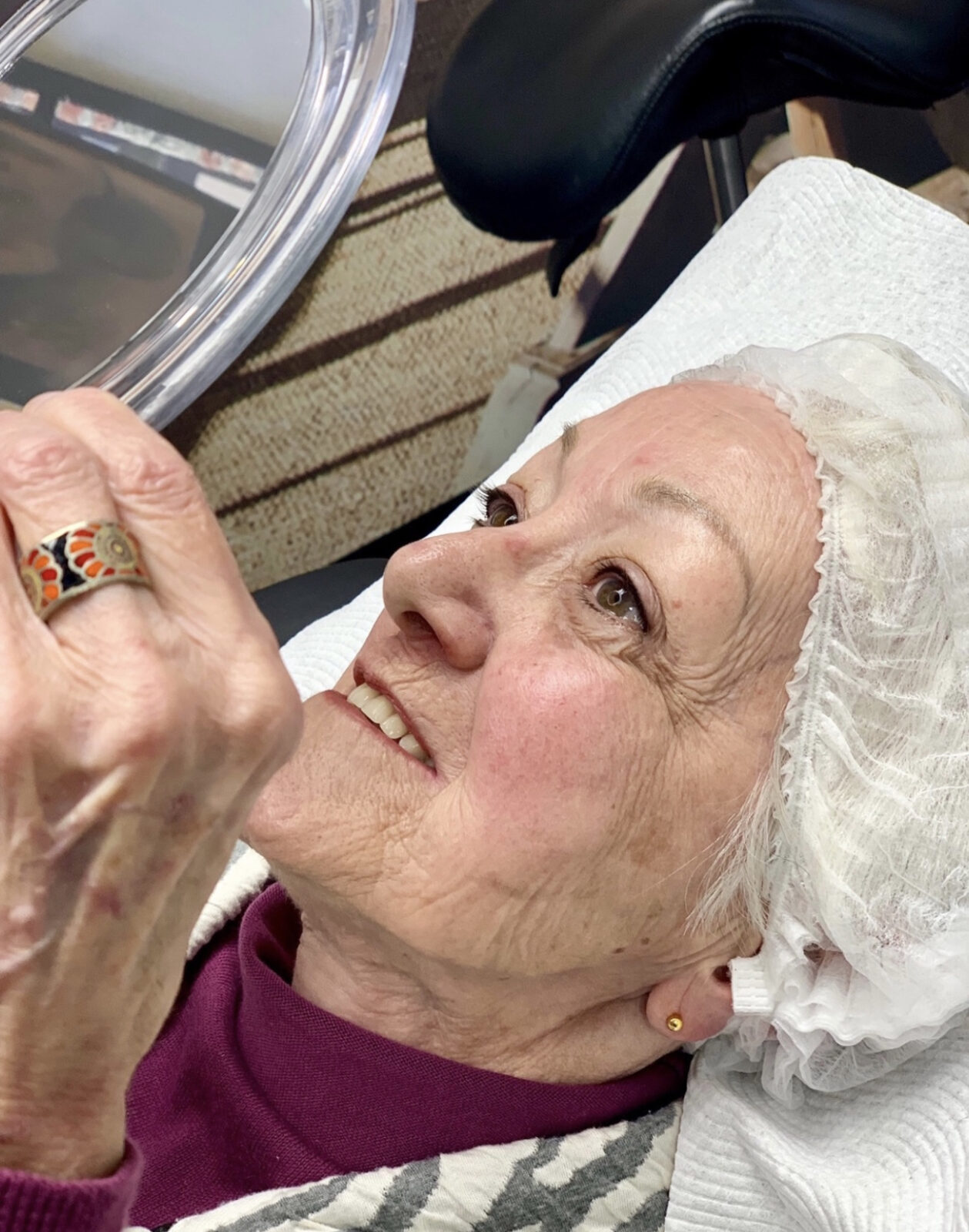 Is microblading worth it?
While microblading is a lovely procedure, it can be quite hard to do on clients who may not have the "ideal canvas". This means perfectly healthy skin with barely-there pores, no sun damage, no wrinkles, no scars or oil.
"This, unfortunately, rules out the vast majority of our population, especially in Australia," Katherine says.
It is also marketed as 'semi-permanent and requires a refresh every 12-18months; meaning that you need to slice that skin in the same lines over and over again in order to keep those hair strokes crisp. With each visit going over the same areas does result in scarring and a lot of the time can affect the skin's ability to hold or retain pigment.
But that shouldn't discourage you from considering getting your brows permanently done. There are other procedures offered that are more mature-skin friendly.
For her older clients, Katherine herself prefers a "powder or combination" style eyebrow, which uses a tattoo machine or digital device which will not tear or cut the skin.  This will provide a much more consistent and predictable healed outcome when it comes to the creation of soft natural eyebrows. Machine brows also last a lot longer and require less ongoing maintenance.
IMPORTANT LEGAL INFO This article is of a general nature and FYI only, because it doesn't take into account your personal health requirements or existing medical conditions. That means it's not personalised health advice and shouldn't be relied upon as if it is. Before making a health-related decision, you should work out if the info is appropriate for your situation and get professional medical advice.