Fortunately, author and blogger Rhonda Hetzel has some handy tips and valuable expertise up her sleeve that will help save not only precious time but also money this festive season.
Hertzel recognises that there is a great appreciation for the thought and skill that goes into making gifts.
She begins thinking about what gifts she is going to put together for Christmas around the middle of the year, collecting materials for her creations during the mid-year sales in June.
She then sets aside a little time each month to make her Christmas presents, leaving the food gifts until November.
If Hertzel plans on giving plants as gifts she will take cuttings and plant seeds in June, so the plants will be bushy and strong come December.
One of her favourite gifts to give, however, is a set of three dishcloths with a bar of homemade olive oil soap, which she begins making in July.
Although it's a little late in the year to start making gifts from scratch now, Hertzel has shared a few ideas below that may help you create presents without big price tags. Hertzel's best tip is to make do with what you've got on hand. If you don't have any fabric or yarns, buy what you need to make a few gifts and then build up your supplies next year so you have materials ready to go for Christmas 2023.
Garden
Choose things that grow well in pots, such as herbs, chillies or cucumbers. A bush cucumber called spacemaster grows well in pots and is a full-sized cucumber that is great for salads and pickles. A potted tomato seedling is also a good idea. The heirloom called tommy toe is consistently in the top three delicious tomatoes list. They'll need to be transplanted to a large pot when they grow but – as a gift for Christmas – go for a seedling in a medium pot.
Also in the gardening line, you could give a one-litre Mason jar with a pack of seeds for sprouting.
Food
Cellophane bags with a ribbon are a lovely way to present food gifts. Baked food such as fruit mince pies, muffin-size Christmas cake, spiced nuts, gingerbread figures and jars of pickles, chutney and tomato relish all make great gifts. Below is one of our reader's favourite traditional Christmas gingerbread biscuit recipe.
Traditional Christmas gingerbread biscuits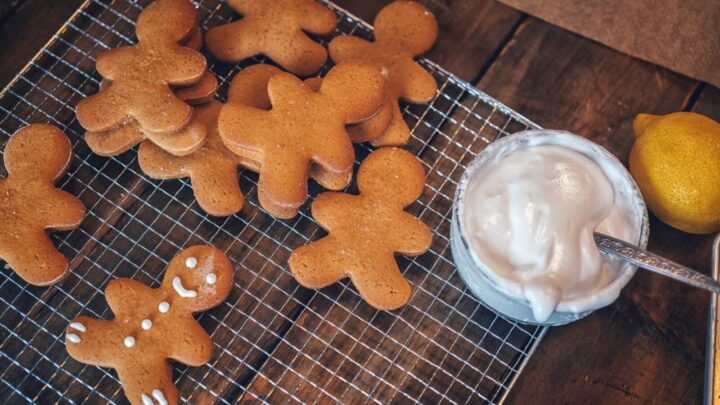 Ingredients
150g unsalted butter, cubed
1/2 cup (125ml) golden syrup
1/2 cup (110g) firmly packed brown sugar
1 tsp bicarbonate of soda
3 cups (450g) plain flour
1 tbsp ground ginger
1 tsp ground cinnamon
1/2 tsp nutmeg
1/2 tsp ground cloves
1/2 tsp baking powder
1 egg, lightly whisked
Icing and other decorations, if using
Method
Preheat oven to 180C. Line 2 large oven trays with baking paper. Place butter, golden syrup and sugar in a medium saucepan over medium heat. Cook, stirring, for 3 minutes or until sugar dissolves. Bring to the boil. Remove from heat. Add bicarbonate of soda and stir to combine. Transfer to a large heatproof bowl. Set aside to cool.
Sift flour, ginger, cinnamon, nutmeg, cloves and baking powder over butter mixture. Add the egg and stir until combined. Turn onto a lightly floured surface and gently knead until smooth. Divide dough into two portions. Shape each portion into a disc and cover with plastic wrap. Place in the fridge for 45 minutes or until firm.
Roll one portion between 2 sheets of baking paper until 5mm thick. Using 6-7cm Christmas cookie cutters, cut shapes from dough, re-rolling scraps. Place on the lined trays, 3cm apart to allow for spreading. Repeat with remaining gingerbread portion.
Bake in preheated oven, 1 tray at a time, for 8 minutes or until just firm to touch. Remove from oven and set aside on trays for 5 minutes to cool before transferring to a wire rack to cool completely.
Decorate however you choose, and serve.
Craft
Knitted organic-cotton dishcloths are appreciated by most. Paired with some homemade soap, or soap picked up at the health shop or local market, it becomes the perfect gift. People love getting something they can use. If you have a sewing machine and some fabric in the cupboard, you could also make napkins, reusable paper towels, table runners or aprons.
Kids
Play-dough is quick and easy to make for young children in your family. Simply search online for play-dough recipes. Library bags are also popular, as are small, drawstring bags for holding special Lego figures, treasures and shells found on the beach. A small selection of chocolates or lollies in a jar is always a welcome gift for a child. Or why not buy tickets to a local cultural event, if you do feel like splashing some cash.
Final Tip
The most important thing is to make everything as beautifully as you can and ensure your gifts suit those receiving them. Wrap them nicely in a tea towel or brown paper decorated with leaves, ribbon or kids' drawings and you'll be giving a gift that is full of love and good intentions.