Jeneane Geeves took to Facebook recently to share a photo of her recent creations which were made for her nephew who works as a nurse. The masks are much more appealing than the store-bought variety, featuring brightly-coloured patterns and even Disney characters.
Meanwhile, Marijandel Caravaner got to work and made a total of 40 to share between herself and friends, explaining in a post on Facebook that the face masks have to be changed regularly, so the more the better! The face masks looked lovely, with different colours and patterns to suit different people's styles.
"I make mind from cotton," she wrote. "You have a non-woven iron on interfacing on one side and pipe cleaner sewn in across the top so it can be moulded to the nasal bridge and [you] can breathe through those. From research I did there has to be a non-woven insert or lining as the virus can pass through the holes left in weaving. They all only last for 30 minutes tops and need changing often so I ended up production lining and making 40. Some given to friends."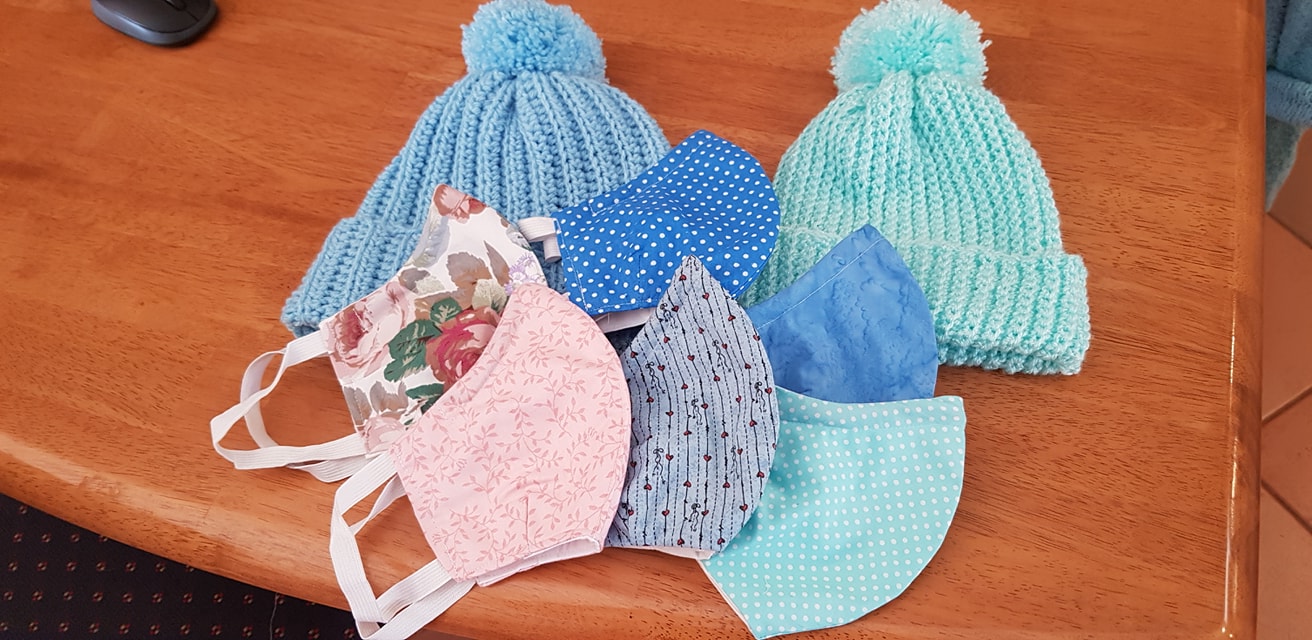 For others who want to try making their own face masks Spotlight has kindly shared a pattern and video showing exactly what materials are needed and how to put them together.
"Spotlight is committed to helping Australians get through this pandemic with access to the materials and items needed to help protect ourselves, our loved ones and our community," Spotlight Chief Executive Officer Quentin Gracanin said according to Better Homes and Gardens. "If you're a keen sewer, we encourage you to make masks for yourself and your family, and we're asking our interstate friends to lend a helping hand via our Crafts for A Cause Facebook group."
To make the face masks you'll need tightly woven cotton, water resistant fabric, cotton trim, pins, measuring tape and scissors to make the masks, with nine easy steps to follow.
First cut out two rectangles from the tightly woven cotton fabric, measuring 19cm x 19.5 each. Then cut a third rectangle out of the water resistant fabric for the middle layer. Once you have your materials cut to size, on the right side of the fabric, pin elastic ends to the sides, creating a semi circle, then baste the elastic in place.
Next, pin the fabric pieces with the right sides together and add the middle layer on the outside. Stitch it together with a 6mm seam allowance and leave a small opening on one side. Then, turn right side out and sew a 3mm seam around the outside to close the opening and finish the edges neatly.
To make pleats, fold the material along the solid lines, matching the template and baste it in place. And finally to finish, stick along basting 3mm away from the first stitching line.
Meanwhile, this week experts have also advised people making their own face masks at home to use a minimum of two layers, preferably three, to prevent the dispersal of viral droplets from the nose and mouth which is associated with the spread of Covid-19.
Australian researchers from the University of New South Wales, found a double layer covering was better than a single layer in reducing the droplet spread from coughing and sneezing. However, they said they effectiveness of the face mask also depends on the type of material used, the design and fit, as well as the frequency it's being washed.
For people outside of Victoria, it may seem a little odd to be making masks when there's no rule in place to wear them, but there have been calls to enforce the order throughout the rest of Australia to prevent further spread of Covid-19. Only this week, Professor Mary-Louise McLaws, an epidemiologist and World Health Organization (WHO) adviser, said she wants the government to introduce mandatory mask wearing across other parts of the country.
"If you're sitting in close confinement particularly in places, buses or trains or anywhere where you can't keep your distance and people are talking, you need to wear a mask," she told The Daily Telegraph. "It's a very cheap, preventative measure that works well.
"Leaders can change the message and say we now have updated science. This keeps the community primed to understand that with new evidence comes new directions by the leadership."
In early June WHO changed its recommendations, with advice now to wear face masks when you're in a crowded space. Many countries have brought in the rule to slow the spread of the virus, however, in Australia the advice hasn't changed much, except for in Melbourne. But, according to McLaws it would be beneficial to adopt this rule in more places given the current situation in Victoria.
"They do work. Some of the new studies show that some three-layered fabrics give you up to 70 per cent protection," she told the ABC. "So if everybody is wearing them, that's doubling your effectiveness really."