Despite my mind thinking I'm somewhere in my early 40s, I'm 57 years old. I'm an active person, but due to a torn ACL and knee reconstruction at the age of 26, I'm restricted. A few years ago, thinking myself invincible and ignoring my surgeon's advice, I took a tumble on the ski slopes in Japan and broke the top of my tibia, requiring more surgery.
Turns out Osteoarthritis had weakened my bones around that knee joint. While I wait for the 'right' time for a knee replacement, my goal is to keep being as active as possible and keep my knee and lower back pain to a minimum. I enjoy staying active and do Pilates three to four times a week and I particularly enjoy bushwalks up and down mountains (but rarely to the summit). So, when I saw the advertisements for Good Feet on TV mentioning the Good Feet Arch Supports if you have knee, hip, or back pain, I was instantly hooked. And so naturally when Starts at 60 approached me and asked if I wanted to pop into the Good Feet Store at Mt Gravatt for a personalised fitting, I said yes!
Keen to find out how they'd be able to help me deal with my knee and lower back pain, allowing me to keep doing the activities I love, I rang and made an obligation-free appointment.
Meeting the Arch Support Specialist
When I arrive at the Mt Gravatt store, I'm greeted by the Area Manager for Good Feet, Amber Tull. During the initial consultation, a trained Good Feet Arch Support Specialist will get to know you and your feet, your activities, lifestyle, and the type of footwear you prefer to wear. I brought my favourite running shoes and hiking boots for Amber to look at.
For arch supports to work effectively, your feet need to be correctly measured, and the supports need to fit precisely into your shoe. Altogether, the consultation and fitting can take anywhere from 30 minutes to an hour, no longer.
In my appointment, Amber explained to me that walking incorrectly from misalignment can cause pain and inflammation of the knee.
"Stabilising the foot with a good arch support can help minimise or alleviate the pain and discomfort caused by common foot and knee-related problems."
Amber shows me a small display board with a diagram of the foot and points out the foot's four arches, which help create more comfort, balance, and support. In my ignorance, I didn't even realise the foot had four arches! When your feet are not properly supported, your entire body becomes misaligned; this can create tremendous discomfort and pain – which is exactly what's been happening to me.
The Good Feet Arch Supports are designed to relieve foot, knee, hip, and back pain by keeping your foot in its ideal position. When your feet are in this ideal position, they then become better aligned, which helps to relieve joint pressure, discomfort, and any associated pain. The realignment process starts through your ankles, and then stabilises your knees hips and back, helping to improve your posture and balance.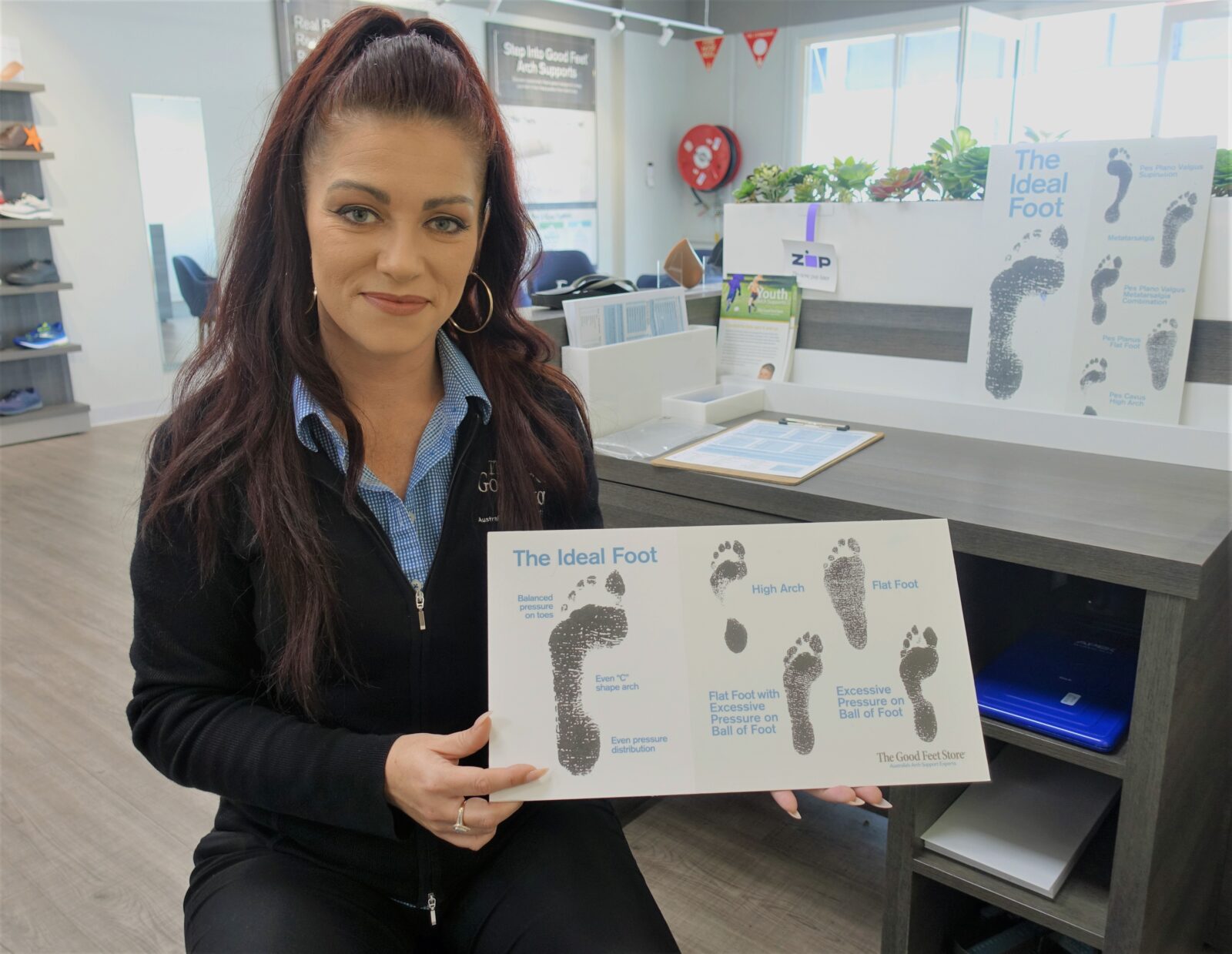 Amber asks me to remove my boots and socks and hands me a pair of fluro orange ankle socks. I place one socked foot on a pad that takes a pressure impression of my foot and arches, providing information on my arch type. She then measures my feet using a Brannock Device (we've all seen these in footwear stores). Turns out my feet were another half size larger than what I used to be a few years ago.
We run through what I want my arch supports to achieve and I tell Amber about my knee incidents from the last few years. I explain to her that I want to continue hiking and slowly get stronger all over, so when it's time for my knee replacement, my rehab time will be less. I inform her about the ache in my knee I usually experience after a few hours of hiking, and ask:
"Is there anything that can be done to alleviate the pain?"
Amber is confident there is.
One Strengthener: Designed to improve foot alignment by strengthening the muscles, tendons, and ligaments of the feet and repositioning them to their ideal position
One Maintainer: This focuses on maintaining the arch infrastructure that the Strengtheners may have established.
One Relaxer: Designed to gently support the foot and offer a rest period from the alignment work provided by the other arch supports.