"It's worth fighting, getting help, talking to people, getting support so people can help you through difficult times," he said. "I think it was my alcoholism that forced me into a situation which was probably a little risky."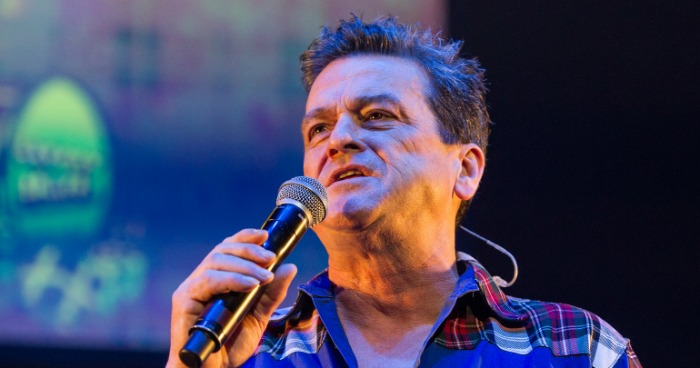 Revealing an inside glimpse at his time on the show, and months in rehab, he said: "I was in a bit of a state while I was there, I was on medication and had a guard on the door to stop me going down to the off-licence to buy a few bottles! To be honest I didn't take it too seriously to start with, I just kept thinking 'God, I need a f***ing drink! What is all this f***ing meditation s*** about?'
"But I don't know, I woke up one day and started to get into it. In some ways you could think you're being brainwashed, and maybe I wasn't, but I was being cleaned up. I was getting rid of baggage that had been holding me back for years."
The biggest shock came in February 2009, when several news outlets published reports of Les' time on the show – and revealed he had come clean about gay affairs he had secretly had behind Peko's back. It was even claimed Peko only found out about his double life herself after watching the TV show early.
"I've been a bit of a George Michael, meeting people, often strangers, for sex," he said at the time.
Opening up on the confession now, he said: "I don't see it as coming clean, that was it, that was me. I didn't decide to wake up one day and 'fess up to a couple of dodgy sexual encounters. It did lead to my wife and I splitting up for a while. We weren't fully apart but we hung out together without living together. It can go both ways, but it depends how much you want it to work."
Les said he's always been honest about his sexuality to his wife since, and while he can't bring himself to watch the TV show back, he added: "Honesty is a major thing. If you and your partner have a strong relationship, and there's something you've been hiding for some years, there's no harm in letting someone know – but if it's in the past and all over then it stays there.
"The only caveat to that is if you still have those feelings, and want to pursue those things while you're in a marriage – I imagine that would be rather difficult! Dangerous at all sorts of levels!"
Les said there were a number of things that led to his "downward spiral", and added: "That was a period of time from around 2002 when I was heavy into alcohol and drugs, and all that messing around was also involved in those themes too. You get dragged into different scenes, and that's how all that wild stuff happened. It's a downward spiral, you think you've hit rock bottom then you find out there's another couple of floors!
Read more: Bay City Rollers star reveals his dark battle with alcoholism
"To be honest I don't really think about it now. I get on with doing positive things."
Peko is claimed to have accepted her husband's sexuality at the time, and told the TV show: "I'm glad you've told me because always I'd wondered. I'd guessed but I was not sure. This is my husband – my family. We are cool."
Elsewhere on the TV show, Les opened up about the moment he fell victim to a date rape at the age of 19, and recalling the awful moment, he told Starts at 60: "The man who did it has such a bad reputation. It was a bad time. It's in the past and that's where it stays. These things can only affect you if you let them affect you."
Les and Peko, who have son Jubei together, are now happier than ever together and juggle Les' busy work schedule with quality time together. He's now preparing to return to Australia in July and August to tour with his band Bay City Rollers featuring Les McKeown, recreating some of the band's top hits and new tunes for both old and new fans.
He said both his wife and son may come for part of the tour, but his busy schedule means he will be running around a lot during the two months he's down under.
"God know why she's put up with me for this long, she could have kicked my arse right out the door a long time ago," he joked. "We went through a bit of a rough patch but then we got back together again and everything is good now, I don't want to change things round in my life now. I met her in 1978 and we've been going out ever since, how long is that?
"Sometimes when you're going through rough times, it's easy to throw it all away and start again. It's harder to try and make it work, I think."
Asked if it's important to be honest to a partner following a mistake or affair, Les added: "Definitely, definitely. But you also have to forgive yourself and move on, otherwise you just carry that guilt around with you. It eats you up and it's on your subconscious all the time. It makes you do things you really ought not to be doing.
"I've got myself sorted and now I'm probably too honest!"
Bay City Rollers Featuring Les McKeown are touring Australia and New Zealand in July and August. Visit the website here to purchase tickets for Australia.
Are you a fan of the Bay City Rollers? Do you agree honesty is key in a marriage?