Ample living space and privacy, in an established community with a convenient location. Quality facilities, friendly neighbours and support that's easily available if you need it later in life. These are the lifestyle must-haves of any retirement community – and 60-pluses are finding them at The Orchards Templestowe.
The Orchards, located in the well-established Melbourne suburb of Doncaster East, is one of those rare retirement living communities that really does tick all the boxes. In fact, it's so good that even over-60s who insisted they'd never consider a retirement community have moved in!
When Peter, 68, and Lyn Lobo, 66, decided to downsize from their family home, they focused their search on smaller properties in the residential property market. But after a friend moved into a retirement community and had a good experience, the Lobos widened their search to include retirement living communities.
And from the moment they set foot in one of The Orchards' new-build apartments, Peter and Lyn knew they had found the perfect home for the next stage of their lives.
"The furnishings, the fixtures, the facilities, the staff – there was nothing about The Orchards that didn't tick the box for us," Peter says.
Peter and Lyn are now knee-deep in the downsizing process, ahead of the move into their new home in a few months. But the opportunity to join them in a retirement living community with everything to offer is limited – only a few apartments, ready to move into today, are still available so you should act fast.
The Orchards is also building 52 beautiful new villas that are available off-the-plan, but with 25 per cent already sold in two months, you'll also need to get in quick or miss out on one of Victoria's most sought-after retirement communities!
The Orchards difference
The Orchards offers an outstanding retirement lifestyle in the heart of East Melbourne, surrounded by major parks and bushland with walking trails, as well as extensive retail offerings, essential services and entertainment. And that's before you step inside the community itself!
What greets you at the entrance is nothing short of fabulous. A leafy, relaxed and peaceful place to call home, no detail has been spared at The Orchards to ensure a high-end experience, from its polished community facilities to the finishing touches on individual dwellings.
"Once we decided on retirement living, we looked at quite a few communities and made a lot of enquiries, but after our first interaction with The Orchards' sales manager, Petroula Paraskevas, we were impressed," Lyn says. "She took us to view a three-bedroom apartment and we just walked in and it was like, wow, this is beautiful, we just fell in love."
"We just knew we were home," Peter agrees.
Peter was particularly sold on the size and layout of the apartment, having viewed apartments at other retirement living communities that were nicely finished but too small. And he was happy to compromise on his desire for a small garden – particularly when he saw the chance to still have a study in his new home.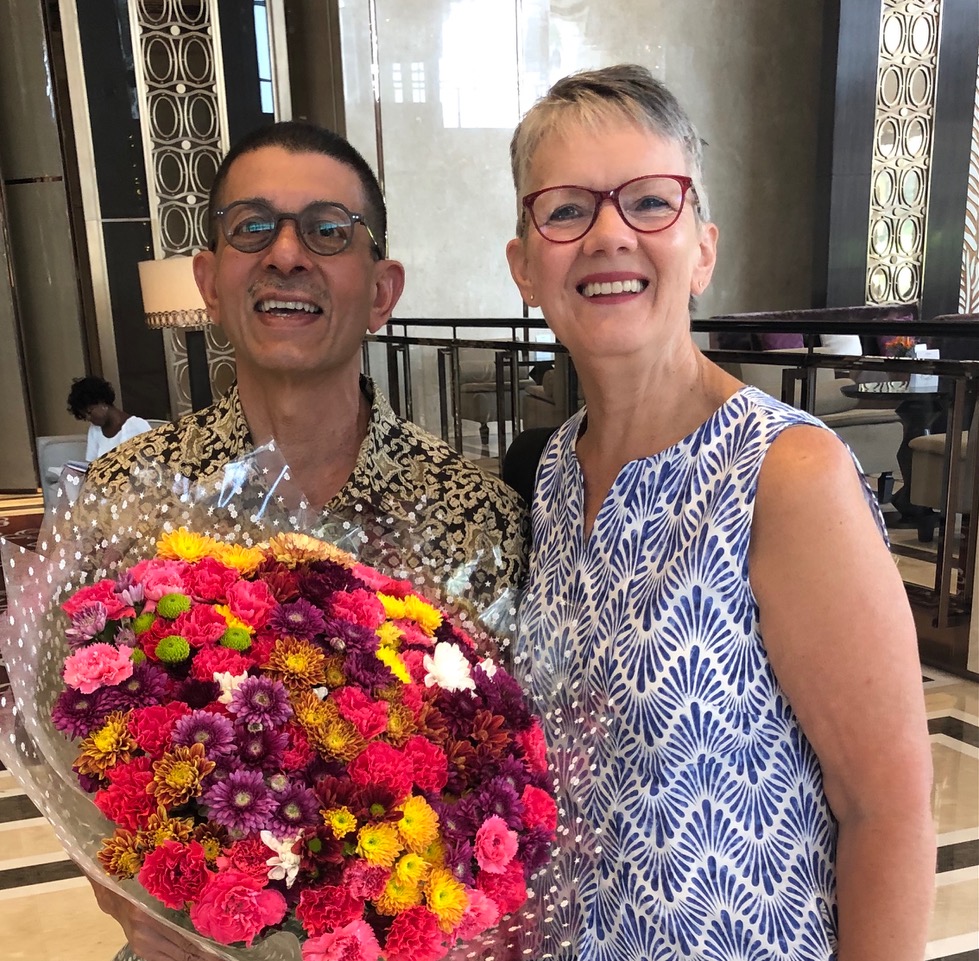 "We did want three bedrooms, and the main reason for that was I still read a lot and I still have a study, even though I've given away all my textbooks," he says. "I thought having a small garden and keeping it up-to-date and nice would've been a big plus but having said that, after we saw the apartment and the opportunities, I thought, I can have a few pot plants on the balcony and I'll be happy just watering it."
Peter and Lyn's home is a stylish, modern and very spacious apartment with quality finishes and European appliances throughout. Family-house staples such as a walk-in wardrobe in the main bedroom, a separate laundry, plenty of built-in storage space and sliding doors to the balcony add to the feeling of it being a real home.
"We also wanted a room where our children and our grandchildren could visit us and this gives us ample space for that," Peter adds.
This, coupled with recent upgrades to The Orchards' community facilities, which includes a classy club lounge, hair salon, residents' bar, restaurant, state-of-the-art indoor swimming pool and gym, make it easy to see why Peter and Lyn have chosen to call The Orchards home.
"I've always had a gym room in my house and now I've given all the gym equipment away ahead of our move, so I'll definitely use the gym, the pool and, of course, the library," Peter says.