Ways to use food colouring other than in cooking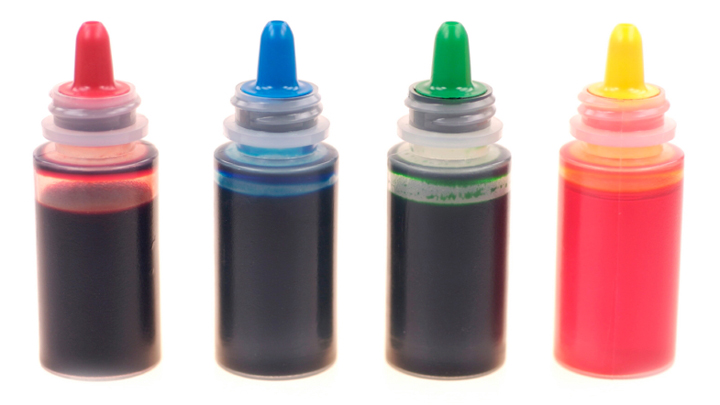 We all have it in our cupboards but did you know about all food colouring's amazing uses? Sure, we're used to putting it in baking, but this bright stuff can be used in many different ways we never realised.
Check them out and tell us, what is your favourite?
1. Homemade crayons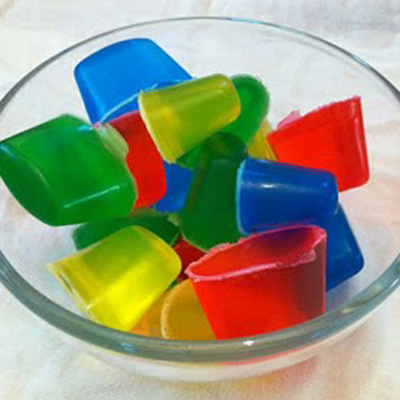 What you'll need:
Ad. Article continues below.
Glycerine soap
Food colouring
A mould or ice cube tray
Essential oils
Method:
Melt the glycerine in the microwave, add food colouring of your choice, and pour into a mould. You can also add essential oils if you like.
It takes about an hour to cool completely, so once cooled, pop out of the mould and let your grandchild have fun!
Ad. Article continues below.
2. Frosted mason jars
What you'll need:
Clean, clear mason jars
Food colouring
School glue
Water
Foam paint brush
Method:
Ad. Article continues below.
Thinning the white glue with a bit of water. Stir well, then add a bit of food colouring.
Once your food colouring is mixed well into your glue, brush a layer of it all over your jar. Apply your glue/colour mixture in a thin, even layer, trying to eliminate any brushstrokes.
Let your jars dry overnight.
via Happy Hooligans
3. Dye flowers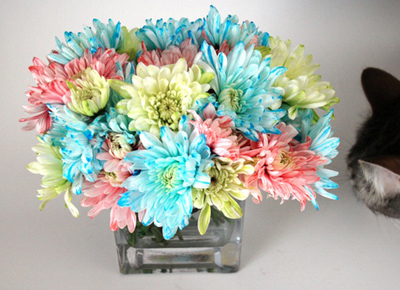 Ad. Article continues below.
What you'll need:
White flowers
Glasses or jars
Water
Food colouring
Method:
Fill your jars or glasses halfway with water. Drop in some food colouring until you get a nice, rich colour.
Take your flowers and break up the bunch into as many sections as is natural. Take and cut an angle on the bottom of the stems. You can shorten as necessary for your jars/glasses. Try to remove the leaves that are near the bottom to keep them from sitting in the water.
Place your flowers into the jars and allow to sit until you achieve the color you desire. When the colour is achieved, rinse the stems well and transfer to your vase.
Ad. Article continues below.
4. Sugar scrub
What you'll need:
½ cup coconut oil
2 cups organic cane sugar
1/2 cups sea salt
4 drops peppermint essential oil
10 drops lavender essential oil
1-2 tsp green food colouring
Method:
Ad. Article continues below.
Place coconut oil in a small pot and heat on low until melted. Allow to cool slightly.
Start by adding 1½ cups sugar to the oil, salt, along with the peppermint and lavender oils and green food colouring.
Mix until ingredients are well combined and the food colouring is evenly distributed. If mixture is too wet, add another ½ cup sugar until scrub is to desired consistency.
Spoon scrub into air-tight containers (such as a mason jar) and decorate if desired.
5. Dip dye wrapping paper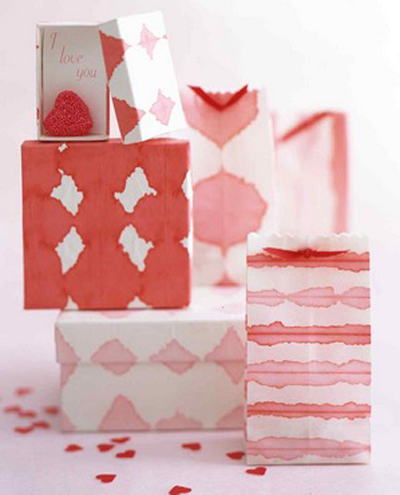 What you'll need:
Ad. Article continues below.
Food colouring
Water
Container
Porous rice paper
Paper clips
Method:
For a striped pattern, accordion-fold a sheet of rice paper into a thin strip, and attach paper clips to the ends. For a diamond pattern, fold a square in half diagonally to form a triangle, fold it in half again for another triangle, and then fold it once more. With the widest angle on top, fold the other two corners upward so that all three meet; secure with paper clips.

Dip the corners of the square and the long sides of the accordion-folded paper quickly into dye (use about 7 or more drops of food colouring per 1/2 cup of water). Unclip the paper, unfold, and hang it from a clothespin or spread it on craft paper to dry.

To achieve alternating shades of pink, use two dye baths of different strengths.

The longer you dip the paper, the more dye it will absorb.
via Martha Stewart
6. Make fried chicken golden brown
Beer battered fried chicken
Ingredients:
1 whole chicken
2 bottles of beer (your choice)
1⁄4 cup soy sauce
1 tablespoon minced ginger
1 tablespoon minced garlic
2 teaspoons sugar
1 teaspoon salt
1⁄2 teaspoon pepper
1 cup flour
1⁄2 cup cornstarch
1 egg
yellow food colouring
cold water
oil
Method:
Ad. Article continues below.
Cut up the chicken into 10 pieces and set aside.
In a large mixing bowl blend beer, soy sauce, 2 tbsp oil, ginger, garlic, sugar, salt and pepper. Add in the chicken pieces and mix well. Let the mixture stand for 1 hour and longer.
In a mixing bowl blend flour, cornstarch, egg, food colour and ice cold water into a thick batter. Let this set for 30 minutes before using.
Pour the batter over the marinade chicken pieces and blend well.
In a deep fryer fill with oil and wait til hot. Ad in small amount of battered chicken pieces and fried to a golden brown. When the chicken is done remove and drain onto paper towel.
via The Guardian
7. Differentiate boiled eggs from raw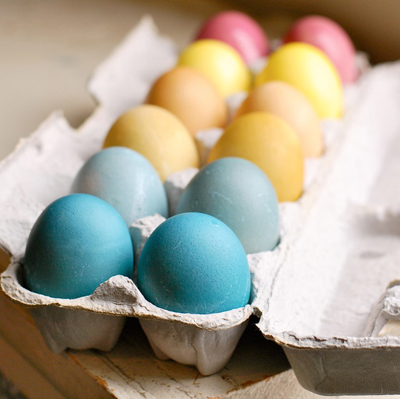 Ad. Article continues below.
When you boil your eggs, put food colouring of your choice into the water. Once cooked, put eggs back in egg carton and you will be able to tell the difference!
via Babble
8. Dye wool yarn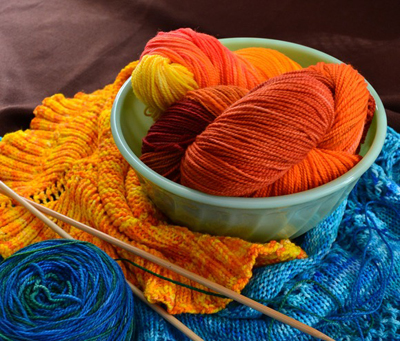 Ad. Article continues below.
What you will need:
Wool yarn – white or cream colours work best (not acrylics or cotton blends)
Food colouring
White vinegar
Containers for dye
Method:
If your wool is in balls, you will need to unwind them and form into a skein. Tie your skein loosely in two or three places so the yarn does not become tangled during the dyeing process.
Next your need to prepare the yarns fibres to take the dye by soaking the yarn in a bowl filled with a mix of water and vinegar (1/4 cup of vinegar for litre of water). Allow the yarn to sit for at least 20 minutes then squeeze out the extra moisture.
Mix the food colouring with water and a tiny bit of vinegar.
Take the yarn out of the vinegar soak and squeeze out the water and you're ready to add colour. You have two options for coloring the yarn: either pour the dye over the yarn for a colourful appearance or dip the yarn into the dye for a more solid effect.
When you've used all your dye or have achieved the effect you're after, place your painted yarn in a heavy ziplock bag and microwave for 2 minutes on the highest power setting. Let the yarn cool completely then repeat 2 more times for a total of 6 minutes of microwaving. The heat and steam, along with the acid from the vinegar, is what sets the colour into the yarn.
Let the yarn cool completely before removing it from the bag. When the yarn has cooled, rinse it in cool water until the water runs clear.
Squeeze (don't wring) the excess water out and drape the yarn somewhere out of direct sunlight to dry.
Ad. Article continues below.
via The Cheap Luxury
9. Cleaning slime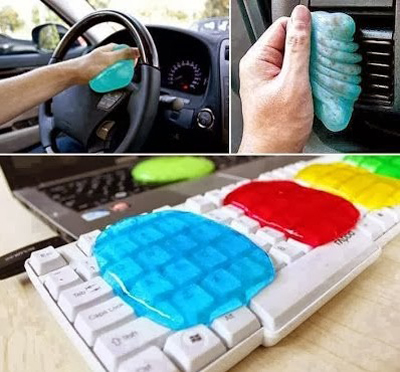 What you'll need:
Ad. Article continues below.
4 tbsp borax
5 tbsp water
2 tbsp school glue
food colouring
Method:
In a small dish combine the school glue and 1 tbsp of water, mixing well. In another small bowl combine 4 tbsp borax and 4 tbsp water, mixing well until the borax dissolves.
Combine the ingredients from both bowls and immediately stir well, creating cleaning slime. If you want coloured slime, you can add a drop or two of food colouring to the water in the "glue" dish prior to mixing.
Play with the slime until it's no longer wet. At this point, if you place it on a piece of paper for about 10 seconds, it won't leave a spot or residue.
To use, apply it to your keyboard or vents, then gently pull off.
Ad. Article continues below.
10. Dye fabric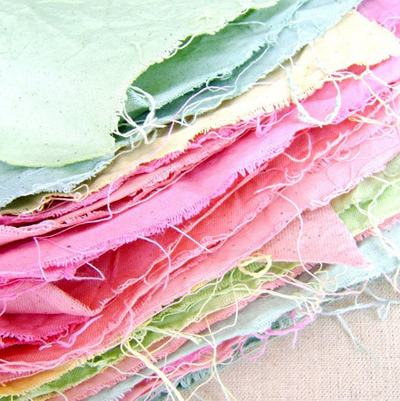 What you'll need:
Water
White or canvas fabric
Vinegar
Food colouring
Pot
Ad. Article continues below.
Method
Soak your fabric in warm water until it is completely wet.
In a pot, add 4 cups of water, one cup of vinegar and one small bottle of food colouring (this depends on how light or dark you want your colours to turn out. The less food coloring, the lighter your fabric will turn out. Also, mix up your colours to get even more colour options).
Mix it up and place it on the stove on high.
Place your fabric in the pot and move it around to make sure it gets wet with the mixture.
Put a lid on it and let it boil for 5 min.
Carefully take your fabric out and rinse it under cold water. Hang dry.
via Mashia