The towel washing tips you need to know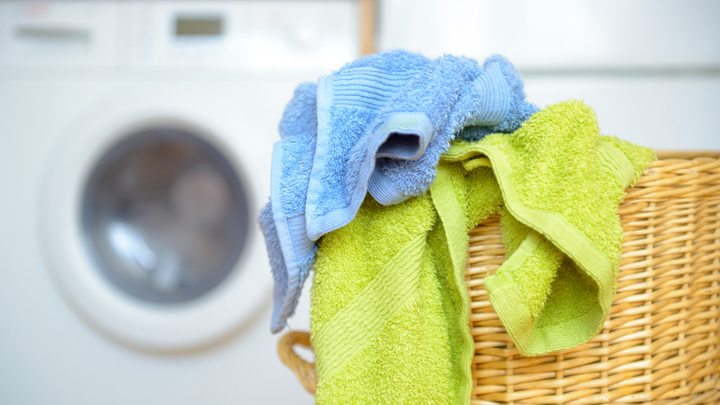 Do you find that your towels don't last as long as you would like?
Well, it turns out it could be because of the way you wash them.
Changing the way you wash your towels could make them fluffier, softer and longer lasting.
Here are a few tips towel washing tips you need to know.
Ad. Article continues below.
1. Always wash new towels.
No doubt you've heard this one before. But it's important for the longevity of your towels. Washing your new towels before using them will remove the finishings put on them and allow for maximum absorbency.
2. Use vinegar to set the colours
You should wash your coloured towels with similar colours in a warm wash for the first few times. Try reducing the amount of washing powder and adding half a cup or a cup of white vinegar. The vinegar remove excess detergent and help set the colours.
Ad. Article continues below.
3. Wash your towels regularly, on their own
Wondering how often you should wash your towels? Well, it's recommended you wash them every three or four days. You should also avoid washing them with clothing.
4. Don't use fabric softener every wash
Ad. Article continues below.
It turns out fabric softener can leave a waxy buildup which will gradually deteriorate the fibres of your towels. That means your towels will lose their absorbency and soft, fluffy feeling. You should only use fabric softener every third or fourth wash.
Read more: Clever trick to make your bath towels soft again
5. Shake your towels after washing
Ad. Article continues below.
Shaking your towels after you pull them out of the washing machine will help keep them more absorbent for longer.
6. Make sure your towels are completely dry
It's important you make your towels are completely dry before getting them out of the dryer or bringing them inside to fold. Damp towels can attract mould and mildew, reducing their quality. Be careful not to overdry your towels either, it can destroy the quality of the cotton fibres.
Have you tried any of these tips? How do you wash your towels?