Nicole Kidman lights up red carpet with Glomesh-inspired gown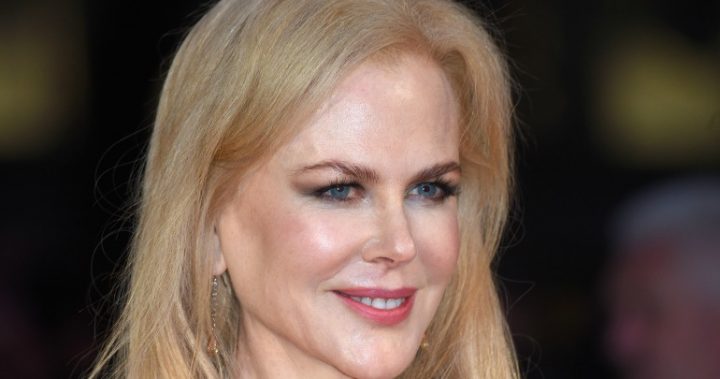 Nicole Kidman looked stunning in a floor-length Prada gown with more than a touch of Glomesh about it at the premiere of her new film in London.
The Aussie star wore her hair straight and flowing over her shoulders, and accessorised the off-the-shoulder dress with fingers covered in bling and silver high-heeled sandals. Neutral make-up made the most of her flawless pale skin, while her black fingernail polish added a modern touch.
The 50-year-old was accompanied by Irish actor Colin Farrell at the launch of The Killing of a Sacred Deer, in which Farrell plays a surgeon called Steven Murphy, and Kidman is his wife Anna. Murphy forms a bond with a a teenage boy called Martin, played by Barry Keoghan, and as Martin's behaviour becomes more sinister, the doctor is forced to make a shocking sacrifice.
Embed from Getty Images
Embed from Getty Images
The film won rave reviews at the Cannes Film Festival, where it won Best Screenplay, and gets an average score of eight out of 10 on review site Rotten Tomatoes.
Ad. Article continues below.
The premiere was a touch of lightness in what's been a dark week for Hollywood, following revelations about the alleged sexual abuse committed by Harvey Weinstein, one of the film industry's most powerful producer.
Kidman, who's worked with Weinstein, came out in support of the many women who claimed Weinstein had behaved inappropriately with them, saying that such behaviour needed to be eradicated.
She joins other Hollywood power-women, including Judi Dench, Meryl Street and Glenn Close in condemning Weinstein's alleged behaviour, which has been in global headlines since an expose in The New York Times at the weekend that claimed the producer, who ran the Weinstein Company with his brother Robert, had reached financial settlements with at least eight women over his actions.
Since then, more than 30 women have emerged with stories of altercations with the producer, who is alleged to have used the 'casting couch' with abandon for more than three decades.
What do you think of Nicole Kidman's dress? Will you see her new movie?