Nicole Kidman, George Clooney hit out at 'disturbing' sex assault case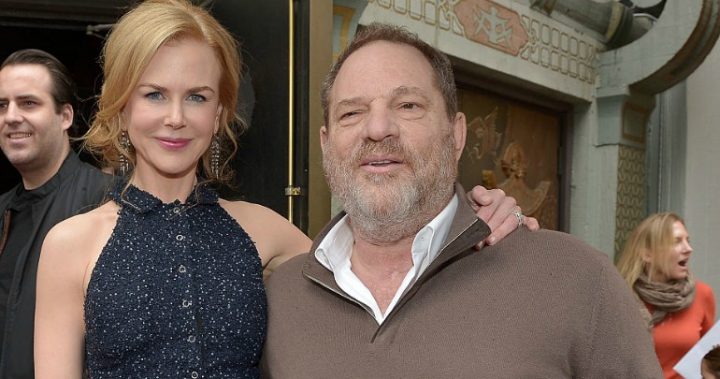 Nicole Kidman has joined the crowds of Hollywood stars who've finally spoken out against alleged sex pest Harvey Weinstein, who, if the claims are true, has spent three decades assaulting or attempting to sexually assault actresses and other women.
Kidman, who didn't mention the mega-powerful movie producer by name, told People that she supported and applauded all women who spoke out against any abuse or misuse of power.
"We need to eradicate this behaviour," the Aussie star said.
She joins other Hollywood power-women, including Judi Dench, Meryl Street and Glenn Close in condemning Weinstein's alleged behaviour, which has been in global headlines since an expose in The New York Times at the weekend that claimed the producer, who ran the Weinstein Company with his brother Robert, had reached financial settlements with at least eight women over his behaviour.
There was little reaction at first from Hollywood to the NYT report, with the many stars whose work Weinstein had championed apparently going to ground, so much so that one his accusers, Rose McGowan, drew attention on Twitter to the deafening silence.
Ad. Article continues below.
Ladies of Hollywood, your silence is deafening.

— rose mcgowan (@rosemcgowan) October 7, 2017
Subsequent reports in the New Yorker and elsewhere have included the names of many more women the producer is alleged to have assaulted, however. And stars including Angelina Jolie and Gwyneth Paltrow have now told of instances where Weinstein behaved inappropriately toward them.
George Clooney, meanwhile, has said that he, like others, had heard rumours that Weinstein had an eye for young, beautiful women, but had no idea that the powerful producer was a sexual predator and despite having worked with it many times, had never seen the behaviour himself.
"It's disturbing on a whole new level," Clooney told The Daily Beast. "Harvey's admitted to it and it's indefensible."
Ad. Article continues below.
Weinstein was also a big donor to the Democrats, and today Hillary Clinton said she was appalled by the sexual harassment allegations against him. The Obamas, meanwhile, said they were disgusted by the behaviour described in the numerous reports.
The producer himself has acknowledged that he had caused "pain" with his actions, and said that he was working with a therapist to change his behaviour. He was been fired by the Weinstein company soon after the allegations became public, and his wife Georgina Chapman, who became a top designer after she married Weinstein and stars started wearing her clothes on the red carpet, said today that she was leaving him.
Do you think the 'casting couch' will ever disappear from Hollywood, or will predatory producers always take advantage of starlets?