Ice dancers wow crowds in stunning outfits for Winter Olympics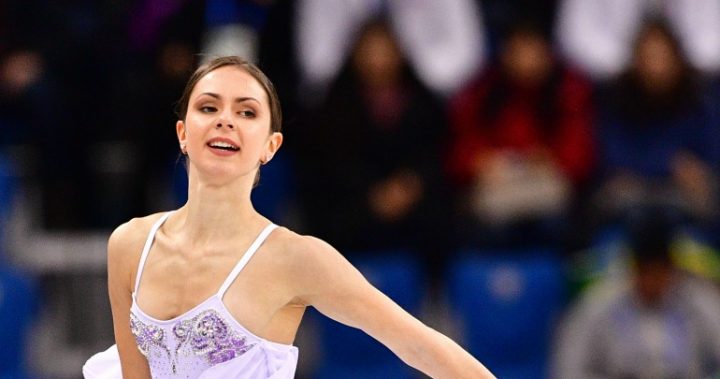 Glamorous ice dancers from across the world showed off their impressive moves at the Winter Olympics in South Korea at the weekend, and there were some amazing outfits and jaw-dropping routines on the rink.
From triple spins to some incredible lifts, not to mention an unfortunate wardrobe malfunction mid-routine, the athletes brought plenty of drama for the crowds.
For one pair, there was even a last minute change to learn as they decided to modify their routine altogether, to keep it conservative enough for mainstream viewing. Canadian figure skaters Tessa Virtue and Scott Moir pulled off an incredible Moulin Rouge-inspired routine in the US last month, but they changed one of their lifts for the Olympics.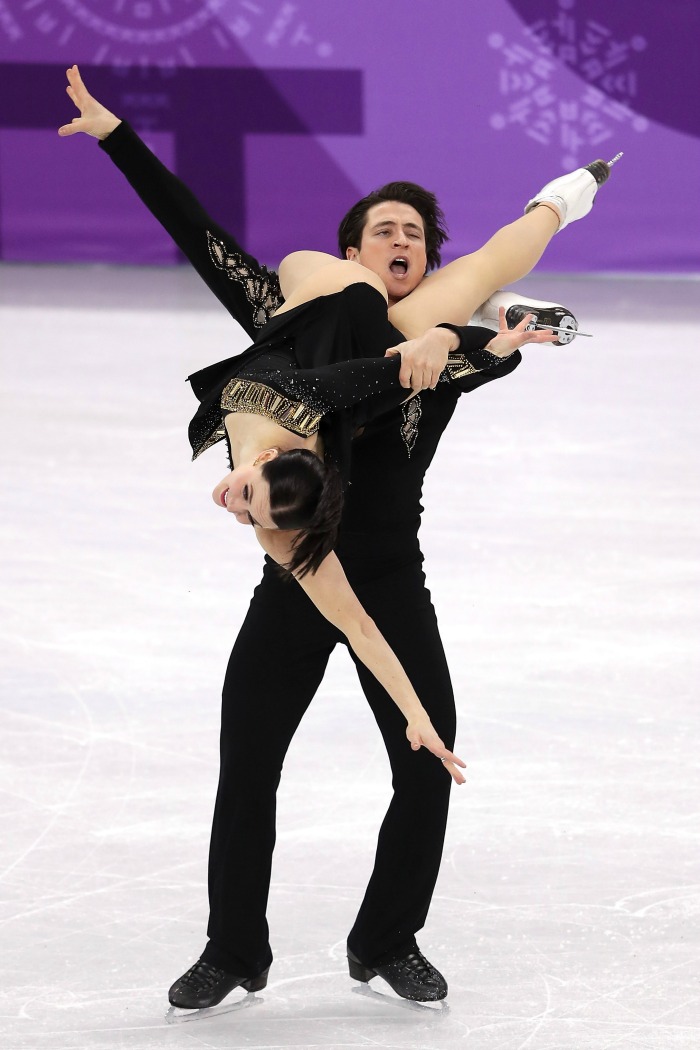 "What it came down to, actually, was that when we slowed it down and looked on the video, it wasn't aesthetically that beautiful of a position, so we wanted to change it, make it a little bit better," Moir told the Canadian's Star. In the end, they changed it so she's straddling his shoulders with her crotch to his face for a much shorter period of time – and they performed the new move on Sunday in Pyeongchang.
Ad. Article continues below.
Here's a look at some more of the show-stopping outfits and moves from the start of the Olympic figure skating.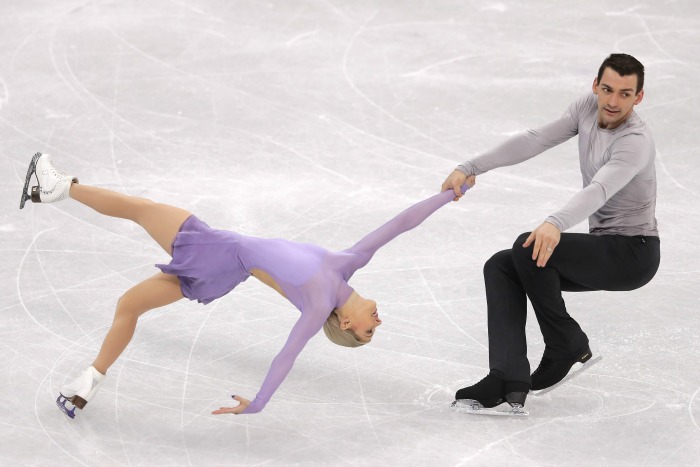 American married couple Alexa Scimeca Knierim and Chris Knierim got a season's best score on Thursday, before taking to the ice again on Sunday. Alexa stunned in a tight lilac one piece this time, with the backless style show off her figure.
Ad. Article continues below.
They ended up in a respectable fourth place, after pulling off mid-air spins, lifts and more in front of the judges.
They were joined in the competition by Russia's Natalia Zabiiako and Alexander Enbert, who matched the look in their own lilac outfits. Natalia opted for a glitzy finish on the front of her leotard, with Alexander choosing a similar shirt on the ice.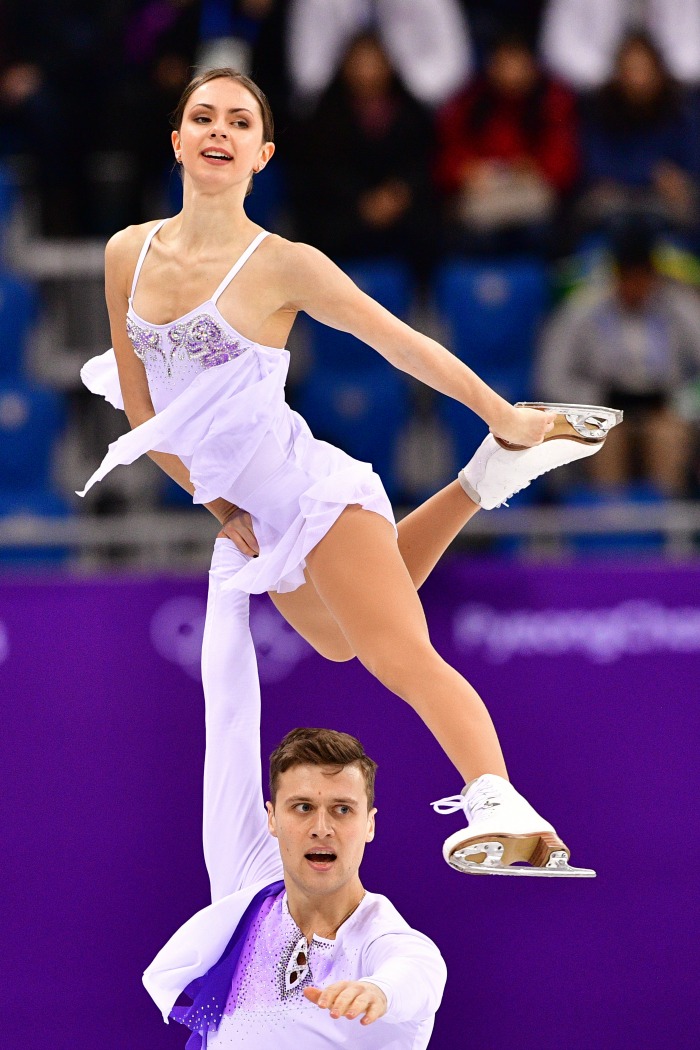 They took third place in the pairs scores, with 133.28 between them. Enbert, with Zabiiako, is currently the 2016 Rostelecom Cup silver medalist, 2015 CS Mordovian Ornament silver medalist, and 2017 Russian national bronze medalist.
Ad. Article continues below.
Meanwhile, pulling off their best moves for Canada were Meagan Duhamel and Eric Radford, who took first place with a score of 148.51. Meagan brought some colour to the rink in a burgundy leotard with silver jewels around the collar.
She was pictured beaming with happiness as she was lifted into the air by her partner. Keeping her hair loose and cropped, she managed to avoid any awkward wardrobe malfunctions.
Unfortunately, the same couldn't be said for South Korea's Yura Min, who wore a flame-red one-piece for her routine with Alexander Gamelin in the short dance category in front of her home crowd.
Ad. Article continues below.
The pair ended up coming ninth, but Min handled her slight malfunction well, after her dress slipped down one arm, exposing more of her bosom than she likely intended. The pair were all smiles, and pulled off some impressive moves.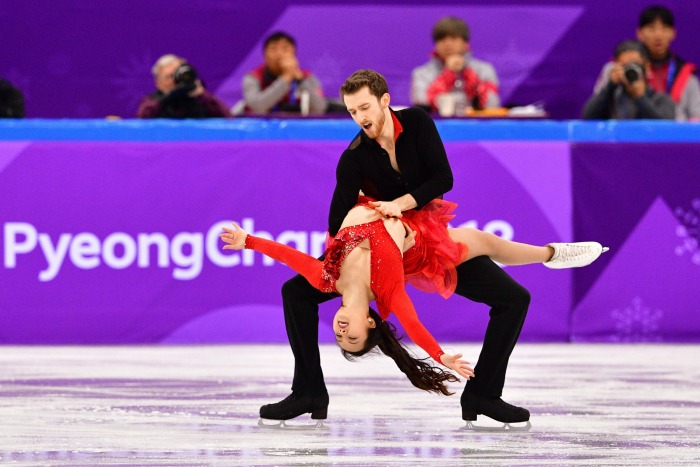 Elsewhere, Italy's Valentina Marchei and Ondrej Hotarek took second place in the pairs category, with a score of 138.44. The pair opted for a black chequered 'starter's flag' theme in their outfits, with Marchei's leotard finishing in a skirt which flowed out on each lift.
Ad. Article continues below.
They looked in deep concentration throughout their routine, with Hotarek playing quite the gentleman in a red tie and waistcoat.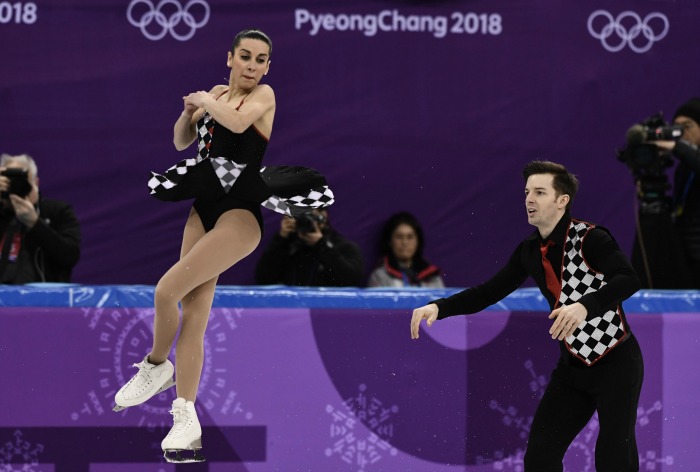 Brightening up the arena were Germany's Kavita Lorenz and partner Joti Polizoakis, with the stunning figure skater choosing a vibrant coral dress, and keeping her hair tightly tied back.
Ad. Article continues below.
The pair's synchronised routine got a round of applause from the crowd, and they ended up in eighth place in the short dance category, with a score of 56.88.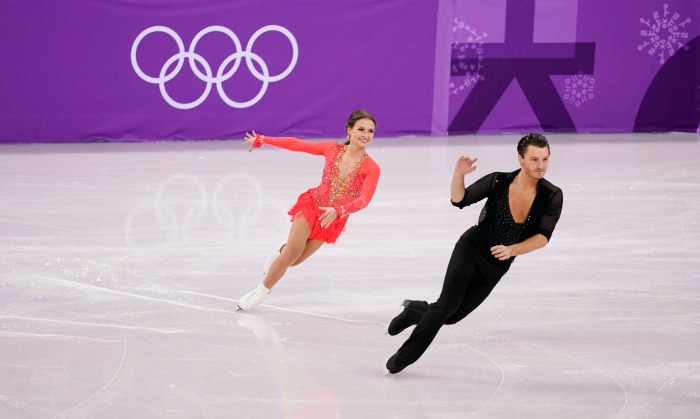 The figure skating is a favourite for Aussies to watch from home each year, with countries from right across the world entering their best athletes for the chance of a medal.
While each pair runs the risk of a fall or embarrassing slip, this year has gone largely injury-free so far. But who was your favourite?
Do you like watching the Winter Olympics? What is your favourite competition?