Helen Mirren's right royal triumph in classic gown at party with Charles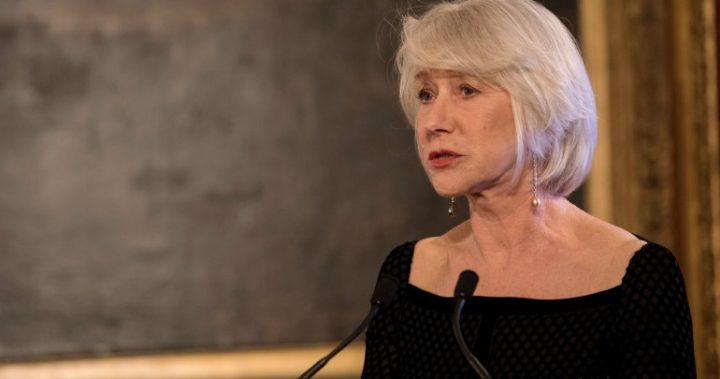 She's played the Queen twice so should be pretty comfortable in regal surrroundings. And sure enough, Helen Mirren looked right at home with Prince Charles at St James's Palace.
The veteran actress teamed up with the Queen's eldest son for the Invest in Futures reception held by the Prince's Trust in London. Invest in Futures raises money to help young people get the skills they need to move into the working world or continue with professional training and education.
Mirren looked stunning in a gown that combined a traditional shape – a corseted top with a boat neck and slim-fitting sleeves – with more avante garde black netting-patterned fabric over a lighter underskirt and top. With her hair in a simple bob, pear drop earrings and barely there makeup, the 72-year-old dame looked elegant but far from old-fashioned.
Her practised style easily outclassed the younger stars at the event, with British pop star Cheryl Tweedy looking much more out of place at the royal do in what looked like a black nightgown.
Ad. Article continues below.
It was only a few days ago that Mirren recounted how in her early 20s, she worried that she wouldn't succeed as an actress. "I was feeling insecure about myself and my future, and thinking nothing would ever happen to me, and my dreams wouldn't come true," she revealed.
In recent years, she's staunch advocate for young people who feel the same pressure, having last year teamed up with the Prince's trust and beauty giant L'Oreal to hold workshops to build up young peoples' self-worth. She said at the time that she understood how the stream of aspirational images on social media made Millennials believe they had to have a "perfect life" in order to be considered worthy. "If you don't, then you feel bad," she said.
That said, she still has very down-to-earth views on how a young person needs to behave in order to make it.
"Hang in there, don't be self-obsessed, turn up on time and don't be arrogant," she advised.
What advice would you give today's young generation for succeeding in life? Do you advise your children or grandchildren on how to improve their skills or self-worth?
Ad. Article continues below.