Helen Mirren is sexy yet sophisticated in dress that clings to every curve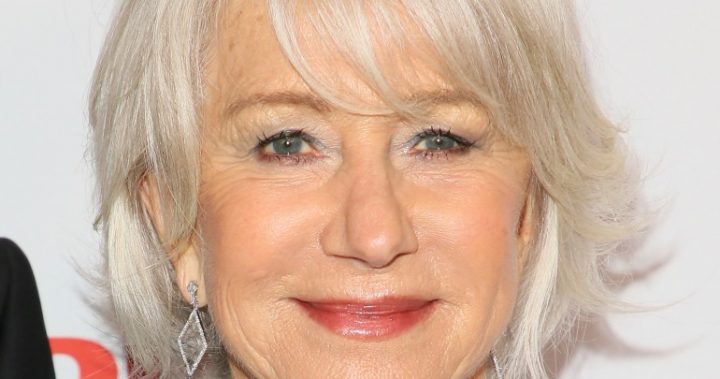 Helen Mirren was among the veteran actresses to gather at the star-studded AAPR Movies for Grownups Awards, where the ladies showed that age is no barrier to looking sexy yet sophisticated.
The British star, 72, was joined by Annette Benning, 59, Blythe Danner, 75, Frances Fisher, 65, Laurie Metcalf, 62, Jane Seymour, 66, and plenty of other hot Hollywood actresses the American Association of Retired People (AAPR) event in Beverly Hills that celebrates actors, actresses, films and filmakers whose work is relevant to the 50-plus audience.
Mirren, who took out the Career Achievement Award, looked very happy to attend the event on the arm of her husband, American director Taylor Hackford, even resting her head on his shoulder for some photographs.
Ad. Article continues below.
Wearing a slinky midnight blue dress with a pale blue panel over the shoulders and gold piping, the actress looked tasteful even though the dress clung to her hourglass figure. She combined it with softly tousled hair, a matching gold clutch, subtle blue-toned eyeshadow and light berry-coloured lipstick. Diamond drop earrings completed the sophisticated look.
Speaking at the event, Mirren revealed that when she was in her early 20s and worrying that her dream of being on stage and in films wouldn't come true, she visited a palm reader who gave her so much detail about what he say as her future, she had to scribble notes on pieces of paper.
"There was my future, in this pile of papers," she recalled, before going on to say that she immediately threw the papers into a garbage bin, deciding that she preferred to be surprised and leave "everything up for grabs".
Ad. Article continues below.
It was certainly the right move for Mirren, who is still being feted for her professional prowess, with so much praise heaped on her at the AARP do that she admitted that "we don't want to be vain and self-regarding, but it's so nice to be flattered".
Do you think Hollywood should focus more on the older audience? What movie has particularly appealed to you recently?