Helen Mirren shows off stunning curves in figure-hugging dress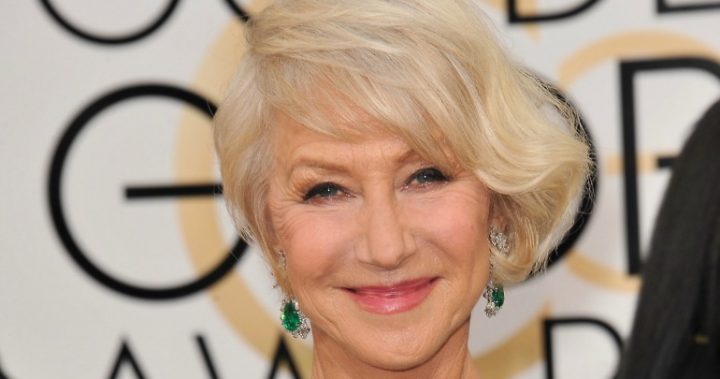 Dame Helen Mirren is no stranger to the red carpet, nor to looking fabulous while walking it.
She's been spotted already this week during the Venice Film Festival, but it's her latest appearance in Toronto that has everyone talking… and it's not for cosying up to co-star Donald Sutherland. 
Stepping out in a stunning burgundy dress for the Toronto Film Festival the 72-year-old proved she very much had a womanly figure.
With a 3/4 sleeve, high round neckline with embroidery detail, and a fitted bodice ending in a fluted fishtail style hem-line, not to mention a killer pair of heels, Mirren was a showstopper.
Ad. Article continues below.
She carried with her an adorable mini blinged-up bad and a patterned fan, to cool down those hot looks.
The premiere was for the move The Leisure Seeker, which refers to a 1970's Winnebago the movies characters used on family holiday. It's a tale about baby boomers crossing the 70-year threshold, and taking off on one last road trip. Sutherland plays John Spencer who has dementia, while Mirren plays his wife Ella, who is showing signs of ill-health.
Mirren told the Press Association the movie was about family and coming towards the end of your life. "It's about what we all deal with in life whether it's with our parents or our grandparents and it's about the individuality of people apart from their families," she said, reported Independent.
"People tend to get defined by being parents or grandparents but actually we forget that they are absolutely individual people as much as you are."
What do you think of this look on her!