Alexander Downer tweets pic hanging with Colin Firth and wife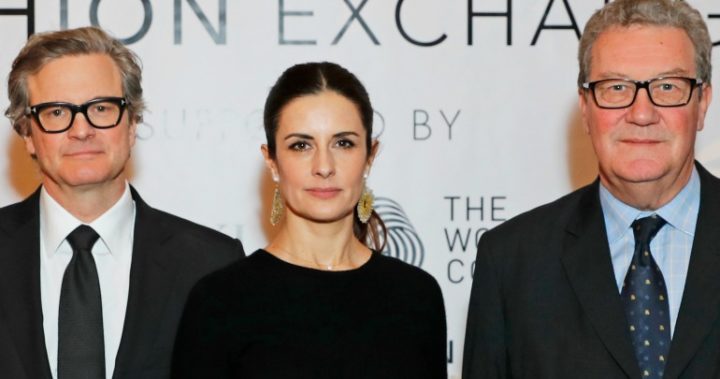 While Alexander Downer already enjoys plenty of perks for his role as Australia's High Commissioner to the UK, he can add rubbing shoulders with the world's hottest celebrities to the mix.
The Australian diplomat attended the Commonwealth Fashion Exchange event at Australia House last week and was in good company with Colin Firth and his glamorous Italian-born wife Livia.
Downer tweeted a photo after the event in which he understandably looked like the cat that got the cream.
Welcoming #Commonwealth #FashionExchange to #AustraliaHouse. Here with @LiviaFirth, her husband #ColinFirth and #NigelGosse from @Woolmark #AusHouse100 @GCC_ECOAGE pic.twitter.com/T0AebCI0KE

— Alexander Downer (@AusHCUK) February 22, 2018
Ad. Article continues below.
The glitzy event promoted the work of fashion designers from around the world who are using sustainable methods to create and distribute their wears.
Livia has long championed the need for a more environmentally friendly approach to fashion and runs a consultancy firm that helps business operate using sustainable solutions.
.@GCC_ECOAGE'S @liviafirth, #MATCHESFASHION CEO Ulric Jerome, Nadia Swarovski, Nigel Gosse and Noëlla Coursaris Musunka hosted a private reception at Australia House last night to celebrate the inaugural Commonwealth Fashion Exchange. #MFxForTheFuture pic.twitter.com/Vv40ZSIG49

— MATCHESFASHION.COM (@MATCHESFASHION) February 23, 2018
While Downer was chatting up the couple at Australia House, just days earlier Foreign Minister Julie Bishop was down the road at Buckingham Palace rubbing shoulders with The Duchess of Cambridge, who hosted a lavish Fashion Exchange exhibition in one of the Palace's grand rooms.
Ad. Article continues below.
Bishop arrived in the UK last weekend as part of a seven-day official visit that included stops in Hungry and Slovenia
While the night looked like a fun event for all involved, some Australian taxpayers took issue with Bishop's attendance.
Ad. Article continues below.
"'Let them eat cake' as a small business owner I am struggling to pay my Tax, well at least I know where this quarter will go," one Aussie woman wrote on Twitter.
"This is outrageous that any Aust Political figure should think they need to be at a Fashion Week! the only thing that is for sure is the word "week"! Give us a break!!" added another.
However, while it was all fun and games on the night, Bishop's attendance was part of a wider push to promote Australia's fashion and design industry to the rest of the world.
It's not the first time Downer and Bishop have mingled with Hollywood and society's elite. The pair have previously shared photos of themselves at star-studded events with the likes of Olivia Newton-John, Amal Clooney and of course, The Queen.
Ad. Article continues below.
— Alexander Downer (@AusHCUK) December 13, 2017
While the fact that all this fun is happening on the taxpayer dollar leaves a sour taste in some voters' mouths, mingling with the rich and famous has long been a big part of a politician's work.
Governments regularly use famous faces to help push their agenda and promote their home country to the rest of the world.
What do you think about this? Is it a good thing for our politicians to mingle with famous people? Or should they focus on doing their job without all the glamorous parties?