Meeting the requests of the grandkids at meal times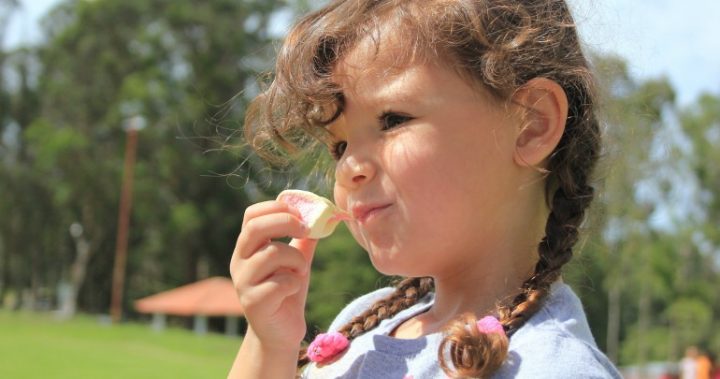 Poppie and I have shared lots of experiences with grandchildren.  We have nine grandsons and nine granddaughters which gives us the right to say we are experienced.  Almost all of our grandbabies live within 100 miles so going to baseball games, choir concerts, football games, and whatever they are into seem to be a daily experience.    
We like to say that being their babysitter is the most fun.  We can play, eat, and do whatever we want to do. Sharing their daily growth and the excitement of new discoveries fill our days with delight. This story is about one of our three-year-old granddaughter who was spending the weekend with us. 
It all started when our granddaughter, Elorjah, was dropped off at our house for a day of babysitting.  I want to tell you this is a very bright little lady, who could and would try anything.  She loved to take a walk-about.  Adventure was her middle name.  She was never one to sit and watch TV, she needed to be entertained or she would create her own adventure.  Her favorite thing to do was to come to our house on Saturday night because Poppie cooked steaks.  She loved Poppie's steaks.  She loved the food at our house.  You see her mom and dad were on and off vegetarians.  So any given month, they would be eating no meat.  This smart little girl knew that we had Saturday night steaks and she would ask to go to Poppie and MeMom's house for the weekend. 
At this time in our daughter's life, it was veggie time.  So, she just assumed that we would not feed Elorjah meat.  I am a grandmother and I love catering to my grandbabies.  We did try to feed Elorjah non-meat foods.  (We didn't try too hard.)  Let me add that Poppie works in the meat industry so being vegetarian has never been a question in our house.
Ad. Article continues below.
My precious little granddaughter, with a smile on her face that would melt a glacier, looks at me and says "Meat Me Mom".  How could I deprive this precious, little girl the right to eat meat? 
My daughter was not really mad and she wanted to know if we had any leftovers… Sometimes vegetarians need meat.
What sort of food requests do you get from your grandkids (even if they ask because they know you have it in the cupboard just for them)?