BREAKING: John Hurt, legendary Elephant Man Actor, has died aged 77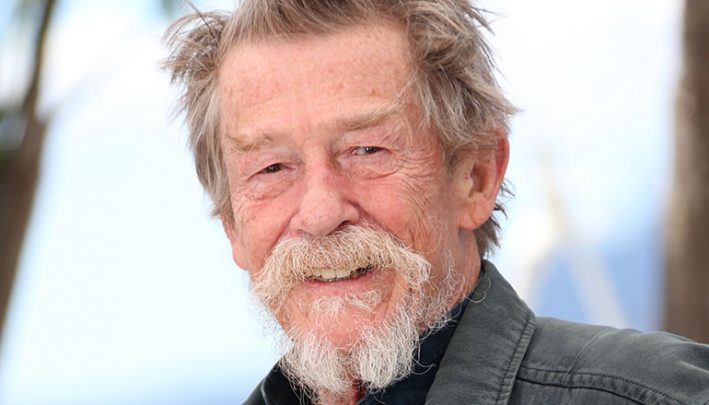 UPDATE 2pm AEST: Sir John Hurt's agent has confirmed that the veteran British actor has died from pancreatic cancer at the age of 77. 
———————————————————————
In sad news just breaking, legendary actor John Hurt has died.   Whilst his cause of death is unknown, he was known to have struggled with a reported intestinal complaint and to have suffered with pancreatic cancer but was believed to have been given the all clear in October 2015. 
Hurt has contributed to show business for more than six decades and is best known for his Oscar nominated performance as star of the Elephant Man and as the Wandmaster in Olivanders in Harry Potter.  
Ad. Article continues below.
Back in 2015 he is quoted widely as saying "I can't say I worry about mortality, but it's impossible to get to my age and not have a little contemplation of it. We're all just passing time, and occupy our chair very briefly."
His early career rose first with his supporting role as Richard Rich in the film A Man for All Seasons (1966). After this, he played leading roles as Quentin Crisp in the film The Naked Civil Servant (1975), John Merrick in David Lynch's biopic The Elephant Man (1980), Winston Smith in the dystopian drama Nineteen Eighty-Four (1984), Mr. Braddock in the Stephen Frears drama The Hit (1984), and Stephen Ward in the drama depicting the Profumo affair, Scandal (1989).
He is also known for his television role in Claudius (1976), and for his role as the War Doctor in Doctor Who.
Hurt played a role in the prison drama Midnight Express (1978), in the science-fiction film Alien (1979), the adventure film Rob Roy (1995), the political thriller V for Vendetta (2006), the sci-fi adventure film Indiana Jones and the Kingdom of the Crystal Skull (2008).  
Ad. Article continues below.
He adopted a whole new generation of followers more recently in the Harry Potter film series (2001–11), the Hellboy films (2004 and 2008), and the Cold War espionage film Tinker Tailor Soldier Spy (2011). Wikipedia shares that his character's final scene in Alien has been named by a number of publications as one of the most memorable in cinematic history.
Hurt is known for for his distinctive rich voice and career in voice acting.  He voiced Watership Down (1978), the animated The Lord of the Rings (1978), The Black Cauldron (1985) and Dogville (2003), as well as the BBC television series Merlin.
Hurt has most recently starred in the Oscar nominated biopic of President John F. Kennedy's widow, Jackie, currently showing in cinemas. 
John Hurt received two Academy Award nominations, a Golden Globe Award, and four BAFTA Awards, with the fourth being a Lifetime Achievement recognition for his outstanding contribution to British cinema. He was knighted in 2015 for his services to drama.
Ad. Article continues below.
Hurt is survived by his wife of 12 years Anwen Rees-Myers.