Employment Department accuses Baby Boomers of retiring early on Newstart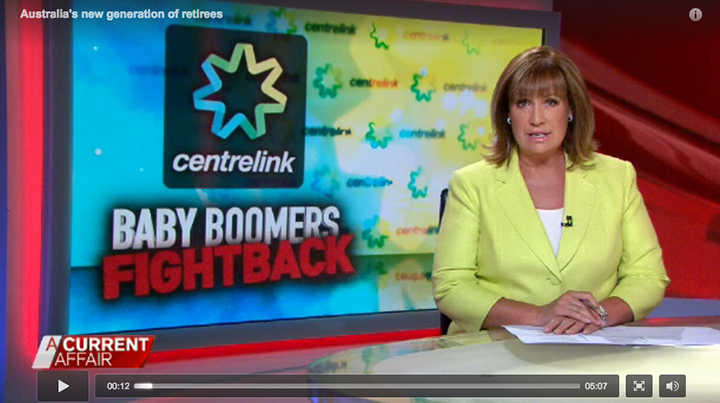 Figures released this week by the Department of Employment show there is a gap in our society that needs to be closed.  The number of people over 50 years of age on NewStart increased in the last 12 months by 9% as unemployment for older workers rises and rises.  The Employment Department has this week controversially accused Baby Boomers of retiring on the dole early… but is that really the case?  We ask you today to share your experience.
A Current Affair ran a controversial story on the issue on Friday night that you can watch here… 
Ad. Article continues below.
According to the A Current Affair report, comments to the Senate enquiry say some Baby Boomers prefer welfare over work.
"Given the ageing workforce and the fact that most people aged 55 have many potentially prod­uctive years ahead of them, it is no longer acceptable for 55-59-year-old jobseekers to effectively retire on Newstart while undertaking a bit of voluntary or part-time work,'' the Employment Department has told a Senate inquiry into welfare.
Age Discrimination commissioner has come out fighting, and I agree.  I know, because it affects my family too, that getting a job over the age of 50 can be hard, even when you need it to make ends meet.  The number of mature age people in this country is rising, and rising considerably and our workplace cultures have not changed enough to ensure there will be jobs there for them.
Ms Ryan said in The Australian  that many older people applied for hundreds of jobs, yet never got an interview due to widespread age discrimination by employers.
"If you're 55, you've got 10 years before you get the Age Pension, so imagine trying to spend 10 years on the tiny amount of money you get on Newstart,'' Ms Ryan said yesterday.
Ad. Article continues below.
"The implication that they are willing to hang around on New­start while doing a bit of volunteer work as a preferred position is completely wrong.
"People in that age group, more than young people, are desperately seeking employment — often they have mortgages and are still rearing kids.''
The seemingly heartless comments will no doubt will rile those of you who have tried almost anything to get a job in your 50s or 60s, without success and are forced into living at or below the poverty line in Australia.
The $258-a-week Newstart allowance, is $130 a week less than the Age Pension yet expected to be enough to help those with families, mortgages and obligations who may or may not have planned to be out of work.  Unemployment is, according to the latest figures rising five times faster for Australians in their 50s than those in their 20s and there is something in the league of 50,000 long term jobless.
We invite you to comment, sharing your opinion on this challenging situation for older Australians.  Let's contribute ideas that might help.