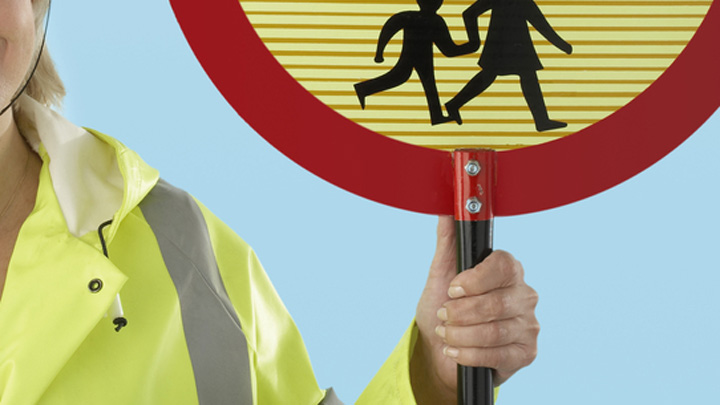 She's been a loyal lollipop lady for over 20 years but now Zelda Avery is being told she isn't allowed to decorate her crossing by the local council.
Ms Avery patrols the crossing outside Biggera Waters State School on the Gold Coast and the council's decision has left children and their parents devastated. Many look forward to her famous Christmas tree and sparkly tinsel, however it is not allowed this year.
Ms Avery wrapped the crosswalk poles in tinsel and set up Santa signs before putting on a Christmas outfit on Monday morning.
After a complaint by an anonymous grinch, the council sent the primary school a letter demanding they "remove the Christmas tree and decorations from the crossing as it is council property and distracting for drivers".
Angry parents who contacted the Gold Coast Bulletin yesterday said children were saddened and confused as to why the decorations had been taken down.
"Zelda was in tears," school mum Ashley Billingham said.
"I think it's ridiculous. The kids don't understand why there is no more decorations.
"There have been numerous parents who have called the council to demand (the decorations) be allowed."
The 59-year-old said "I have been doing this for 24 years".
"Then all of a sudden the council send a letter saying I have to remove it all because the tree is on council property.
"A kilometre down the road the council has a massive Christmas tree beside the road which is much more likely to distract the drivers".
Gold Coast Mayor Tom Tate said "Council loves Christmas but we also love children and it was simply too risky for the tree to remain right on the school crossing".
"As such, I've asked officers to liaise with the school to ensure the tree is placed away from the crossing itself, but the crossing supervisor can keep her other decorations."
School parent, Nicole Thurtell, pointed out that Christmas lights and council decorations were much more distracting than the simple crossing.
"It's hypocritical that the council is the main sponsor for the Gold Coast light up competition and a lollipop lady can't even put up a Christmas tree," she said.
Tell us, do you think this is a case of political correctness gone mad? Or is this understandable?
Comments