Cadbury quietly changed the size of Freddo Frogs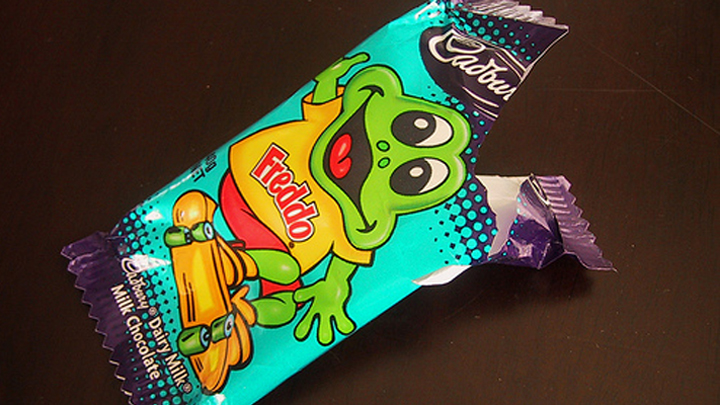 Cadbury Freddo Frogs are classic chocolates that we all remember from our childhoods, but now it has been revealed that they just aren't how we remember them – the size has changed…by 20 per cent.
And even though the size has been reduced, the price has not. Shoppers started noticing something was awry in the last few weeks as the Cadbury flagship product seemed to be shrinking before their eyes.
It's making consumers hopping mad to know that the froggy treat is 12 grams, down from 15 grams.
This isn't the only backlash Cadbury has faced this year – in February the chocolate giant announced it was reducing the size of the Dairy Milk block from 220 grams to 200 grams.
According to Cadbury's global parent company Mondelez's spokesman Julian Polachek said, "We're making a change to the size of the product because of manufacturing cost increases that we can no longer absorb," spokesman Julian Polachek said.
Ad. Article continues below.
A storeman contacted the Herald Sun to report on the delivery of the lightweight frogs, saying "We were not notified and our wholesale cost did not change", showing that this reduction does not only affect consumers but wholesalers and retailers.
The cost of cocoa is at the base of the issue however chocolate lovers just wish they were informed.
The Australasia managing director for Mondelez International, Cadbury's parent company, Amanda Banfield told the Financial Review: "Clearly any chocolate lover is going to be a bit disappointed".
Ms Banfield said the decision to shrink the family block was because of 'unprecedented cost headwinds'.
Despite this, the Daily Mail reports Cadbury's parent company's profit before tax rose 46 per cent from $87 million to $127 million in 2013.
Tell us, are you shocked that Cadbury has again reduced their packaging sizes but kept prices high? Or is this just life? Will you keep buying Cadbury?