When it comes to ridding your home of chemicals, ignorance is not bliss in this situation! 
All across the country, Aussie homes are trying to find ways to reduce the number of chemicals in their kitchen and other rooms of their house, opting for eco-friendly cleaning products and naturally-based cleaning solutions. 
And there's a multitude of reasons as to why you should too!  
For one, using the right eco-friendly cleaning products can produce better cleaning results than traditional chemical-laden cleaning products. The chemicals that you use to clean your kitchen can linger on your countertops, cutting boards and your other cooking utensils as well as in your sink. When you prepare foods, you may unknowingly contaminate them with trace amounts of these chemicals.
Using eco-friendly cleaning products is far more economical than purchasing chemical cleaning products on a regular basis. In 2016, the average Australian household spent a whopping $600 billion a year on general living costs alone. When you swap regular household cleaning products for eco-friendly ones not only are you saving the environment but you'll see hundreds of dollars of savings annually. 
Euclove understands that eco-consciousness is no longer a fad to a lot of people. Their family have been using herbs and plants to help keep their homes clean and fresh for over 50 years. And they're here to help you start making your routine clean more sustainable.
Below are some of the ways you can successfully remove harmful chemicals from your home:
Let's start in the kitchen
As they say, the best memories are made in the kitchen! So as we lovingly prepare nourishing food in our kitchens, we sometimes inadvertently introduce compounds we're better off avoiding. A variety of toxins can lurk in and around our food despite our best intentions to keep them out.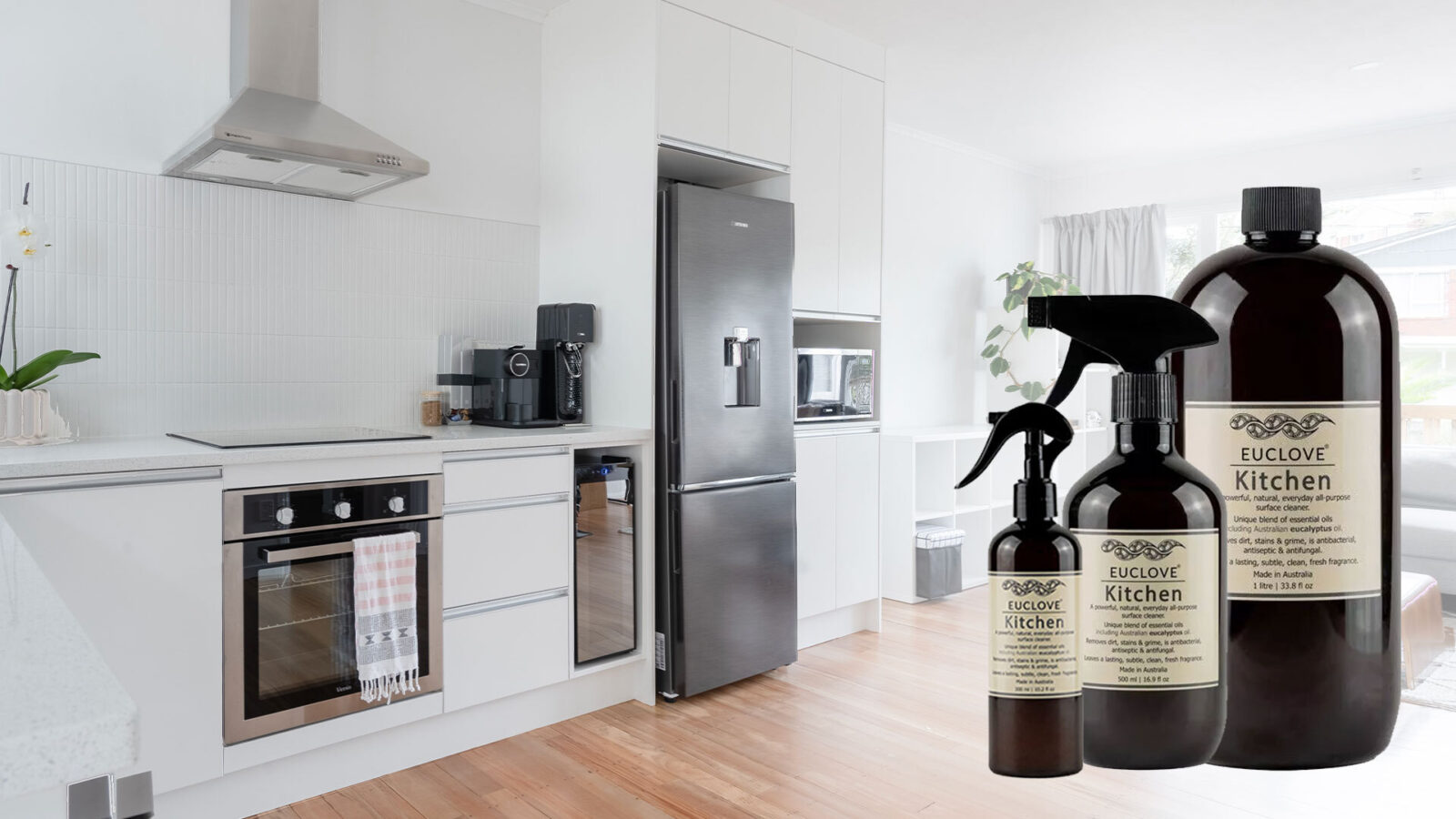 Stainless steel is extremely durable and resistant to water damage and rust. Ammonia, chlorine bleach, and oven cleaners are all damaging, as are scouring powders and steel wool. And if you live in an area with hard water, it's likely that the minerals will leave spots. In other words, despite its hardiness, stainless steel requires a high level of upkeep.  
For tougher stains, I need to call in backup. Luckily, Euclove's Stainless steel cleaner is tough on stains, not on surfaces. Their formula is so effective, you're guaranteed to see streak-free surfaces, every time. 
Made from 100% natural ingredients from Australia, you'll be saying bye-bye to those cheap and nasty chemicals. What's more, the ingredients are carefully selected to ensure safety for septic systems and greywater use. Need we say more?
Made from natural ingredients that are known for their antibacterial properties, the Euclove kitchen cleaner is suitable on a wide range of surfaces from kitchen benches to appliances and white goods. And has been tested on surfaces like timber, Caesarstone, ceramic, granite, marble, laminate, and engineered stone. 
A little goes a long way with this product! We are sure you'll love the amazing smells from the unique blend of pure essential oils – Eucalyptus, Clove, Tea Tree.
Moving onto the bathroom
Ahh, the bathroom. There is no room more sacred and more difficult to keep clean and sanitised. Many turn to harsh chemical cleaners as an attempt to make sure their bathrooms are deep cleaned and safe. 
However, these powerful chemicals bring with them unique risks and can be extremely irritating to your lungs and sinuses. Don't play chemist in the bathroom and risk your health, take it from us, it is possible to clean and sanitise your bathroom using safe, sustainable and green products.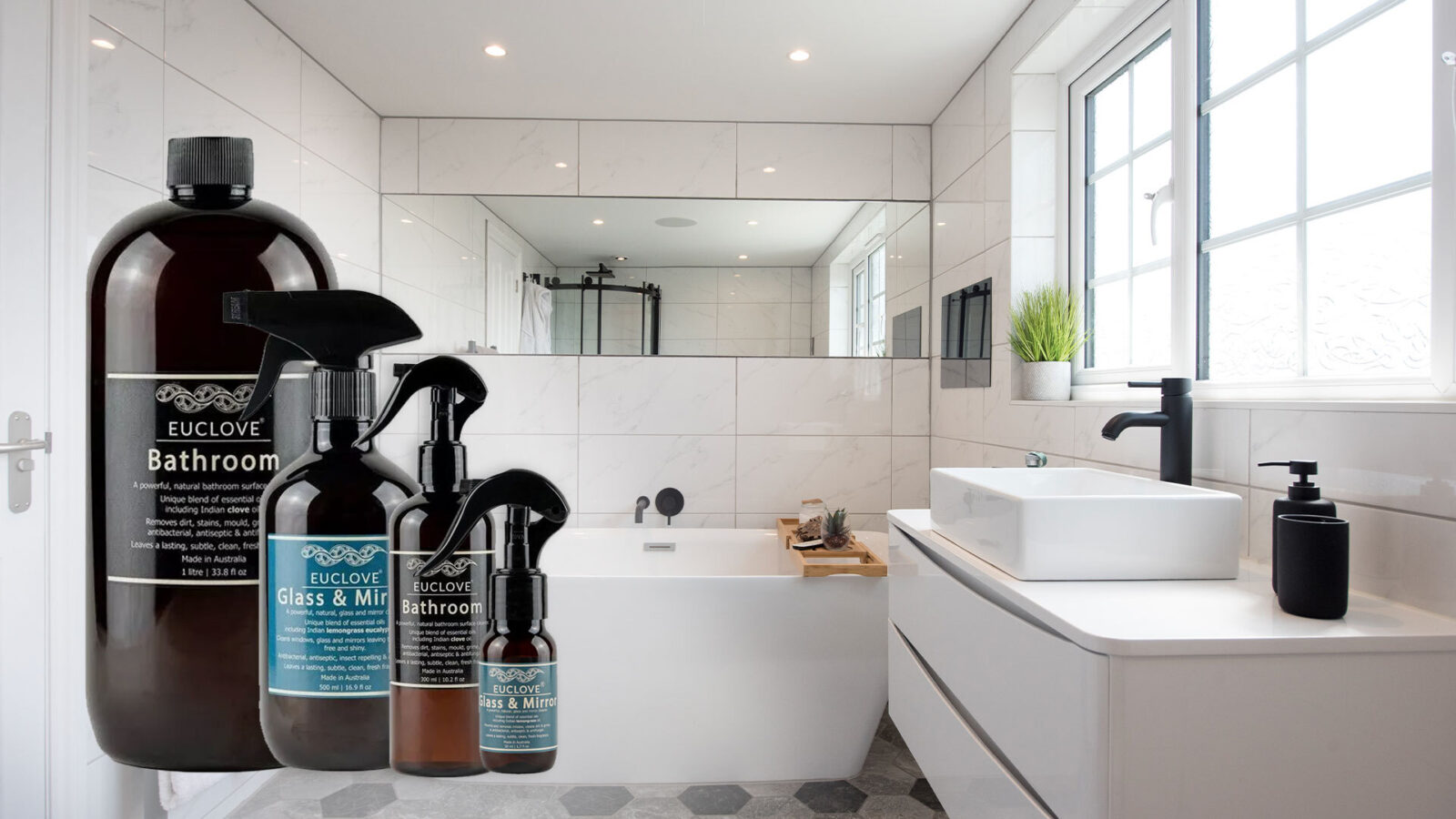 Euclove's Glass and Mirror Cleaner is 5 out of 5 stars. It's by far the best for getting your mirrors and your glass to absolutely sparkle. It's cruelty-free, plant-based and certified vegan. 
Formulated with time tested ingredients like white vinegar with a twist of lemongrass, camphor and Blue Gum Eucalyptus essential oils.
Eucalyptus oil is the powerhouse cleaner, with powers that may relieve your allergies, ease headaches and pain, ward off mosquitos and combat stress, but because of its potent properties, this incredible oil provides a streak-free finish. 
Next stop, the bedroom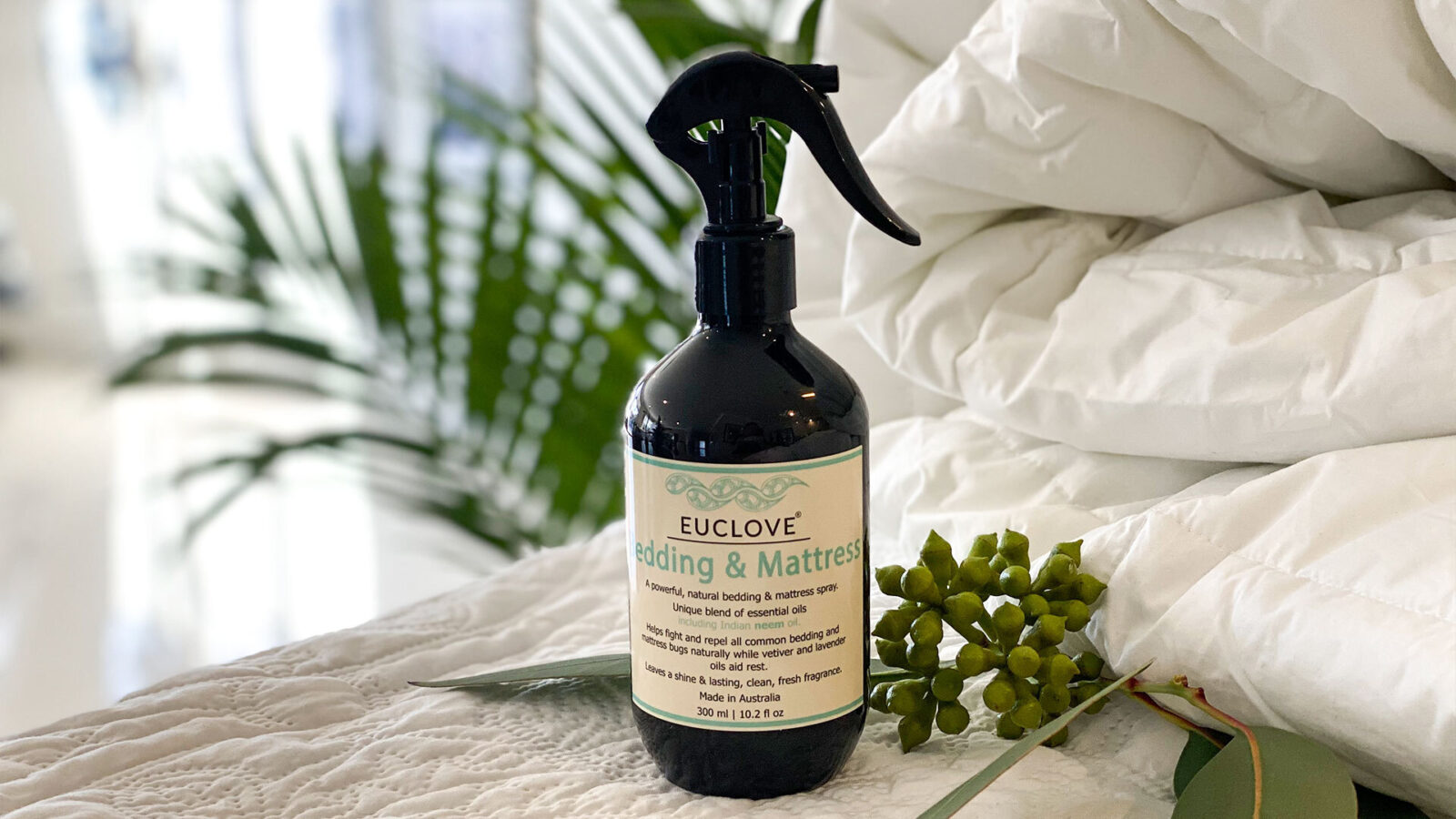 Your bedroom is your haven: a place to relax and release stress after a long day. But are there any toxins lurking in your sleep space that could be making you ill?
Each item you bring into your bedroom, whether it be the mattress you sleep on or the paint on the walls, could also bring in harmful air pollutants. Not only are these toxins unhealthy for you, but they are also dangerous for the environment. Luckily, Euclove's linen and mattress bedding spray make for an easy transition to a toxin-free, eco-friendly sleep space.
Euclove bedding and mattress disinfectant spray is a unique, natural way to help keep families safe from bed bugs, mites and lice even as we sleep.
This spray uses blended powerful natural essential oils – Neem from India and eucalyptus essential oils- that you can use to spray mattresses to help fight dust mites, bed bugs and lice. The blend has also been enhanced with Vetiver and Lavender essential oils that are known to help reduce stress and anxiety so that you can settle in for a good night's sleep.
The Linen mattress bedding spray conveniently also comes in handy travel size 50g, perfect to take with you on your travels and holidays.
Other things to consider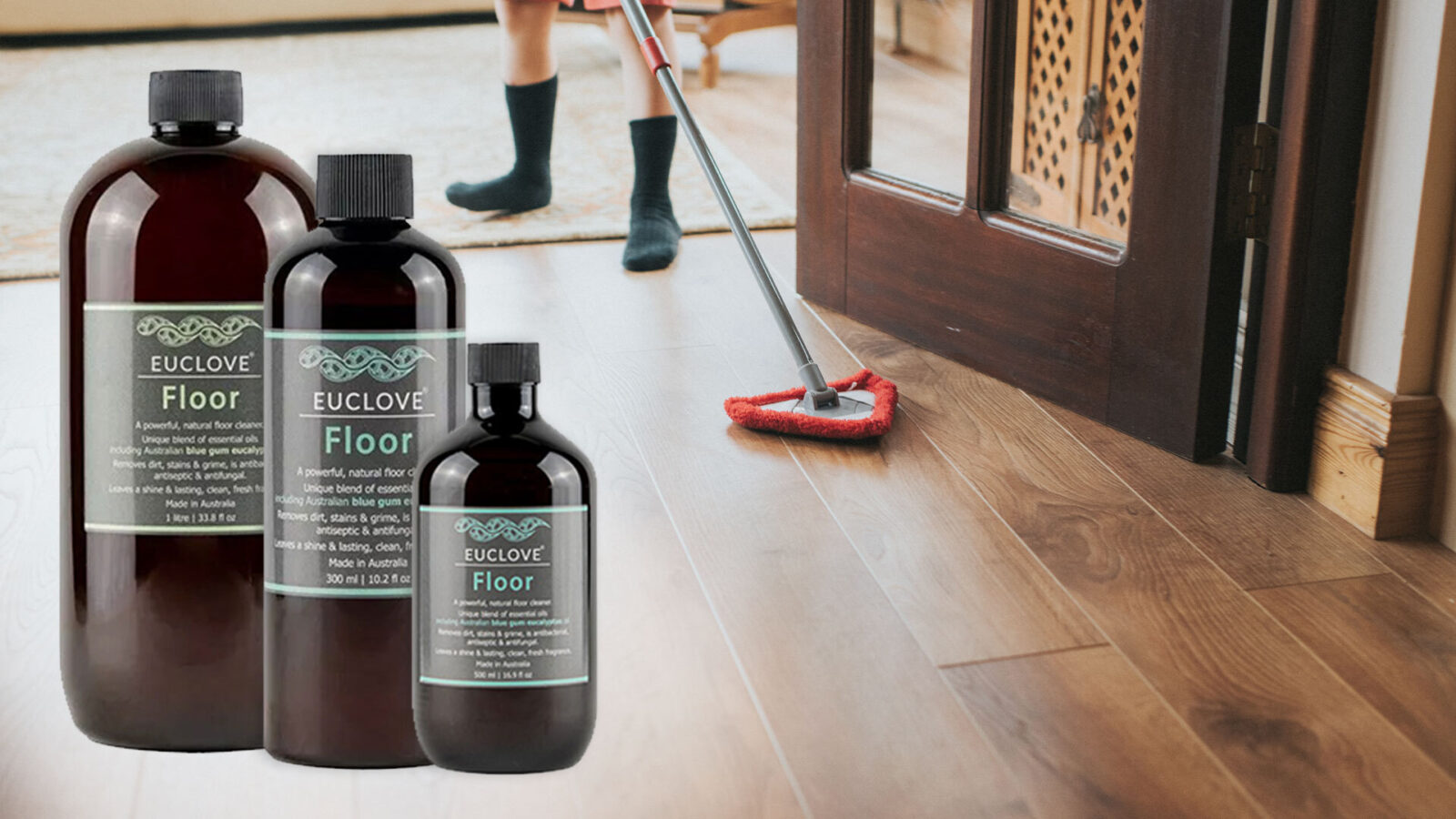 Proper floor care is a critical component when it comes to caring from your home. Constant foot traffic, tracks dirt, dust, and other harmful allergens that disrupt the workflow and appeal of the space. A dirty floor is also a potential health threat to babies, pets, and people with low immunity in your house.
Euclove floor cleaner is a specialised herbal formula that cleaners your floors to a sparkling shine that's safe to use around the whole family! 
This organic floor cleaner is a wonderful mix of natural ingredients that leave your floor shimmering and ready to walk in 5 seconds. With their simple, streamlined formula of 9 ingredients, quick dry time and no-rinse required results- Euclove floor cleaner is doing things differently. 
If you're ready to make the switch and live in a chemical-free home, we've got some great news for you. From March 3 to 9, all Euclove products are 15% off! So you can get the whole kit and kaboodle while saving the planet and the big bucks!