Newsreader Ken Sutcliffe takes on the Big Aussie Hearing Check
Sponsored Content
Hearing
9 months ago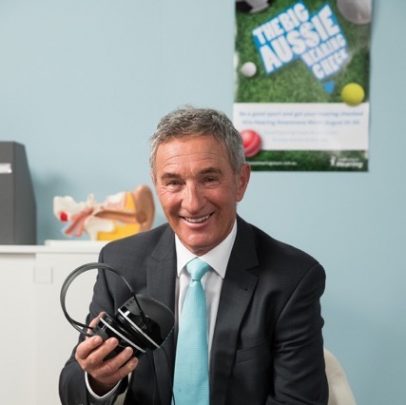 He's one of the most recognisable faces on Australian television, but veteran newsreader and sports presenter Ken Sutcliffe has been living the quiet life since retiring last December.
It's a nice change for a man who spent most of his career wearing an earpiece, with demanding news producers shouting instructions down the wire and wrangling noisy crowds at sporting events all over the world.
It was this noisy work environment that lead Sutcliffe to become more aware of his hearing – especially when he started noticing things change as he got older.
"It's something that people don't really take all that seriously because it's not a defining moment, it creeps up on you, but not being able to hear really is a frustrating thing," he says.
"In the beginning you just laugh about it and have a bit of a joke, but eventually it becomes harder to hear and it's equally frustrating for the people around you."
One in six Australians has trouble with their hearing, but many wait for seven years before finally doing something about it.
After putting off his own hearing check for years, Sutcliffe is keen to ensure other Aussies don't do the same.
He's teamed up with Australian Hearing for the Big Aussie Hearing Check (August 20-26) to encourage everyone to take a free hearing check at one of the 600 hearing checkpoints set up around the country for the week.
"We all get to that stage where we suffer some sort of hearing impairment as we get older," he says.
"So this week is a good opportunity, obligation free, to go in and chat to an audiologist and have your hearing checked for free."
Like many Baby Boomers, Sutcliffe put his hearing through the ringer in his youth, blasting music through the speakers and driving with the radio maxed out in the car.
His early career as a disc jockey didn't help either, he jokes: "There was only one way to play music and that was loud."
"As the years go on I had various jobs, but mine as always entailed having an earpiece with the director telling you things.
"So you're talking and listening at the same time and often you're in noisy environments, and what you find is that even when you're in a quiet environment you've still got the volume up loud because you're used to it."
Despite leaving the noisy world of television and radio behind, Sutcliffe laughs that some old habits die hard.
"If you jump in the car with me, get ready.
"If I'm in the driver's seat the music is usually up loud, but then my wife gives me 'the look' and I tweak it back a little bit."
Thousands of Australians are expected to take their free hearing check at one of the pop-up hearing checkpoints around the country this week. Visit bigaussiehearingcheck.com.au to find one close to you.
When was your last hearing check? Have you noticed your hearing change as you get older?